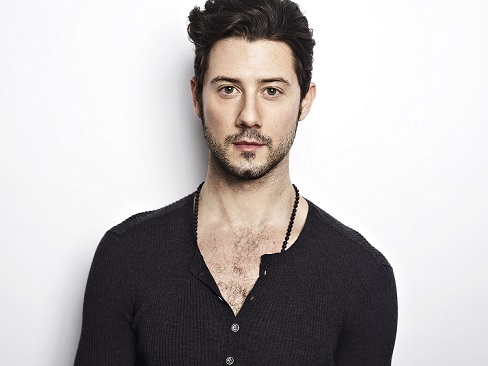 Hale Appleman stars as "Eliot Waugh" in Syfy's dark, gritty, fantasy drama The Magicians.
Hale Appleman's Twitter.
Photo by Benjo Arwas.
Hale Appleman is a born and raised New Yorker who considers himself bi-coastal. New Yorkers - does that make sense to you? Hale - stop trying to trick us East Coasters now that you're on The Magicians. We know the truth.
Back to our regularly scheduled interview...
I could see the thinking cap on in Hale Appleman's head as he answered some of these questions. I love people who think before they speak. (I'm not one of them, obviously.) This is why he does so well with his character, Eliot Waugh. Seriously folks, isn't Hale perfect for this role?!
Tell us about your audition for The Magicians.
My initial audition was actually for Penny (Arjun Gupta's character. He was described as having a 'Clockwork Orange level attitude', which was an intriguing descriptor for me.) But it was obvious from my first audition that I was not right for that role. I was disappointed by that because I really responded to the show, and the idea of playing in a magic / fantasy world was a childhood dream, so it didn't feel like just another audition.
I enjoyed auditioning for it so much I decided to pick up the first book and quickly discovered Eliot. I found him to be funny, sharp, powerful, vulnerable, complex, full of secrets. In other words: a great role. I knew it would be fun to have a shot at him if given the opportunity, so I asked for one.
I had a callback for Eliot and met (execs) Sera Gamble and Laurie Leiser. I had fallen in love with the part, and was a little nervous. But our amazing casting director, Carrie Audino, is also a solid actress, which put me at ease. It's such a relief when you're auditioning and you have someone who really can play with you in the moment. I felt connected to her and am so grateful that she was so present with me.
Sera also gave me some very incisive direction about 'owning' Quentin in an early scene. It was a great note.
And the books supplied a lot of info and backstory on Eliot that served my auditions and screen test. Lev Grossman describes him in detail in the first few chapters and I definitely used that in my characterization of him from the get go.  Great direction, great acting partner, great character backstory - these are all rare luxuries to have in the room.
What TV shows are you currently watching that you are NOT a part of?
Better Call Saul, Master of None, Mr. Robot, Togetherness.
What are your thoughts on the Presidential campaigns happening now?
Maybe I should run! Or just stay in Vancouver after we wrap Season 2. The one thing I'll say is that I work on a TV show about magic and fantasy and even I have trouble believing the reality we find ourselves in these days.
You're from New York but looks like you have strayed to the other coast. Which coast do you prefer, and do you see yourself living in LA for a while?
I don't actually think I could be happy on one coast all year round. California is a sweeter lifestyle, but I need the energy of New York to keep me on my toes. I spend a part of the year in New York when based in LA and vice versa. It's the only way I feel balanced. Outside of theater and my community of friends out there my family is still in NY so I have a lot of reasons to spend time out there as well. I guess I'm bi-coastal.
What annoys you the most?
The Magicians has been renewed for a second season. How do you hope 'Eliot' develops next season? 
Yeah, I'm really grateful I get to continue exploring him. He's so dynamic, I feel like I've only scratched the surface. I hope we get to see Eliot's relationships fleshed out some more, as well as an exploration of his relationship to himself -- the unspoken part of Eliot that Eliot doesn't like to talk about. Some moments of silence in which he gets to really look at himself and start to figure his sh*t out. I also have this beautiful image of Eliot fencing with young Martin Chatwin. Nicholas is such a good actor and I believe his character and Eliot are foils for each other in a way. They both had damaging childhoods, and escaped into magic. I'm curious about what a conversation between them would be like. But overall, Eliot in Fillory and assuming his position there might be what I'm looking forward to the most overall, in general. I'm not sure how much of that we'll get to see in season 2 but we shall see...
Speaking of 'Eliot' without giving too much away, what can you tell us about the finale?
He's in the midst of a pretty severe downward spiral. He's trying to hold it together. He's trying to escape his reality and his feelings, which confront him at the worst times. There's a huge twist for him coming at the end of the season. A massive decision. But I can't tell.
What's the first thing that comes to your mind when I say this: door knob.
Do you have a significant other?
I'm single. Perhaps one of the perils of never being in the same place for very long.  I'd love to meet someone who is unabashedly themselves, who has themselves figured out or at least is in that process.  Who can be spontaneous and playful, are open to adventure and evolving with me.
What type of fan mail are you getting because of your character on The Magicians?
I haven't gotten a lot of actual tangible fan mail, but a lot of fans have reached out over social media, and that's been very heartwarming. There's been some really incredible Eliot fan art also. The commitment of the fandom is really stunning.
There are a few who truly connect to the character and feel represented by him. One girl wrote the most beautiful letter to me. I'm grateful they are invested in Eliot, and get something out of watching him. They are really loving and protective of him, and if they're touched or feel represented in some way I'm proud to be a part of that.
Anything else you'd like to say?
Thanks for talking to me.
Calling all HuffPost superfans!
Sign up for membership to become a founding member and help shape HuffPost's next chapter