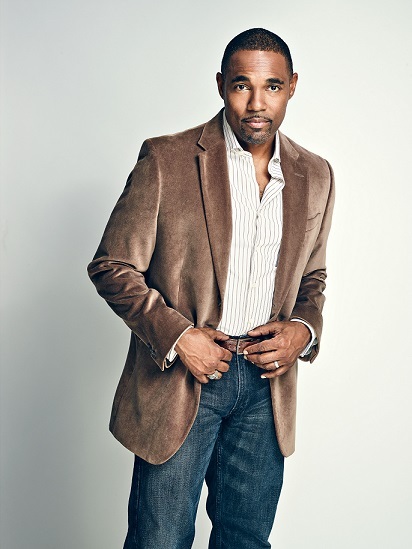 Jason George is in the upcoming thriller Kidnap with Halle Berry; release date May 13, 2016. You'll recognize Jason as Dr. Ben Warren from Grey's Anatomy and Dominic Taylor in ABC's Mistresses.
Jason George's Twitter.
Photo by Benjo Arwas.
Jason George - I just love how his name rolls off my fingers.
I must tell you that I couldn't even concentrate when interviewing Jason because he's so dreamy. Even now as I write this intro, I had to shut his picture down so I could focus.
Jason has quite a resume. In his early acting years, he was known as Jason Winston George. (I love tidbits!) But I first saw Jason in the ABC series Mistresses. I knew I had to interview this guy.
What was your favorite trip to NYC like?
My favorite trip to New York City... Last summer, my wife and I left the kids with her mom and flew to New York, just the two of us. We woke up that Friday morning and had almost forgotten that it was September 11. I turned on the television and regular programming was interrupted by the local memorial ceremony. I was truly moved by all of the regular people reciting the names of people lost in the Twin Towers almost a decade and a half ago. We dressed and went down to the Freedom Tower and the 9/11 Memorial which had throngs of people milling about. I wouldn't call the mood sad but rather sobering. It was also electric in the way that everybody there felt connected. I don't know if it was just a common understanding of the value of life or a deeper sense of patriotism or a united determination that we will not be intimidated, but nobody felt like a complete stranger at the memorial that day.
Then we took a lazy walk through Central Park. After laying on the grass watching kids play and watching street performers dance and flip over each other, we heard that Serena Williams had lost at the US Open. We were wrecked. The whole inspiration for the NYC trip in the first place was to see Serena make tennis history. We went from a low to the highest of highs though because I had walked over broken glass to get us tickets to see the Broadway show HAMILTON that night and meet the cast after the show. I have since been accused of being a paid publicist for the show but it really is that good. You actually can believe the hype. #Bam4Ham is no joke. If it were just a good play I wouldn't mention it here but I honestly think it should be required viewing for every high school student in this country. Sure, students will see history come to life and become proud of and more curious about the founding of their country, but most important it will remind all students - especially the black and brown ones - that this is their country, too. Hamilton was the bastard son of a single mother prostitute who immigrated to this country without a dime to his name. Swagger, a quick mind and a quick pen made him one of the most successful and powerful people in the country. True for Hamilton. True for Barrack Obama, Kanye West, Oprah Winfrey and maybe it'll be true for that kid from the hood.
The next day we got up went to the US Open's women's final to watch two Italian women we had barely heard of play each other. Then we had fantastic dinner, drinks and laughs at my boy Binh Douglas's restaurant, Henri on Fifth. The next day we watched Novak Djokovic beat Roger Federer in a phenomenal finals match.
Whose idea was it to keep your facial hair?
I've just always rocked the goatee. Maybe a beard for a minute or some thick sideburns but I've only been clean shaven for like two days in my adult life. Maybe it goes back to that time I shaved before going back to Ma's house from college. She opened the door, looked at my smooth face and said "I just wanna smack you!" I laughed and asked what did I do wrong. She said, "You look just like your damn father - about the time I divorced him!" Maybe that memory stuck, maybe I just like the goatee.
You're very outspoken with your political views. Which issues do you want the next President to concentrate on?
I need my President to be prepared to handle all the critical issues our country faces. National security, International relations, the rising cost of education, comprehensive immigration reform that supports kids who are American in the hearts. She needs to be ready to do the job on day one. I'm sorry, did I say she...yeah, I did.
Gun Violence and Social Justice are near and dear to my heart. And they are so connected it's sad. Gun Violence takes disproportionately more black and brown lives. Too many women's lives in domestic violence situations. And Congress is so afraid of NRA money the government doesn't even track gun violence -- not even gun violence involving law enforcement. It took investigative journalists to find out that 25% of unarmed suspects shot by LA police in a five year period were black. Call me crazy but I think whenever a cop shoots somebody, right or wrong, that it should be recorded.
You appear to be quite the charmer. Give us some childhood background. Did anything from your childhood help shape your acting career?
I'm one of three boys raised by a single mom in a military beach town in the South. You learn colorful language and phrases but you also learn manners, how to swim well, and how to hold your own in a fight. Ma was an educator so a sharp mind was valued more than a three pointer. We didn't have much money so a sense of humor was necessary because laughing is hella more fun than crying.
We had the Star Wars album -- not just the music from Star Wars but literally every sound from the movie including dialogue, sound effects and music. We wore that thing out. And then we took a tape recorder and some toys that made crazy sounds and made about six hour's worth of our own science fiction radio play. Probably the start of my acting career. Probably best that they stay lost in a storage box at Ma's place.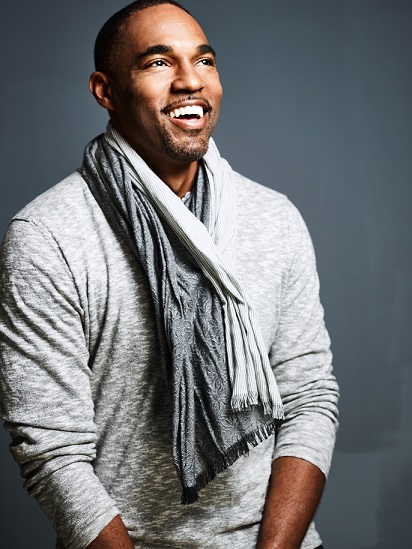 Jason, I want to hear that six hours of tape you and your brothers made! But I'll settle for dessert with you and your wife on your next trip to NYC :) -- ILANA
Calling all HuffPost superfans!
Sign up for membership to become a founding member and help shape HuffPost's next chapter