While many actors land only one particularly memorable role -- or, for the lucky, perhaps two -- in a career, Kenny Johnson has the opposite problem. The Hollywood veteran has appeared in so many of today's most popular television programs, he never knows which character fans are referencing when they approach!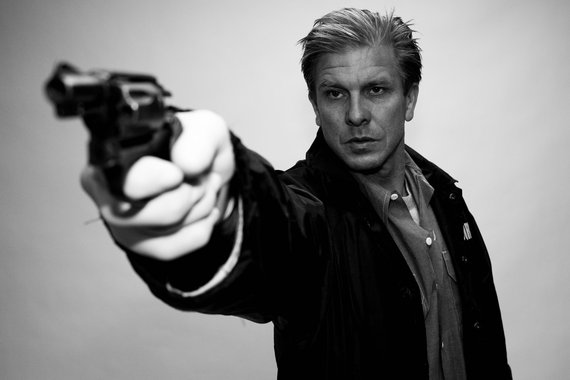 "Sometimes when someone says, 'I love you! You're great!' I just have to say 'Thank you,' because I don't even know which part they're talking about," admitted the affable actor during a recent telephone interview, "It could be one of five or six different roles or any number of series."
It's a luxury problem, admits one of the hardest working actors on TV today. Slated for small screen return on the upcoming second season of Secrets & Lies opposite Oscar nominee Juliette Lewis, Johnson hasn't taken so much as a break since his career took off in 1998.
As a starring player, the Connecticut-born actor boasts three seasons with Academy Award-winner Holly Hunter on Saving Grace, a five-year stint on The Shield, a season of Prime Suspect and featured runs on Chicago Fire and critically-acclaimed Sons of Anarchy. Boasting recurring roles on everything from Dexter and Cold Case to Burn Notice and Covert Affairs, there's nary a gap on his resume.
"I know this isn't the experience most actors have in Hollywood," acknowledged Johnson of working nonstop for the last decade-and-a-half, "I've gone from one great show with really great writing and cool characters to another...then another. I've really been blessed."
Most recently, Johnson won raves for a role on TV's Bates Motel. This televised "prequel" to Alfred Hitchcock's classic thriller Psycho traces the years preceding the story known worldwide. For two seasons, Johnson portrayed Norman Bates' uncle "Caleb."


Taken from a Text Message from Kenny Johnson: Horsing around with costar Juliette Lewis on the set of TV's 'Secrets & Lies.'
Even in a family so renowned for dysfunction, the revelation that Johnson's character fathered a child -- Norman's half-brother -- by raping his own sister came as a shock. "It really disturbed people," Johnson confessed. Even in the context of the Bates family, "a lot of people were very angry."
Initially planned as a brief three-episode Season 2 arc, Johnson said the show's creators and actors alike realized the topic was a "timebomb" deserving exploration. "After we filmed the first episodes, everyone was like, 'This just doesn't feel finished," Johnson explained, "'This story isn't over.'"
As a result, he returned for season three. This allowed writers and fans to further delve into the highly complex dynamics of a family already known for deception, murderous tendencies and secrets.
"It is the Bates family, after all," said Johnson, "And we all know how that ultimately plays out. We just wanted an opportunity to dig into the backstory a bit more. The writers have the freedom to do that on TV."
While not trying to explain away, "redeem" or even make his character likable, Johnson says he and show-runners did hope to make "human" a flawed man who made awful decisions. They did so by exploring stories of a complicated man connecting with his son, a son meeting his father for the first time and the mother/sister who -- for more than obvious reasons -- would rather that relationship not evolve at all.
It was not only a role unlike any he'd played previously, Johnson also noted it led to another a career-first: Not once during his third season tenure was he asked about his character! "People stayed away from asking me anything about the Bates storyline," he confessed. "I think it's a subject nobody really wanted to touch because the subject matter was so uncomfortable.
"Not one interviewer asked me about the role the entire time it aired," Johnson continued, "That has never happened before in my career. It was wild!"
Unlike his twisted Bates character, Johnson is a gentle family man. He split time during our interview discussing his extensive career and preparing his young daughter for bed. ("Hold on," he said at one point, "I need to make sure she brushes her teeth.") In fact, after wrapping his run on the series, Johnson planned to take time away to help his daughter with her own acting -- in a stage production of Into the Woods.
Then he received the script for indie action flick Check Point. Combining elements of characters from The Shield, Bates and a previous Vietnam-era film he shot, Johnson said, "Even though I don't think they originally had me in mind, it felt like they had written the role for me."
Set to debut Memorial Day Weekend 2016, Check Point sees Johnson as "Roy." A U.S. special operations veteran, he returns from three tours in Afghanistan to discover his entire family was wiped out in a natural disaster. After descending into homelessness, depression and fighting PTSD, he becomes the unlikely individual who uncovers a homegrown terrorist plot in smalltown North Carolina.
Watch: The trailer for Kenny Johnson's upcoming film "Check Point"

"The concept for me was mind-boggling," said Johnson of the film, directed by Thomas J. Churchill and costarring William Forsythe (TV's Boardwalk Empire) and professional wrestling superstar Bill Goldberg, "It really hit home with what's going on right now in the world."
The movie's premise that terrorism could spring up at the hands of ordinary Americans sounded far-fetched when Johnson received the script. However, after recent attacks on a French concert hall and a mass shooting in San Bernadino, CA -- both falling under the "domestic terrorism" banner -- it's suddenly far more believable.
"I don't even like thinking about the things people have access to now," said Johnson, "And I don't like talking about how easy it would be for something like this to actually happen. Even in France, where the country was on high alert, they still carried out six coordinated attacks."
While Johnson "prays" those responsible for defending against such attacks "do their jobs to the utmost," as an actor, he plans to show respect with an accurate portrayal in Check Point. Whether by the film shining a spotlight on a growing issue, or simply paying homage through a compassionate onscreen portrayal of the struggles faced by U.S. vets, he hopes it "gives back in some way."
"I think people forget sometimes what others put on the line to protect our freedom, to allow us to be free," Johnson concluded. "So many military people over the years have given their lives, their mental states of mind, their hearts and souls to protect people they don't even know."
This article was made possible by significant behind-the-scenes contributions from Jessica Richardson. Thank you for all of your assistance!

Popular in the Community