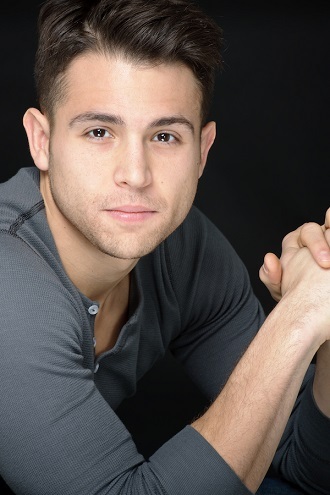 Lenny Platt stars in Quantico as the charismatic alpha 'Drew Perales,' a retired NFL player who is both charming and ruthlessly driven, who will undoubtedly clash with Alex Parrish (Priyanka Chopra) and crew both in and out of the FBI Academy.
Lenny Platt's Twitter & Executive Producer of BBQ Films.
It's difficult for me to say how hot a dark-haired guy is (because you all know I prefer blonde surfer dudes) but Lenny Platt has something. Maybe it's his dreamy eyes? Or maybe it's because he has the same first name as one of my all-time favorite uncles? Well, no matter. What does matter is that he's a working actor who makes me want to watch Quantico!
Born in Philadelphia, Lenny originally set his sights on a different path in life while attending the University of Florida to major in criminology. He stumbled upon acting when he joined a student film group on campus and almost instantly he fell in love with writing and directing short films. While working behind the scenes of a production, one of the actors unexpectedly dropped out it was Lenny who stepped up to the plate and quickly realized he had a knack for work in front of the camera.
You play Drew Perales on ABC's Quantico. What happened on your audition?
Since last March when I read the pilot, I was excited about the premise and concept of the show. I'd auditioned for a few roles since the pilot, but Drew was the one that stuck. I owe a lot to the wonderful people at Bowling/Miscia casting in NYC. When you audition for Quantico, they have the academy application manual and maps of the base in the waiting room. So right from the start, they have you doing research which I thought was cool. At the time, the character was written as an ex-boxer, so I wore a white henley because I think I'd seen a boxer wearing it recently at a weigh in. And they wear those blue henleys on the show so I thought it might be a wise subliminal wardrobe choice.
How far in advance do you get the scripts for Quantico? Do you receive them electronically or on paper?
About a few days before we start filming. The writers keep their cards close on the show for the good reason, so it's better for us to be on a need to know basis. I've heard they just started printing the advanced episode outlines on red paper so it can't be photocopied or scanned. I love it. It's surreal to be on a show about the FBI and secrecy and see that they are employing some of the same tactics behind the camera as well.
Yay Philly! Please share a pleasant childhood story.
There was a show at Sesame Place where you could lay down on mat in front of a blue screen and the monitor would show you flying with Super Grover. I must have been five years old when I did it and I still remember it. Likely the origins of my acting bug.
What would you rather do? Play video games all night or read a book?
Video games. Anything from Rockstar usually keeps me up for a few nights at a time. Getting to be a few characters in the recent GTA was a dream come true. I would have paid them to do it, but please don't tell them I said so.
What was your first paid television role?
One of them was when I got to be an extra in a skit on SNL. It was the coolest! I'm an SNL junkie, and being backstage and seeing how it works behind the curtain for a couple days was something I'll never forget. The premise of the skit was a high school graduation for kids with absurd, filthy names that you probably can't print here. Steve Carell played the principal who read each of our names aloud. Time of my life.
You were most recently in How To Get Away With Murder and Gotham. Which character was more exciting?
Both were a blast to play. I couldn't choose a favorite, but I will say only one of them has met with a brutal, fiery demise so I often wonder what the other is up to.
You were on the soap opera One Life to Live. What's the difference between working on primetime TV vs. daytime?
More scenes to shoot and more to memorize. OLTL was a bootcamp for me and I was a lucky to be a part of it. It was a great experience and met great long-term friends from it.
What are your workout and food routines?
Everything in moderation, I guess. The show is physically demanding (stunts, running, pull-ups, etc.) and I was told I'd be playing an ex-football player, so when I got cast I threw down the cheeseburger and ran into the nearest gym. Also, LiLi (Iris on the show) is also really into exercise so it's been organizing workouts with some of the other cast while we've been filming in Canada. Montreal has some of the best food and drinks in the world, so we're just learning how to offset all that foie gras and maple syrup with some sit-ups and green juice.
You have a production company, BBQ Films. How'd you become involved in that? Who came up with that cool name?
Changed my life. BBQ Films is an event production company that creates immersive cinematic experiences in extraordinary locations. Our Film Crew crafts interactive installations around our favorite films, building the very best moment to watch a movie. It grew out of the love for film, started by a husband and wife named Gabriel and Lauren on a rooftop in Spanish Harlem. They would invite their friends over, screen a movie they loved like Goonies or Blade Runner, all while grilling up some burgers. That's where the names came from - it started as a BBQ.
It's now grown to become NYC's biggest and most innovative immersive cinema. I got involved three years ago as an audience member. I attended "Patrick Bateman's 27th Birthday party" - an immersive screening of the film AMERICAN PSYCHO. They turned the basement of the Tribeca Grand Hotel into an 80s nightclub from the film. My friend Peter and I dressed up in our best power suits and were transported into that film through sets, props, music, drinks. It was like being inside the movie. I was hooked ever since.
Calling all HuffPost superfans!
Sign up for membership to become a founding member and help shape HuffPost's next chapter