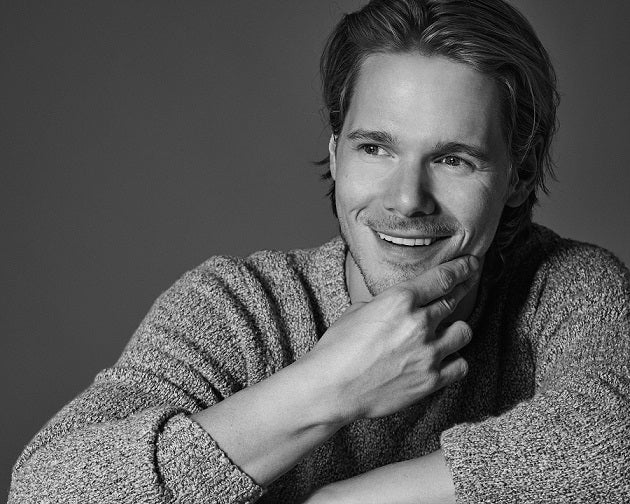 I'm not gonna lie. I have a thing for actor Michael Nardelli who plays Ian Cooper, an aggressive paparazzo who makes his living chasing celebrities and getting the dirt on their love lives in Christmas In Homestead, which is slated to premiere on Hallmark Channel on November 24, 2016.
Let's see … a) he's blonde b) he's a comic book nerd and c) my love Ricky Schroder also had stuff on the Hallmark Channel.
Please visit Michael Nardelli's website.
What was your audition like for Christmas In Homestead?
The first audition was really fun! I got the audition from my agents in Atlanta. I live in Los Angeles but my family resides in Atlanta so I have reps on both coasts. My Atlanta team are great about finding work for me there, and there's so much work in Georgia now that it's dizzying! I happened to be home in Atlanta when the appointment came in, so I actually got to audition in the room with a casting director (normally I tape for Atlanta stuff from Los Angeles – sometimes they actually cast off tape, which is convenient!). A week or so later I was back in LA and at first, was told I'd have to fly back to Atlanta for a callback with the director and producers. Then they decided to just give me some notes and have me tape the callback (and also read for another role too – so it was quite a bit of material to put on tape). A week or so later I learned I got the part. I was super excited! The last couple of projects I've done have been a bit heavy and dark; it was refreshing to jump into a fun Christmas story.
You're producing, writing and starring in a new digital series called Dark/Web. What is the show about?
It's a bit of a cautionary tale about the modern "always connected, always on, always available" world we're living in today. It addresses things like cyber terror, hacking and freedom of information. It does all this with a bit of a hybrid story structure that we're excited about: a serialized narrative that spans the course of eight episodes, and stand-alone anthology segments that appear in each episode. There's a narrative device that ties it all together. If we all do our jobs right it should feel fresh, scary, topical and fun. Fingers crossed!
Why did you choose the entertainment business instead of something else?
There was never another option. There just wasn't. Looking back, all I was ever interested in was film, TV, theater and storytelling. I was always acting in school plays. I was always creating short films with my friends and editing them, directing them, writing them, and playing some kind of role in them. Storytelling is absolutely my passion and obsession.
You began as an actor. What inspired you to also pursue writing, producing and directing?
I love all forms of storytelling! If I had to choose one it would be acting, but I have a lot of energy and I hate waiting for the phone to ring. That, for me, is a death sentence. And when I look back on it all, I was always kind of doing everything. We'd have puppet shows at school and I'd go home, write the script, perform, direct, make the costumes and design the puppets. I did shorts like that throughout grade school and high school too. I think for modern storytellers/filmmakers, the new normal is that you're expected to multitask. And the more I learn what the other roles in the industry are like, the more I think it just helps me in general as an actor and all those other things. Learning what it's like for the different departments to successfully do their job on a set just gives you a whole new appreciation for the art form and what everyone contributes to it.
I'm sure you've been to comic book conventions because you're a super nerd. Tell us about the first comic book convention you ever went to.
My first comic book convention was San Diego Comic Con. It was probably about eight years ago. My brother, Tim – another super nerd — and I took the train down and couldn't have been more excited. We waited in line hours and hours to get into the Marvel panel. We met Joss Whedon at an after party; as a Joss Whedon super fan, that was basically my Beatles moment. He did not disappoint!
Push-ups, pull ups. What is your exercise routine?
A mix of CrossFit, yoga, boxing, running, and lifting. I try something every day, though it's not always as long of a workout as it should be. I do try and vary it up. Doing one type of exercise every day of the week becomes tedious and then you just want to quit and go get an Oreo malt instead!
What was the most embarrassing moment of your life?
Ugh, I can think of some early auditions when I first moved to LA that make me cringe! I'd been acting since I was a kid, but grew up in tiny towns so the whole big city, LA thing was intimidating. I was so nervous! Hopefully those tapes no longer exist! Burn them, burn them!
Christmas In Homestead airs on Thanksgiving night. I have a film called The Tribe that I acted in coming out next spring; I'm super proud of the movie and what everyone accomplished with it. I'll spend the next few months filming the remainder of our Dark/Web episodes and getting those through post-production. Then I have a feature script I've written I hope to be able to put together next year.
Tell us about one charity that you support and volunteer for. Why is it important to you?
I've done a lot of work with the PATH organization in Los Angeles over the last few years. They're a great organization out there doing God's work helping the homeless. At least twice a year, my friends and I get together and organize a "move in" or "care package." Basically PATH locates a new apartment or home for a homeless family in need – usually a single mother with children – and we're responsible for furnishing the new space and giving it dignity so the mom and her children can walk into their new home and feel like they have everything they need to start their new life. I just love the process. It's a lot of work – but when you get 6-8 people together it's amazing how much "stuff" you have lying around your house that you never use anymore, but can literally bring a huge smile to someone who really needs it. We all have furniture/items in our homes that we're not using; when you combine forces, you can literally give someone a new lease on life. These women and their kids have gone through hell and back to get to the point where PATH can offer them a new home – and I've been lucky in a lot of the things I've been given in life – so it feels like a responsibility to help others out in the ways I'm able to.
Popular in the Community