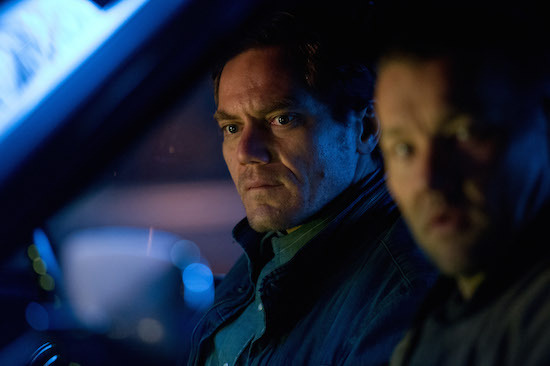 Ladies, get a hold of some waterproof mascara, 'cause you'll need it!
In Jeff Nichols' Midnight Special, actor Michael Shannon gives everyone a daddy complex, by being the best father we all wished for in our youth, or that fantasy baby daddy we've dreamed about in the thick of the night. And the tears, well those are a fabulous byproduct of this charismatic actor's latest, cathartic performance.
To say that it's interesting to meet Shannon in person, as I had a chance to do during the recent Berlinale where Midnight Special enjoyed its world premiere, is a gross understatement. The man behind the actor is very much like one of his multi-layered performances. Being in a room with Shannon and his co-star Jaeden Lieberher turned even more otherworldly when I noticed the actor drawing the blinds together just before I stepped in. I'll admit the resulting calm created by this simple move, the soothing half-darkness shutting out the cold light of Berlin, made the interview better, more intimate. It's too bad that with an actor of his talent and intensity, twelve minutes during a festival press junket just aren't enough.
Sitting across from Shannon, who came dressed in a Berlinale grey sweatshirt and jeans, made me think of a lotus flower. Closed, low-key at first and not revealing its intense beauty to those who don't deserve it, but once the layers start opening, a world of wonder is there rewarding those with the patience to discover it. I mean, just think back to Shannon's multi-dimensional portrayal of Rick Carver, in Ramin Bahrani's 99 Homes, a ruthless, unlikable character who becomes so humanly comprehensible right before our eyes, and in just under two hours. I believe great acting should always make the audience question their definition of good and bad.
In mid-April, NYC audiences will be treated to two more unique Michael Shannon performances, during this year's Tribeca Film Festival, where both Wolves and Elvis & Nixon will world premiere. In the latter, Shannon embodies the King himself and from the looks of the trailer, this is one Elvis we will not want to miss.
But back to the father we all wish we had, fearless and selfless. In Midnight Special, Shannon plays Roy, a character he describes as "a classic inarticulate southern kind of man, he has a lot of thoughts and feelings but he's not really good at expressing himself," which could also describe Shannon himself. Maybe in deeper men, those thoughts and feelings prevent the constant talking so many of us do, to bring out only the purest emotions, the strongest actions. Roy is a great father, a selfless one, and, as Shannon puts it, "the only thing he ever believed in was Alton," his extraordinary son. "Roy is a good boy, he worked hard and did what he was told to do," explains Shannon, and yet, when faced with a life and death decision early on in the film, he realizes that "Alton is more important."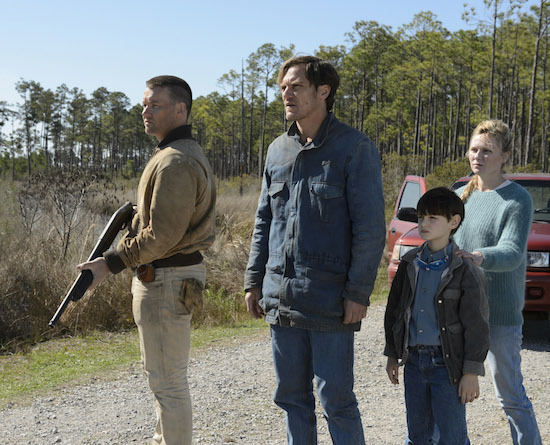 Alton for his part -- played hauntingly by Lieberher -- deserves this treatment, because he's a chosen one, a being more enlightened than most, and that's the twist, where Nichols' film turn sci-fi. I personally love science fiction films that manage to tread through the complexities of humanity, on their way to the fantastical. Show me relationships, intricate puzzles of emotions, religious and political references and I'll buy a city built in the clouds. I'll even buy light rays coming out of a young child's eyes... Wholeheartedly.
Shannon himself finds Midnight Special different from its genre because, he says, "one of the things I like here is usually in science fiction some opposing forces, something is trying to destroy something else, or take over something else; and this is not trying to take over -- it's here too." I hint at the idea of this better place Alton searches for in the film, with Roy's help, as being a place for non-violence away from the chaos of today's world, and Shannon continues my thoughts by saying, "it's actually in harmony with our dimension or our reality. Like you say it's not violent. I think that's a pretty beautiful way to look at things."
That last sentence, he utters in the same tone and with the southern drawl Elvis would have used, in that "thank you, thank you very much," way. Yup, he's going to make the perfect Elvis. After all, Shannon himself is a southern man and a rockstar too, the frontman of Brooklyn-based band Corporal.
When asked whether he believes in the paranormal, an alternate universe, Shannon doesn't hesitate, "yeah, I mean, I still believe in mystery." He continues, to explain his thoughts while twirling one of those old fashioned metal bottle cap from the mineral water on his table, "I don't believe we know all there is to know. I know I have a lot of questions still about the universe and I love the notion of it." His co-star Lieberher instead answers with more questions, by stating, "I think there's something out there and there's things we don't know about... I just don't know about the spiritual aspect of humans, I don't know what to believe or to think."
A beautiful moment presents itself when I ask Lieberher how he prepared for such an extraordinary role, which he admits he "created from scratch," and explains that "getting into the scenes was a lot easier with Michael around, working with Michael really helped me become him [Alton]." Shannon jumps in and asks "did you have any dreams about him? Or did you imagine what that would feel like, for example when the lights are coming out of your eyes?" But then magically also offers the answer, by continuing with his thoughts, "I mean you just used your imagination, that's our number one weapon, our imagination." I thank him and suggest he could go on and conduct the rest of the interview, it would probably turn out to be a lot more interesting, and he laughs, softly. Softly, now that's not a word one would expect in an interview piece about a six-foot-four man.

When Lieberher hesitates remembering the first movie he ever watched, Shannon jokes, "Ordinary People!" And for Shannon? "I don't know if I can remember the absolute first film I ever watched but it's interesting to me that Jeff [Nichols] mentions Starman as one of his influences because I definitely remember seeing Starman," then continues, "I remember watching that movie and wanting to find out how they did that and admiring how they did it."
As I walk out, I honestly feel like telling the two actors, "thank you for making the film," because Midnight Special has changed some of the standards I use to define good parenthood by, from here onward. I'm pleasantly surprised when Shannon answers back, "appreciate it!" This time with a hint of Brooklyn-boy peeking through.
Midnight Special opens in theaters March 18th.
Photos by Ben Rothstein © 2016 Warner Bros. Entertainment Inc. and Ratpac-Dune Entertainment Llc, courtesy of Berlinale, used with permission.
Popular in the Community