Romany Malco made his name in films such as Baby Mama, the 40 Year Old Virgin and Think Like a Man and on TV in hit shows such as Weeds. But it is his outspoken nature and command of social media that have garnered him legions of followers and detractors - and which led him to worry about accepting an offer from the USO to visit the troops in Afghanistan in early April. "My paranoia kicked in," he admits. "I have been so vocal about our government, the military, the role the Federal Reserve plays. I wasn't sure if I would go over there and have these soldiers pissed off at me. I talk a lot of shit."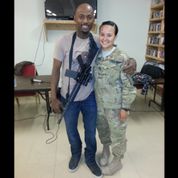 Romany's fans tend to be males between 17-35 years of age, making him a natural for visiting with our troops. But there was another reason, according to Malco, "I have a military background, was in the Marine Corps from 1987 to 1991. I just didn't want this to be a poseur mission. I like to be accessible and thought I was going to have to conspire to get past the posing, the Hollywood aspect of it." Romany's partner for the USO tour was actress Jill Wagner who he describes as "a very personable chick raised by a Marine. She's very down to earth and accessible."
Romany's first stop on the tour was Manas International Airport in Kyrgyzstan where he landed on April 2. "It hit me going through all these security checkpoints that it costs a lot of money to build a city inside of a city," he muses. "There's no reason you would spend this much money to build a base unless there was some way to monetize it."
Over the course of the next 10 days, Malco and Wagner were based at Bagram Airfield in Afghanistan, flying in Black Hawks to bases across the country. As Romany Malco recalls, "We literally went from base to base shaking hands and talking to people. Initially they formed a line for autographs but we said we came here to talk to you. No lines! Break out your camera phones and we'll record messages for your families back home. We ended up just hanging out with the troops. Sometimes I'd see Jill surrounded by 30 guys because she's gorgeous. I got to have in depth conversations about the soldiers' families, how they were raised, why they chose to enter the military."
When asked what the troops had in common, Malco says, "I realized the only way for them to be over there is to completely submerge themselves in the mission. You can pick the war apart politically or morally but that ain't going to get you nowhere. You have to become gung ho." He adds, "Here's what I noticed: Every single person I met made piercing eye contact, had a strong sense of purpose and was proud of what he was doing. What they thought personally about the war may have been very different."
Romany laughs when asked if he was ever in danger and recounts a night when he was awakened from his sleep by the shrill announcement, "Incoming! Incoming!" With the sound of exploding bombs in the distance, he put on his armor and helmet and went back to sleep. He also chose to sleep with the troops instead of in VIP quarters which were more secure.
Now back in the US, Romany Malco says he would happily go on another USO tour but he says that the experience in Afghanistan has changed him greatly. He is philosophical about his first-hand look at the war in Afghanistan: "These troops are away from their families for eight or nine months at a time. I'm crazy proud of them but no one can tell me why we are over there."
Photo by @RomanyMalco on Instagram
REAL LIFE. REAL NEWS. REAL VOICES.
Help us tell more of the stories that matter from voices that too often remain unheard.