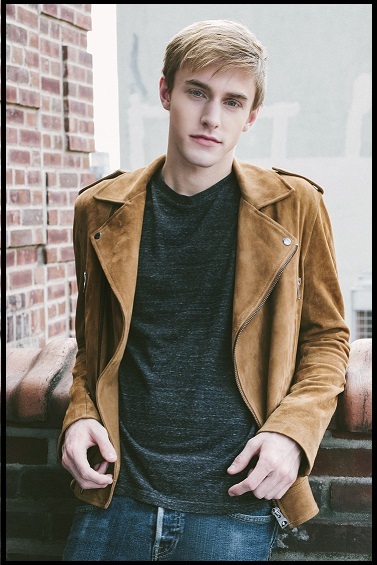 Tim Boardman has the lead role in the Indie film MILES. The film premieres on July 16th at OUTFEST in LA. #milesthemovie , #OutfestLA
Tim Boardman's Twitter, Instagram.
Photo by Spencer Kohn.
Now Tim Boardman is my type of lad. You know why, don't you, readers? (wink wink)
Tim lost his brand new sunglasses last week JUST as he was heading to LaLa Land for the premiere of his film, Miles, which is being presented at #OutfestLA . Tim, I hope you got another pair of sunglasses because I'm told they are a commodity in LA!
It's hard to focus when I'm looking at Tim's picture so you may notice I'm all over the place in this intro. I'm not sorry.
And what would an article by me be without a connection to "V"? The premiere of Miles is July 16th, same day as "V" actress Faye Grant's birthday.
Miles centers on a young gay man who discovers his recently deceased father has squandered his tuition fund in an illicit affair. He joins the girls' volleyball team in his small town to win a college scholarship.
Let's find out more about Tim Boardman!
You play the title character in the Nathan Adloff-directed indie MILES. How'd you get the part?
I auditioned. The process was actually very interesting because I was cast all off of self-tapes. Nathan was in LA, I was in NY. I didn't meet any of the team in person until a week or two before shooting began.
What initially drew you to this project?
There are so many different life lessons / issues in this film that it's hard not to relate to something in this story, no matter who you are. Miles reminded me so much of myself in terms of fighting for something I felt passionately about and not always having that genuine support from other people and the struggle of dealing with that. I lost track of how many times I read the script.
Tell us about your first meeting with Molly Shannon and Paul Reiser, who also star in the film?
We didn't have any prior meetings to shooting, so I actually didn't meet them till the first day we filmed our scenes together. We had such a short time to connect and get to know each other, so we just immediately opened up and hit it off right away. They really took me under their wing and are truly amazing, welcoming and talented individuals.
Your character, Miles, is an openly gay 17 year old who is comfortable in his own skin. How important do you think it is to have positive roles portrayed in film and TV? What do you think people will learn from your character and or the messaging of the film?
I think it's very important to have positive roles portrayed in film and TV. What I love about this story that's different from a lot of other LGBT films, is yes he's gay, but that's not what the story is about. It's about fighting for what you believe and what you think is right. Yes, any great film has obstacles, but when it's constantly negative it doesn't always leave you as the viewer feeling the greatest. That's why having a positive figure like Miles, despite his struggles, will definitely resonate with audiences and give them inspiration to achieve what they deem to be impossible.
You're heading to LA for the premiere of Miles at OUTFEST on July 16th. What are you most excited about with regards to premiering MILES at such a reputable festival?
I'm honestly just excited to meet other filmmakers and actors who love this craft just as much as I do. And to take part in a festival that celebrates opportunity and the arts.
You will also be seen in the 2017 comedy Wilde Wedding opposite Glenn Close, John Malkovich, Patrick Stewart, Peter Facinelli, and Minnie Driver. Can you tell us a bit about your role? What was it like to be part of such a star-studded cast? Any fun stories from set?
I play a character named Dylan who is the nephew of Glenn Close's character. I am one of several members in this large ensemble cast. I would describe my character as slightly awkward and nerdy, but good looking yet he doesn't know it. Overall, it was an absolute honor to work alongside these Hollywood legends. These are the kind of people I look up to and to be able to work with them for a month was unreal. They were such a fun and friendly group. My favorite memory from set was when we shot one scene over the course of two overnight shoots. We had the majority of the cast together filled with lots of positivity and laughter despite the late hours.
You are originally from CT but now live in Brooklyn. What is a typical day look like for Tim Boardman in Brooklyn?
It varies day to day. Some days I have auditions, others I don't. I like to work out and go to the gym when I'm not auditioning or working on a script, so I try and do that about five days out of the week. I also keep up with my training by taking acting classes, voice lessons and dance classes as I have a background in Musical Theater. I also take like to take a nap at least once a day if I can.
Anything else you'd like to say?
Look out for Miles! If you're in the area come to Outfest and get in the standby line at the Director's Guild of America! Screening Saturday, July 16th at 2:30pm. #LGBTQ
REAL LIFE. REAL NEWS. REAL VOICES.
Help us tell more of the stories that matter from voices that too often remain unheard.