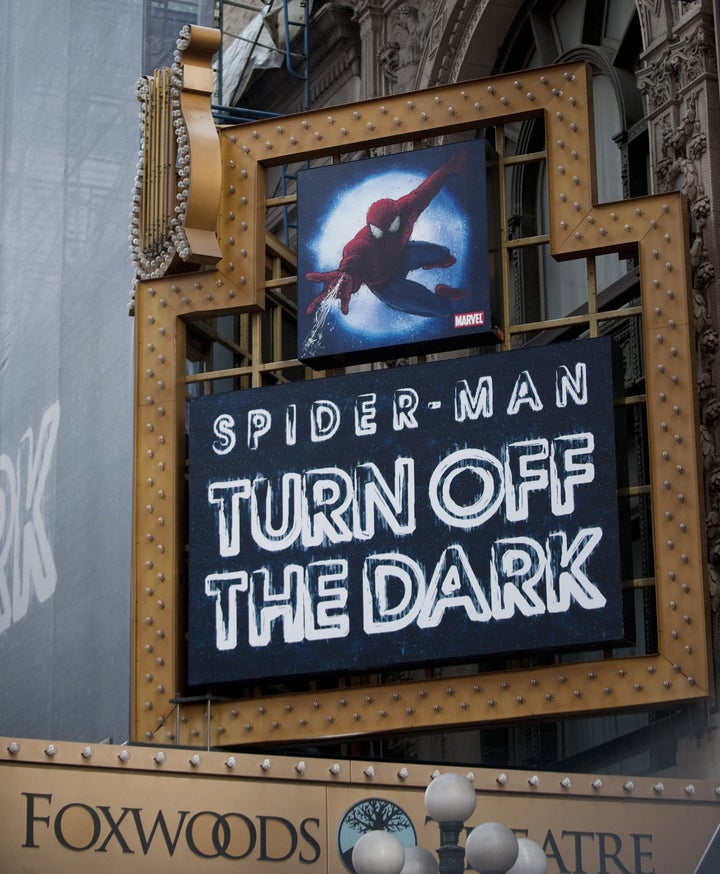 UPDATE II: The Post is now reporting that the state is satisfied with the safety changes, and the show will reopen on Thursday.
UPDATE: The NY Post is reporting that the show's Wednesday night performance has been cancelled, and that following a state safety innspection, the show has been closed indefinitely.
PREVIOUSLY:
Right now, Spider-Man is nobody's hero.
The blockbuster Broadway show 'Spider-Man: Turn Off The Dark,' long besieged by financial and logistical problems, has seen things turn for the worse once it actually got on stage, with four actors suffering severe injuries during test shows. The most recent, Christopher Tierney, fell on Monday and broke ribs and is in serious condition; another suffered a concussion, and yet another broke both wrists.
Broadway actors, already a besieged group, are now revolting, calling for the show to be canceled -- and far worse, too.
Adam Pascal, famed for his role in 'Rent,' took to Facebook to issue some of the harshest comments. He wrote (via Moviefone):
I have to weigh in on Spiderman. They should put Julie Taymor in Jail for assault! I know what its like to fall and get hurt in front of 2000 people. It's no fun, but at least it was the one time it happened. I hope whoever was hurt is ok and sues the shit out of Julie, Bono, Edge and every other asshole who invested in that steaming pile of actor crippling s**t!
Taymor directs the production, while Bono and Edge provided the music.
Alice Ripley, who won a Tony for her part in 'Next to Normal,' also wants the show shut down, and is majorly concerned for her colleagues.
"Does someone have to die? Where is the line for the decision makers, I am curious." she tweeted. "'Spider-Man' should be ashamed of itself. This is completely unacceptable and embarrassing to working actors everywhere."
Instead, the show announced it would continue running on Wednesday night.
Popular in the Community