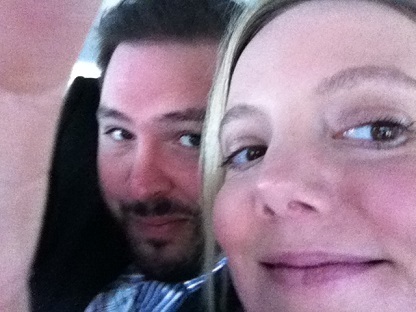 Nicholas Carella and Michelle Ouellet, along with actress Ali Liebert, create their masterpiece, Afterparty, with a tight schedule, tight budget and an impressive cast. Afterparty will have its world premiere at this year's Whistler Film Festival on December 5 at 6:30 p.m. Directed by award-winning Michelle Ouellet, and produced by Sociablefilms.
In Part I, we bombarded Director Michelle Ouellet with questions about her latest movie to hit the circuit, Afterparty. In Part II, Michelle gives us even MORE details, and her associate, actress Ali Liebert, gives us some character and personal information that we've all been dying to hear!
What happens next after the premiere? How do you even get into a festival? Are there hopes of getting a financial backer to bring the film to the large screen? Do you start working on your next project as this one does festivals?
We have applied to a few strategic festivals, and will be finding out about those after Whistler. We are happy to say that we have a couple of distribution offers on the table so, you know, that takes a little pressure off in terms of the film's future, being that our end goal has always been to repay our investors. In terms of getting into a festival, I think the key thing for aspiring filmmakers to keep in mind is that festival programmers are so inundated with material these days. If you can do anything (within reason) to get a programmer's attention, you should do that. If your cousin Sally, for example, used to work with the programmer at a major festival, then ask Sally to drop that programmer a line on your behalf. Then be patient! And remember that if your film isn't programmed, it may have nothing to do with the quality of your film. Programmers are curating their festivals; and the programs have to make sense for the overall vision of the festival that year. In terms of life after the festival circuit, we are actually planning what we call "a cast caravan," whereby we are going to tour the film across Canada and to a few select cities in the United States. We aren't going to wait for a distributor to put our film on the big screen, just like we didn't wait for a big company to come in and finance Afterparty, so we could make it. At the moment, Afterparty is taking up most of my time, but I am very excited about another project that we've been developing over at Sociable, titled Tiny Replicas by Dave Deveau. It's a wonderful comedy about two men trying to have a baby. We are hoping to shoot that in 2014.
Why did filming take place on weekends at Graham Coffeng's brother's estate, as opposed to during the week?
We actually didn't shoot at Graham's brother's house. It's been demolished!! We rented a place for six weeks where we shot all of the interiors. All of the outdoor scenes took place at our Executive Producer Yolanda Jessel's house. We shot all of the exteriors on our last night. Truthfully, being able to review the footage during the week ended up being a by-product of what was ultimately a business decision. All our equipment was available on the weekends, so that's when we shot.
What dreams do you have for your future?
Work aside, I'd like to start a family and do a little more travelling. I have always dreamed of living overseas in Europe. Actually, that's something I really hope I can do in the next 10 years.
Anything else you'd like to say?
The most important thing to remember as an artist is that you have to have something to say. If you have nothing to say, you should be doing something else.
Early in your career, you were focused on stage. What changed now that you are more focused on television and film?
I grew up in a small town on Vancouver Island (Duncan, B.C.) and I didn't really realize that having an on-camera career was an actual possibility. That being said, I thought being on Broadway was totally reasonable! My Mom encouraged me to dream big; I have her to thank for my blind optimism. I attended a fantastic musical theatre college (The Canadian College of Performing Arts) and during my last semester I had a TV and film course which swiftly changed my focus from stage to camera. My teacher told me that I had "it," and to move to Vancouver as fast as possible and start auditioning for TV. So that's what I did!
If you actually had time to stalk Donny Osmond, would you?
These days, I would rather spend my time stalking Liza Minnelli. I am completely obsessed with her -- but why wouldn't you be? She is fascinating to the bone. However, my 11-year-old self would lose her mind if she met Donny. Pretty sure she would be unable to find the words to thank him for looking so damn fine in that loincloth. I mean, right?
Tell us about your character in "Afterparty," and let us in on a behind-the-scenes story that you have not shared publicly.
I play Tracy Barks in the feature film Afterparty. Tracy is a successful comedy writer who is currently living in New York. She is ambitious, funny and unapologetic about her choice to put career before anything else. When we meet her in Afterparty, she has had a very complicated day watching her high school best friend get married, as for her feelings for him, were not exactly platonic. I had a very similar relationship with someone in my own life, so it was fairly easy (and painful) to tap into Tracy's feeling about the groom. I didn't have to watch this person get married, but I did watch them date many other girls while I stood by as the trusted best friend. It's a thankless and confusing place to be. The friend zone is the worst zone.
There isn't much dirty, set gossip to share because all of the actors in our film are literally the majority of our closest friends. Erica Carroll, who plays Sephora in the film, is from the same hometown as I am, although we didn't go to the same high school -- we ended up meeting years later in Vancouver and becoming fast friends. Both of our parents worked at my high school and her dad would always fill me in on Erica's latest accomplishments and bookings, telling me these incredible stories about her kicking ass and taking names in the Big Smoke (Vancouver). What an absolute pleasure to work together almost 15 years later! Our film is a reunion film, so it's pretty fitting.
Be sure to check out Part I of the Afterparty interview, and see the film on December 5 at the Whistler Film Festival!
Michelle, Twitter: @michelleouellet
Ali Liebert Twitter: @aliliebert and website.
Calling all HuffPost superfans!
Sign up for membership to become a founding member and help shape HuffPost's next chapter