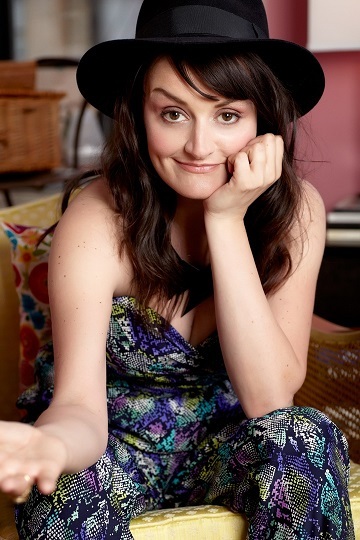 Alison Wright is starring in FX's original hit series, THE AMERICANS, alongside Keri Russell and Matthew Rhys. Alison's Twitter: @alison__wright
Photo by Elise Gannett
If you've ever seen The Americans, then you looooooove Drunk Martha! If you've never seen the show, then it's time to hop on the bandwagon because Alison Wright can do no wrong.
This Northern England cutie has a career that spans television, film and theater. But hey, she also dances! Whaaaaaat? Yes, you read it correctly. Picture it. Now.
Why did you decide to move from your native Northern England to the USA? What USA city do you call home?
After college in the UK doing Musical Theatre, I found myself drawn to the Stanislavsky technique. So, naturally I upped and moved to New York City to study at The Lee Strasberg Institute. New York is still home to this day.
How did dancing pique your interest in acting?
I went to dancing schools from an early age. (Tap, Ballet, Jazz, Stage, Disco!!) Dancing for me was interpreting the music, the story, the emotions -- and I was good at that. I was probably better acting out the song/music than actually dancing. I remember my exams would always have comments like "lovely expressive feeling" haha. Once in a Tap competition I actually fell over, totally on my bum and still came in first place. I must have sold the s#*t out of that number -- or maybe it was a pity prize.
Where were you at the exact moment you found out your character, Martha, was going to live to see another season of "The Americans?" Who told you the news and who was the first person YOU told?

That information comes in bits at a time, rumors, possibilities, hypotheticals -- you sort of hear it's happening unofficially for a while. It takes a long time to become fact. So I have no clear memory of the when and the where.
Did you do any research to play "Drunk Martha?
Hey, I'm a method actor. Getting to work on something that's physical is fun. That and Keri Russell made us drink Mai Tai's all afternoon.
What are your beauty secrets? Do you prefer bangs or no bangs? What products do you use? Who styles your hair?

Bangs or no bangs??!! I just cut in bangs for the first time in seven years and I'm not enjoying them at all! Tragic mistake. Hopefully I'll dig them in a few weeks.. I love experimenting with my hair and I do like to style it. I wish I had someone doing my hair every day!! I would wear it like Eva Peron or Joan Crawford.
I really enjoy Sothy products. I go to the spa in NY and I just love all their lotions and potions.
When I see blind people, alone, navigating the subway system in New York surrounded by the crush of so many people everyday. Their resilience and ability and bravery makes me cry.
Do you have an acting coach? How did you get introduced?
I have been studying with Seth Barrish at The Barrow Group for a few years now. I was working on a movie with Sakina Jaffrey (HOC) and looking for a new class. She suggested the Barrow Group and it's been my artistic home since. I've always taken classes and I mean to go on that way.
Have you ever heard of the BBC America TV show Orphan Black?

Have I heard of it?! I have totally binged all of Orphan Black. On Season 2 now.
What other BBC America shows do you watch?

Sherlock is glorious fun! I'm in love with Mycroft Holmes - he cracks me up. The acting is superb all around. Andrew Scott rocked my world as Moriarty. I have a major actor crush on him -- he was so exciting to watch. I love watching anything BBC since it's what I grew up on. I always get into at least one mini-series when I go to England. We have good telly.

Who's your favorite Doctor and why? Americans immediately think every person from England watches and loves Doctor Who.
Haha! I don't watch Doctor Who! Never have. So there Americans!
Popular in the Community