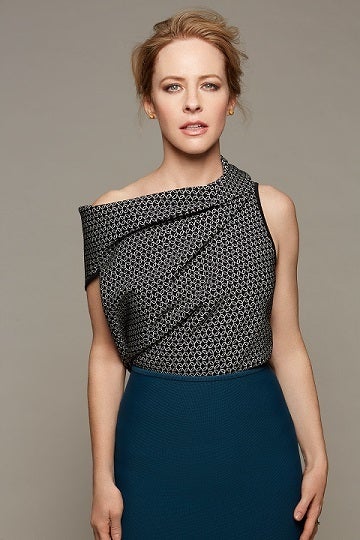 What does Netflix and Showtime's Homeland have in common besides nothing?
Seriously, how'd you guess actress Amy Hargreaves?!
Amy is one of those actors that you've seen everywhere – you point at the screen when you see her and scream, "That's the girl from Homeland!" Or "That's the girl from Flashback! Blindspot! Law and Order:SVU! Third Watch!" Let's all say her name again. AMY HARGREAVES!
So now I'm going to tell you why I'm making fun of Amy. It's because I'm jealous. Yes, the woman who doesn't have a jealous bone in her body (moi!) is jealous of Amy! There could only be two reasons why, and it's not because of my favorite mini-series "V" – so read on. (But really Amy, I love you.)
You play Lainie Jensen on the upcoming Netflix series 13 Reasons Why which premiered March 31st. Tell us about your role and how you first got attached to this project.
Lainie is the mom to Dylan Minette's Clay Jensen. They have a good relationship, but she's a bit helicopter-y. As Clay listens to Hannah Baker's tapes and starts to unwind, Lainie also gets more and more involved in the intrigue surrounding Hannah Baker's death -- but in a very different way.
We got a call from the LA casting office (Barbara Fiorentino) asking for me to put myself on tape for the role. I did, got the offer, and here we are!
Selena Gomez and Oscar winning director of SPOTLIGHT, Tom McCarthy, are the Executive Producers of 13 Reasons Why. What was it like working with them? Any fun/interesting stories from set?
It was fascinating from day one being on a project with such heavy hitters from seemingly in-congruent sectors of industry. But both Tom and Selena, in their own ways, were invaluable champions of this project.
Tom was there to guide us during the key first two episodes where we (the actors) were all just trying to figure out what this show was going to be tone-wise. He has a laser focus and is such a clear, smart director -- he knew exactly what he and showrunner Brian Yorkey wanted to achieve, and knew how to get those performances out of us -- launching us and the show off on the right foot.
As for Selena, it's funny because you might expect a huge pop star to come in with an entourage and an attitude, but she is exactly the opposite. She's a down to earth, real and lovely young woman. It's admirable because she hung on to this project for years -- tenaciously shepherding it along until it came to life with exactly the right team involved. She spent the last day of shooting on set with us -- she was supportive and spoke to us of how this story was so meaningful to her personally, and how she was so thrilled to have us all on board making it happen.
In addition to 13 Reasons Why, you star in the upcoming thriller SUPER DARK TIMES which will premiere at the Tribeca Film Festival on April 20th. Walk us through the process of having a film at a festival.
Film festivals are so much fun! There's no better place to see the interesting and off-center films I love. The second I know I have a movie in a festival, I look at the program and snap up tickets to projects I have friends in or just the ones that look cool. If you're committed and serious about it (or a bit nuts) you can see three to four films a day at some film festivals! Good times!
You're well known for playing Carrie Mathison's (Claire Danes) sister, Maggie, on Homeland. She is known to be the reliable / stable person in Carrie's life. What similarities or difference do you have to this character?
A NYC cop once recognized me from Homeland and said "You're the sister who is no fun!" I was slightly offended. Needless to say Maggie Mathison is responsible and yes, perhaps less fun than Carrie. But good thing! Look what happens when Maggie isn't around -- poor Franny gets carted off by child services. With regards to similarities / differences, I'm certainly responsible, but way more fun than Maggie :)
Tell us the story behind your family name.
Hargreaves means "by the woods" in Old English. I'm pretty sure my people were borderline Hobbit-type folks who lived, I guess, near the forest. The ladies in my family are especially petite, (I'm 5' 2-1/2") but the men have since evolved to more normal / taller heights. So that's good for them.
You are a true New Yorker, having lived in the city for almost 20 years. What initially drew you to the city? Being an actor have you ever imagined a life in LA?
From since I can remember, I knew I was moving to NYC the minute I could. It's the people, the possibility, the architecture, the movement, the subway, the sidewalk -- all of it. I've spent a lot of time in LA back and forth -- the longest stretch was around six months in the 90s. I don't mind LA -- it's fun to have a yard and a lemon tree and it smells nice. It's fun to go on the studio lots for auditions and work -- very show biz! But all that sun gets annoying after a while. Eventually I'm always lured home by the siren call of NYC's cement gray days, the winter slush, NYC weirdos, and good pizza.
For those aspiring actors out there, how did you first get into the business? How did you find your first agent / manager?
I begged my parents to take me to a few open casting calls we saw on the news when I was 10 or 11. They finally relented and after getting down to the wire for the movie "Annie" but not getting it, I was cast about a year later in an Off-Broadway showcase called "The Professional Children's Revue". I was hardly professional at this point, but found myself on stage singing with people like Sarah Jessica Parker and Ricky Schroder. It was surreal, and terribly exciting. I got a manager from that gig, booked a huge commercial, joined SAG and never looked back. [From ILANA: Ricky Schroder!!!!!!!!!!!!!!!!!!]
Also in 2017, you will star alongside Julianne Moore and Michelle Williams in the upcoming Todd Haynes film WONDERSTRUCK. Tell us EVERYTHING!
YEEEESS! Todd Haynes!! I can't tell you how thrilled I am to be a part of this project. It's a beautiful story (based on the novel by Brian Selznick) -- a fantastical period piece that follows two 12 year old children -- one in the 1920s and one in the 1970s -- who are somehow connected to each other over time. I can't say too much about the plot, but know that there are a number of hearing impaired actors who worked on the film, and the world of silent movies is a back drop for some of it. I play a supporting role and had the best time. Todd Haynes was a delight.
Fun fact- Oakes Fegley who stars as the young boy in "Wonderstruck" (and who I share scenes with) played my son in an indie called "Prism" a few years ago. Talented kid.
If you were going to do a Ted Talks, what would you speak about and why?
Ooh. Mine would be: "Ladies! Can we have it all?? Maybe! Just not all at the same time!"
Calling all HuffPost superfans!
Sign up for membership to become a founding member and help shape HuffPost's next chapter
This post was published on the now-closed HuffPost Contributor platform. Contributors control their own work and posted freely to our site. If you need to flag this entry as abusive,
send us an email
.