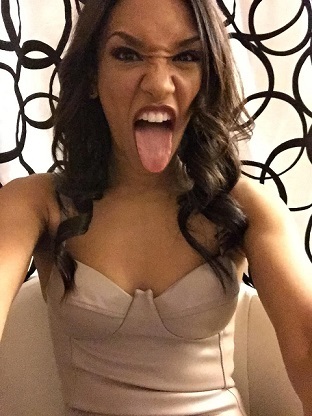 Candice Patton is Iris West in The CW's series The Flash. Follow Candice on Instagram and Twitter @candicekp and on Facebook at facebook.com/candicepatton
Candice is a talker! Her meaty answers forced me to break this up into a two-parter. I must say, if I'm going to be forced into something, I'm glad it was by Candice! How do you like that pic she took just for this interview?!
So many words I don't even have room for more intro. Be sure to watch for Part II where Candice discusses Rizzoli & Isles and The Flash fanfiction!
Tell us about your audition for The Flash.
My first audition was in December 2013 for the role of Iris West. I first read with our amazing casting director David Rapport. He liked my audition and asked me to come back later in the day with a different shirt. (I was wearing a plaid blue shirt and I guess I looked like too much like a farm girl). I read later that day for David Nutter (the director) and a few producers, I believe. I bombed. I forgot a line, something about "Channing Tatum" and had to start over. From that point, nerves took over. That was the end of it as far as I knew and I was pretty bummed about it.
I didn't hear back until late January 2014. They wanted me to come back in and read with Grant Gustin. I remember seeing Jordin Sparks in waiting room. In the audition during my first reading with Grant I remember I tickled him. I don't know why I did, but I just had the urge to tickle him.
I read for the studio, then the network and remember being sick to my stomach with nerves before the last audition. Hours went by, I didn't hear anything. Then I had to go audition for another pilot. Still hours went by and didn't hear anything. Then, after not hearing anything all day, I was started thinking it was over again. Finally, the call came in from my managers. It was around 6pm on a Friday. I fell to my knees and the first call I made after that was to my parents.
Is it nerve wracking never knowing where your next paycheck is coming from? What odd jobs did you hold in between roles?
Luckily I didn't have many "day jobs" while trying to find success in Los Angeles. When I first moved to LA, I worked at Bubba Gump Restaurant for about two days. I didn't even make it through training before I quit. I just didn't care to memorize all the different types of shrimp.
I also worked at Pink Berry. I lasted there a bit longer. Maybe a year. Maybe less. One day I finally left and decided I would try to make ends meet solely on acting. I worked steadily guest starring and doing commercials and I lived meagerly off of residuals for years.

What's the rundown of your day on The Flash set?
I find out the day before sometimes pretty late what my call time is for the next day. I know what time I'll be at work, but I don't know how long I will be there. It depends on how many scenes I'm shooting that day, how complicated the scenes are, how fast the director works, etc.
I self-drive to set. First stop when I'm on set is my trailer. I like to set my stuff down, and lock the door. Be in my own space for a few minutes. Answer some fan mail, set the lighting just right, turn on my fireplace (it's cold in Canada). Then I'm off to hair and makeup.
I usually stay away from Craft Services (food), so I'm not picking. If I'm hungry between meal times, I will have someone go get something for me from Craft Services (my usual: veggie plate - cucumbers, grape tomatoes, bell peppers, carrots, snap peas, avocado and hummus. Having someone get my usual go to healthy snacks keeps me from lingering around the crafty table and picking up that cinnamon roll I really want, but don't need.
I learn my lines in a few different ways. A lot of my dialogue sticks with me in a general sort of way when I read the entire script for the first or second time. Then when I get the shooting schedule I have a better idea of what scenes are shooting when. I then will focus on those that are coming up first. I don't worry too much about learning lines per se. The memorization is the easy part for me, usually. For me it more about working on the context, back story, intention, motivation, etc. Once that's in place, the lines come pretty naturally.
What's the difference between shooting in Vancouver vs. Los Angeles?
Difference between shooting in LA and Vancouver is mostly the weather. It rains a lot here and it's cold. We aren't put up in a hotel in Vancouver. We've essentially moved to Vancouver because we shoot nine months out of the year. July - April. I visit LA very often, however. Whenever I get a few days off. Honestly, it keeps me happy and sane. At the end of the day, I'm a California girl and I miss it all the time. Sunshine, and good vibes. It's hard traveling back and forth all the time, going through customs, having different sim cards for phones, using different currencies, not having access to reasonably priced wine :) . The list goes on. Vancouver is work, California is home. But, I am grateful for what both provide me.
Who have you brought to visit the set of The Flash?
Only my parents have visited set! They came to set for one day, and I don't know if they enjoyed it because I think they kept feeling like they were in the way. Maybe during season two they will feel more comfortable eating from catering and crafty and walking around set.
I introduced them to the cast and and some of the crew, had them watch a scene during one of the crossover episodes with Arrow cast. I think they were surprised and maybe even bored by how long it takes to shoot one scene. I would love for more friends and family to visit, but again, I'm in Vancouver, and it's somewhat of an expense to get here.
You recently did some work for Maxim. What made you say 'yes' to that offer?
Maxim reached out to me. At first I wasn't sure about doing it, but my manager made a good case for it. My reasons for turning it down were based more in fear than anything else, and I decided that wasn't a good enough reason to not do things anymore. As long as the photos were classy and sexy at the same time, I shouldn't let fear stop me. And hey, I figured, I will never be this young and look like this ever again.
As someone who usually hates photo shoots (I can be obnoxiously critical of myself), I am really glad I did it! It was my first magazine feature and it was top to bottom an awesome day and shoot in Malibu. I was very happy with the outcome and I hope I get to do it again.
Be sure to read Part II of Candice Patton, coming soon!
Calling all HuffPost superfans!
Sign up for membership to become a founding member and help shape HuffPost's next chapter