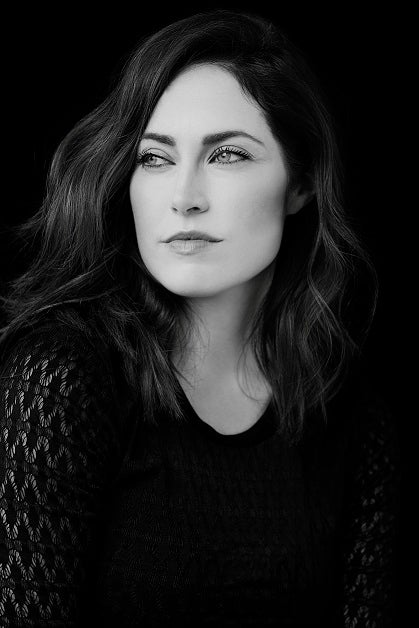 It's a rainy day here in New York so I had two options: a) go grab a coffee or b) get Charlotte Sullivan's interview up.
Obviously, I chose to get the coffee.
Charlotte Sullivan cracks me UP. She plays such serious characters that it never occurred to me how fun and light-hearted she really is. It goes back to the old fan-crazy thing where people think actors ARE their characters.
You play Nicole Mitchell in Lifetime's original scripted series Mary Kills People. Tell us about your audition(s) for this role. Where were you when you found out you won the role?
I originally auditioned for the role of Mary and absolutely fell in love with her and the morbid subject matter. Our Show Runner (Tassie Cameron) emailed me while I was in the desert to tell me that I wasn't quite right for the part but that Mary had a mysterious and equally as twisted sister that she wanted me to play. The really stunning thing about this experience was collaborating on Nicole's esthetics. I loved having a hand in designing her look with Patricia Cuthbert (hair), Stephen Lynch (makeup) and Sarah Millman (costumes). You have no idea how mind blowingly original and talented this group of artists are. I was such a lucky slug.
You had a recurring guest role on NBC's Chicago Fire as Anna, a leukemia patient who ultimately died. Did you know in advance Anna was going to die? What did you think about when you had to cry?
My spider senses suspected that Anna would ultimately die but nothing had been divulged to me. Sometimes when you're working on a piece that requires a lot of emotion you have to think of other things and use your imagination but this sadly became personal and so all I had to do was use the given circumstances. My scene partner Taylor [Kinney] is a really strong actor who cares a lot about the work. We helped each other get through it. It was pretty difficult.
I have to ask -- what was it like kissing Taylor Kinney!?
The truth...I was having really bizarre allergic reactions during the course of filming. The day before we shot our skating scene I woke up and my eyeballs felt like they had been sewn together with needles. I had to go on steroids which kind of turn you into a bit of a demon so maybe the more interesting question would be to ask Taylor what it was like to kiss me.
Tell us about your childhood growing up in Canada.
I grew up in Montreal and Toronto. Canada is a beautiful country and my family is still there so I will always consider it home. I still feel like I'm a kid who's pretending to be an adult.
At what point did you decide to become an actor as a career? Were you met with any resistance by family / friends?
I never really know how to answer this question only to say that I would watch movies and get really jealous that I wasn't in them. I remember watching Labyrinth when I was a little tiny human and asking my Mom if I could be in that film and then having my heart broken when I discovered that the movie had already been made without my involvement years and years and years ago.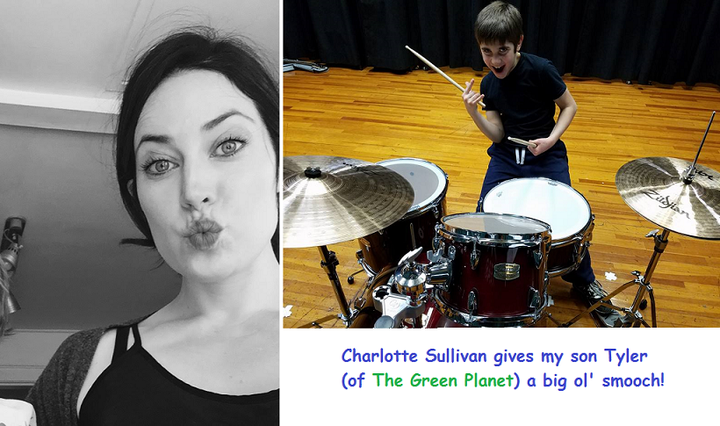 How did you meet fellow Canadian actor/director Peter Stebbings. Do you share a home with him?
I met Peter in a graveyard while I was playing a dead body and his character was in attendance at my funeral. I've been madly in love with him for over a decade and yes we do share a home together with our daughter and goblin like bulldog named Penelope.
Regarding your two year old daughter. How do you juggle travelling for work and long days?
It's actually been really challenging. I've had to rely on the support of my family and friends especially while the both of us are filming. Without them I don't think I could do it. I find it's really hard to even focus on the work itself. Right now as I'm writing these answers my baby girl has her hands down my shirt as I change her pants.
You overcame postpartum depression and now you aim to speak/spread awareness of the depression. Tell us everything.
Just to be clear I never lost my connection with my daughter. I know some Moms who experience that and that must be extraordinarily painful. I simply lost my connection with myself. After you have a child everyone wants to come over and meet your baby and I just didn't want to be seen. I didn't want to be in front of the camera. I was offered an arc on a television series but under the stipulation that they just needed to see my body after the baby. After not being satisfied with my physical form they turned me down. I should never have put myself in that position. If anything they should have been a barometer for the type of people I want to work and surround myself with. I really want to be the kind of artist who takes risks and isn't afraid to go for it. I made horrible artistic decisions that year. I second guessed myself constantly and had lost all confidence. It wasn't until last summer that my hormones leveled out and I started to feel more myself. Also, how can I teach my daughter to be confident if I don't lead by example? The reason I'm sharing my story is to help other woman who might be going through the same thing. I spent a lot of time feeling quite ashamed of these feelings and now I'm the most confident I've ever been.
What is your secret desire?
I want to live in a tree house in the middle of nowhere.
What do you find yourself doing more of today than 5-10 years ago?
I think the internet is sucking my creativity dry. It's designed to be highly addictive so I try and refrain from using it. My days are spent playing with a little human. I still can't believe I'm someone's Mom.
You were born in 1983. Ever hear of my favorite 1983 mini-series "V"?
No, but I just looked it up. Red jumpsuits, big hair and pistols. I'm in!
Anything else you'd like to say?
1) I wish Neil deGrasse Tyson was my friend. He inspires the bejezes out of me. Read his stuff and prepare to be blown away.
2) Visit Unicef.ca and look at the great work that they are doing in South Sudan. This famine is really pulling at my heartstrings. Make a donation if you can.
Related
Popular in the Community