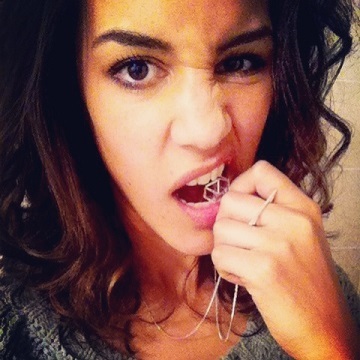 Christie Laing's character Marian surprises us all in the season finale of ABC's Once Upon a Time!
Christie's Twitter: @ChristieLaing
Just like the town of Storybrooke, actor Christie Laing never ceases to amaze. Sometimes she wears glasses, sometimes she doesn't. No matter what her disguise is, you'll recognize her as Marian in OUAT and Carly Diggle from the CW's Arrow. Oh, and from Smallville, Supernatural, the list goes on!
You started in show business doing commercials at seven years old. Tell us your childhood acting experiences vs. adult experiences. Include a behind the scenes story.
Acting as a child I remember being lots of fun. I know it must have been very stressful on my parents since auditions were unpredictable and they both worked full time jobs. I was very fortunate that I had neighbors and family members who would offer to take me into the city for each audition and spend hours on set with me knowing how much I loved acting. Acting as a child I remember getting to play with other kids and these cool new toys that weren't even out yet. There was one toy commercial I did where I had to miss my best friend's birthday and they even let me bring two prototypes as gifts for her which was pretty much the coolest thing ever! I had no idea I was getting paid money. The only payment I wanted was candy haha. They would hide all of the sweets on set from us and give us a small bag at the end of filming. That was enough payment for me! My mom would run lines with me or I would ask my sisters to help too but I often found running them myself was most helpful of my imagination. The thing that attracted me to acting the most was I always felt quite unsure or insecure as a kid and for some reason when I got to perform these lines and characters I felt safe. There was this confidence and excitement from performing that I loved. As an adult that's still what drives me today. The words on the page and these phenomenal characters give me an outlet and a world I feel proud to be part of.
For people who have never seen Once Upon a Time, what's all the noise about your character? Did you know something like this was going to happen when you got the job?
I knew Marian was a character I was excited to portray but I had no idea how she would tie into the world of OUAT. The fact that she has been brought back from the past changing the course of the future and was previously thought to be dead will cause a ripple effect in many people's lives.
What do you love and hate the most about acting?
I love having the opportunity to perform and I hate not being given the opportunity to perform. Haha. So much is out of my hands and that can be frustrating at times especially when you fall in love with a script or story.
Tell us about your audition for Once Upon a Time.
I had an audition for OUAT with the casting director for the show and it was a smaller audition with a shorter scene. I really knew nothing about the character at all.
How have you grown as an actor?
I don't know if it's a actor thing or just growing as an adult but the best thing I've learned is that everyone wants to do a great job and everyone wants you to do a great job too! The cast and crew on set really comes together and everyone wants to create a great product for the fans. It's a really big support network. I think it's the same in life too. The less time spent worrying and the more time spent doing, the better.
You used to be a flight attendant. Yes, no?
My mom is actually the flight attendant, but I did get to play one once in a commercial and that was funny - trying to imitate what I think my mom does. I've always thought it's such a cool job.
What's it like being the oldest of four children, all girls? Were/are you a bossy big sister?
I'm totally a bossy older sister. My sisters are two years, five years and 27 years younger than me so the oldest two I babysat and took care of making me very protective. They are both such beautiful and cool women now that although, I will always be their big sister I now look to them for inspiration.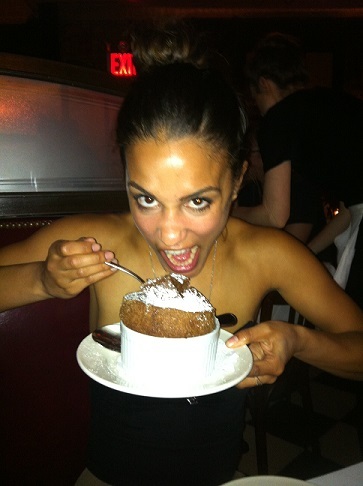 Do you have a significant other? What traits do you prefer in a partner?
My boyfriend is my biggest motivator and often the best reality check in this industry. The biggest turn ons are someone who's not only smart and funny but knows how to be your cheerleader and push you when you need it.
What was it like working with Alan Tudyk and Tyler Labine in Tucker and Dale vs. Evil?
Tucker and Dale vs. Evil was a funny experience since at times it was like we were filming two separate movies. Tucker and Dales point of view and the college kids' point of view. We did have times where filming overlapped and we were on set all together which were by far the best times. Their comedic timing is brilliant and they're the most kind and down to earth guys ever.
What's the tattoo of in back of your left ear, and why did you choose that tattoo and spot?
I was on vacation with a friend in Hawaii and was searching for something in my life. A path, or motivation, when I came across a book on Buddhism. There were so many things that lined up to what I was looking for in my life and after reading the book in one day I wanted the word 'AWAKE' to be a part of me. So I paired a proverb with the word Awake scribbled on the inside of the book, walked barefoot in my bikini to the nearest tattoo shop and went for it.
Have you ever had a nightmare during sleep that you will never forget?
I have nightmares and dreams all the time! It's the best part of sleeping since I'm on the craziest journey. The other night I dreamt that I thought a fox was going to attack me but it became my friend -- who knows what that means?!
Do you think you're boring?
Yes, haha all the time. I'm either extremely introverted or extroverted. There's not much of a middle ground. So I'm probably just crazy.
Name some differences working on Arrow vs. Once Upon a Time.
OUAT and ARROW are actually quite similar. They're these big families looking to create an outstanding product and you can really feel that. The sets are big and the action scenes are bigger and bigger every time. They're in constant competition with themselves.
Describe yourself in one word.
Calling all HuffPost superfans!
Sign up for membership to become a founding member and help shape HuffPost's next chapter