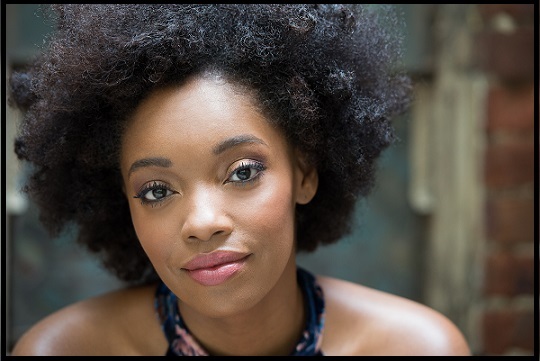 Christina Jackson plays Sally-Ann on WGN America's Outsiders, premiering January 26th.
Christina Jackson's Twitter.
Photo by KING.
I must say, I love Christina Jackson, and not just because she studied and graduated from the Arts High School in Newark, New Jersey, but because she totally corrected me when I goofed up about her HBO Boardwalk Empire seasons. (You'll recognize Christina Jackson as Chalky White's impressionable teenage daughter Maybelle.)
Yes, that's my shout out to New Jersey, because, you know, I live in Jersey and I'm super sore from shoveling snow for nine hours from the blizzard and I need a massage but instead I'm putting Christina's interview together because she's totally awesome. Hold up -- Christina, will you give me a massage please?! [Wouldn't that be funny if she said yes and actually showed up at my NJ doorstep with an apple pie from Wegmans? Hahaha! Thud.]
Now, she's on Outsiders, from executive producer Paul Giamatti!
You play Sally-Ann, a townsperson who begins a forbidden relationship with one of the Farrell's. Tell us about your audition.
It started out like every other audition. The email for a Self-Tape with the scenes and pilot were attached. I'd read and memorized and went in for the tape only knowing that Sally-Ann was a "non-white young female from a small Kentucky town who has a fascination with the Farrell's." About a week later my Manager called and said, "They liked your tape, and want to meet you." "They" being Creator Peter Matei and Director Adam Bernstein. I met with them and talked about Sally-Ann and what the show was essentially about. I guess that was the "callback" and then came the offer and contracts -- which was a complete shock to me because from the beginning I knew this was a good show concept and to be a part of it was great. There was no chemistry test, so I didn't meet Kyle Gallner who plays Hasil Farrell until after everything was signed and I was in Pittsburgh. Its Hasil that Sally-Ann is rumored to have the 'forbidden relationship' with and I think people will really be invested in our storyline because it's not as cookie cutter as you'd think.
What was the best and worst thing about being on set of Outsiders?
The best thing was to actually be there in Pittsburgh creating this show. I can't say it enough. To see the work that Thomas M. Wright puts into Sheriff Houghton. To see the world that the actors on the mountain had put in creating this family was amazing. There is no worst part per se, but all the stress that comes with creating can be a lot. There's always pressure that first season to get it right and make it good because there is so much riding on it.
Being away from family was probably the hardest. You get visits and you try to get home on your down time. Pittsburgh is a great place filled with culture, arts and history.
You were on HBO's Boardwalk Empire for two seasons. What was it like being part of such an acclaimed series? As an actor, what were you able to take away from that experience?
Three seasons. It was three invaluable seasons that I am forever grateful for. The 1920's are my favorite decade so to have a show that chronicles that period as well as HBO did was amazing. With such a large cast and so many stories being told at once to be able to see that first hand and to become a part of the cast was surreal. When you show up and everyone is on top of their game, it pulls better out of you every time. I couldn't wait to get to table reads and see how everything comes together. As an actor, the writing, the prep, the complete art of cohesive storytelling were all things I took away and still hold close. And then once the costumes are on and background was rolling it was truly like stepping back into time.
Boardwalk Empire and Outsiders (from the looks of it) are pretty dark dramas. Do you typically gravitate towards more serious type roles?
Noooooo. (laughing). After Boardwalk, where it's intense period piece and wardrobe and everything else and ending with my character being shot in the face... I wanted to do comedy. Now when Outsiders came along, I still auditioned but I didn't think I'd get it honestly. I'd read the pilot and loved it, but wasn't really sure they'd cast ME. And that's still on the table for me, to be able to do smart, funny projects whether it's movies, plays, whatever.
I noticed you posting about the movie Creed on social media. Is there any special connection you have to the project?
Just that Michael B. Jordan and I graduated from high school together and I'm immensely proud of him and that Creed is actually an amazing movie. From Fruitvale to Creed, I love the importance of what Michael and Ryan Cooler are doing. There is always room for great work by Black artists.
What did your family say when you told them you wanted to be an actor? Does anyone else in your family have a background in the arts?
There was never really a discussion. It started out with plays here and there in middle school. I then went on to major in Drama and TV Productions at Arts High in Newark, NJ. By the time I was graduating I had a management contract and I just dove head first into it all. My dad used to be a DJ back home in Georgia, but I feel like all dads used to. Lol!
What's your favorite time of year? Why?
My favorite time of the year has to be summer. I was born in the beginning of June and the summer is always synonymous with fun, and warmth and love. And there is nothing like a NYC Summer! [AUTHOR'S NOTE: You got that right!]
Anything else you'd like to say?
Just... watch out for those damn Farrell's Tuesday, January 26th at 9/8c on WGN America.
REAL LIFE. REAL NEWS. REAL VOICES.
Help us tell more of the stories that matter from voices that too often remain unheard.