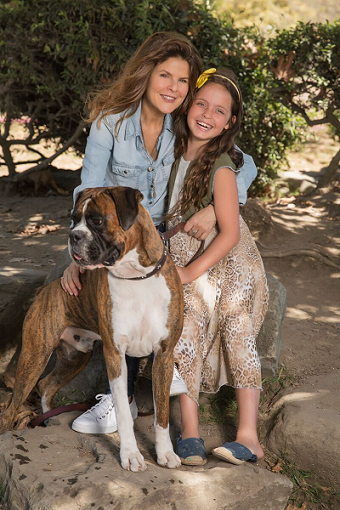 Elizabeth Gorcey with daughter Olivia. The book series is called Liv on Life. Photo by Bobby Quillard.
You can find out more on their Website, Twitter, Amazon Link and YouTube.
You may recognize Elizabeth Gorcey from the 80s popular films and TV series Footloose, Teen Wolf and Max Headroom.
Today, Elizabeth is an author and mother of 8-year-old Olivia. Together, they've created a book series which is inspired by Olivia, who at 3-years-old began to spontaneously deliver wisdom and advice to anyone who would listen. Elizabeth dubbed her daughter's musings as "Liv-Isms" and each book in the series is based on these everyday insights.
Elizabeth, you've been in the spotlight as a high profile actress. Did you have any reservations about your 8 year-old daughter, Olivia, being in the spotlight?
Yes, I did. But the truth is, Olivia doesn't 'feel' the spotlight so she doesn't seek it out. She is just driven to use her authentic voice to bring joy and help the planet.
What was it like the first time you and Olivia actually HELD your first book, Going to the Park?
Olivia pulled the first one out of the box and started doing her happy dance! I joined in, the dog joined... and then we noticed that the mailman was smiling at us through the window. So we autographed the very first copy for him!
What type of feedback have you had regarding your second book, Green Is Good? Do you have friends and family read it first before going to print?

We always do a focus group with Olivia's friends and other kids from her school. And finally, Olivia and I do the absolute last draft together so she can make sure the 'kid speak' is true to her voice.
How did you publish the books?
We work with a small publishing company that allows us to have as much creative control as possible.
How does Olivia's schooling work? Are there certain times you both get together to work on creating the books or you do it whenever there's time?
Olivia's school work always come first, but something we have in common is that we are constantly thinking of things and ways to create. Because it's really fun for us, we talk about story ideas while we're walking the dog or driving to school -- whenever the inspiration strikes. This way it never feels like work. To us it's just the way we spend our play time together.
Does Olivia do any activities outside of school?
Olivia is an amazing piano player, and began writing and composing a couple of years ago. She has written a few songs and was recently invited to join the National Children's Choir. She loves swimming, horseback riding, sewing, and building miniatures worlds with recycled materials.
What is your goal with the Liv on Life series of books?
We see the book series as an introduction to a lifestyle of change, hope and healthy eating--all driven by the authenticity of a child's perspective. We have a total of 12 stories in the LOL series and a full line of companion products.
What long term goals do you and Olivia have that do NOT pertain to the books?

The branding of an entire lifestyle that encourages mindfulness, curiosity, and joy.
Elizabeth, you're also a director and producer. Which production of yours was the most fulfilling and why?
Each project allows me to foster my own creativity and explore an idea outside of myself, so they all fulfill that drive.
Olivia, what are your favorite movies, TV shows and books?
The Hercule Poirot series. TV shows: Gilligan's Island, The Munsters. Books: Agatha Christie mysteries and Harry Potter series.
Tell us the process from creating the book to getting it published.
My inspiration came from Olivia when she was about 2-1/2 years-old. We were in a traffic jam and I was making all these sighing noises because of the traffic and being late. All of a sudden I hear, "This is silly." I turned around to see who she's talking to and Olivia looks / points out the window and says, "Look at those roses! I would like to smell them!" Then she looks back at me and says, "You need to enjoy!" I began recording her "Liv-isms" as we call them. Each book in the series is based on one of these moments.
I had an idea in my head of the sort of old school, almost European illustrations that I thought would work best for the books. So I put ads out to art schools and on illustrator sites. After looking through a stack of samples I found Kajiah Jacobs -- his work was a level above what I had imagined. It fit perfectly with the series.
Anything else you'd like to say?
Per Liv: Love up your life! XOXO.
Related
Popular in the Community