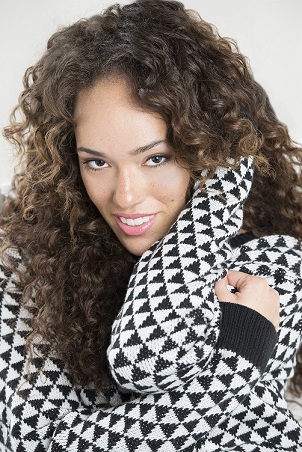 Newcomer Grace Gibson plays her character, Maria, to heart in the recently released film "Black Nativity" starring Forest Whitaker, Angela Bassett, Jennifer Hudson, and Mary J. Blige. Twitter: @TheGraceGibson . Photo by King PDT.
Student, singer, dancer and now actress, Grace Gibson is no stranger to show business. Her mom, Lynn Whitfield, has been in more shows than one can count, and her dad, Brian Gibson, was a famous British director. Let's find out how Grace juggles all of her responsibilities!
You're just beginning your journey as an actress in the limelight. What made you want to take a stab at acting?
It's really quite a story how it all came about - a lot of twists and turns but finally I felt like through music, acting found me. I'd been auditioning for stuff for awhile and taking acting class, but when I really devoted myself to singing and songwriting, all of the sudden my acting career began to gain more opportunities. I love acting in a way that's different from dancing and singing because it enables you to live so many experiences and learn lessons that you wouldn't be able to if you didn't find pieces of yourself in the people you play. My mother, Lynn Whitfield, and godmother, Caroline Ducrocq, who is amazing acting teacher, have helped coach me to find the truth in any role I approach. They helped me understand that the beauty to being an actor is that anything thing you experience, good or bad, can be pulled from to produce art. The same definitely went for "Black Nativity" as I pulled from darker periods in my life, and really got to live in Maria's body and circumstance. So acting has always been organic to who I am, and at the same time having a family that has the same passion sure was a huge plus. Not only do they give me great advice but it allows us to have a special bond.
Tell us about your singing. Who is your biggest influence in the singing world? At what age did you start singing?
I've been in love with singing since I was six, so throughout that time I've had a whirlwind of different influences, but several have stuck throughout; the classics like Prince, Bonnie Raitt, Joni Mitchell, Roberta Flack, Dina Washington, Donny Hathaway, Annie Lennox, Anita Baker... The list goes on and on. During my early teens through my first year in college I was completely self taught, but as I worked up the nerve to pursue music as a serious career I transferred to Berklee College of Music, which was the first time I formally began to learn about the technique and theory of music. When I was about 17 I began to teach myself guitar, and later that year began to write my own songs and poems. Ever since then there has been an immeasurable amount of musical phases I've gone through in attempt to find my identity. I took a stab at pop and began going in studios and writing with producers. During that time I was offered my first deal overseas but in the back of my mind I knew I had more to offer and that I should remain patient and I'm so glad I did because that's how "Black Nativity" came about, and it's allowed me the freedom to take new risks like in my new music video for "Weird Fishes".
You were handpicked by director Kasi Lemmons for your role in "Black Nativity." What was your audition(s) like?
"Black Nativity" first came into my life two years ago when I went over to Kasi's house with my godmother for dinner. Kasi had asked me to bring my guitar. She and I have grown really close throughout the years; she's like family, so I didn't think much in particular about the request other than they wanted some music with dinner. Before we ate I sang a few original songs and Kasi looked me dead in the eye and said, "I have a role for you, and I can't imagine anyone else in it." (or something to that extent). I had been auditioning for projects and taking acting classes / doing local or school productions of shows since I was in high school so you have to imagine my surprise and excitement at her words when I thought I was just coming over to eat pasta and hang. After that she asked me to help her with the pitch film so I sang "Hush Child" alongside one of my friends. Kasi showed it to the studio, and the green light was given. From that point on it was about a year of auditions for the film here and there. I would send in tapes and even did a few auditions taped by Kasi with a big pillow stuffed under my sweat shirt. I didn't want to get my hopes up so I never got my heart set on it; I rather welcomed the opportunity but was accepting of the fact that it may not happen. But finally one day (about this time last year) when I was in poetry class at Berklee, I saw a number from LA call me and later listened to a message from Nancy Foy at Fox saying they were ready to discuss my deal. I was so excited that I ran home that day and am ever grateful to Kasi, Twinkie Byrd, and Fox Searchlight for trusting me as a new face among such an all-star cast.
You're stunning. Growing up, were you told that you looked more like mom or dad?
Thank you so much! When I was born I was so pale that I literally looked like a miniature chubby version of my British father. But as I grew older and the curls started to appear it became undeniable that it's almost an exact split down the middle of my mother and father. Everyone says mom and I have the exact same face shape and my dad and I have the same sense of humor. My eyes are the only thing neither side can really claim - they're half blue, half brown (my cousin used to tease me calling me cow eyes! LOL). My dad had green eyes, so they say the blue has to come from my granddad on his side. I'm just grateful to have such stylish and loving parents!
Now that you have a huge film, how has your daily routine changed? Do you work out? Have you changed the way you eat, the products you use on your skin / hair?
Honestly the past few years have been such a whirlwind of amazing changes that it's been hard to pin down a consistent routine for long. I've been a competitive dancer for a while so for years that kind of covered my work out needs, but when I got to music school - working out your body definitely becomes secondary to working out your scale s. So in light of fashion week this past autumn and the [movie] promo tour, I forced myself to get a gym membership and starting taking yoga. My really favorite though is the ancient (but amazingly effective) 8 minute abs and 8 minute buns videos on YouTube. They are the best because I don't really like overly long workouts, so the videos cut straight to the chase and I see a huge difference in a matter of weeks. I'm also a fan of the good old triceps dip on the edge of my bathtub and double stepping the stairs on the subway! As for my beauty regiment I'm pretty low key and don't like using a whole bunch of products so I stick to exfoliating, Shea butter, and I love coconut oil for my hair and skin.
What three things freak you out the most and why?
I try not to think about these things often but
1. Not fulfilling my God-given purpose and potential because this life is over (dramatic but true)
I'm interested in philosophy and many philosophers from both the east and west say that only a small percentage of people challenge themselves to see the truth in life and lead their actions according to universal truth and not jealous or self serving delusions so I'm constantly trying to be real with where I am and why I'm doing what I'm doing, while keeping the big picture in mind...if that makes any sense.
2. Being stuck in a big body of water alone (think a-la film "Open Water")
I had a kind of traumatic swimming experience as a kid so ever since then when I shut my eyes in water I imagine sharks. Yes, even in a pool. I need to get over it.
3. Never getting to jam with Prince
Prince is just the ultimate artist to me. He is so convicted in his vision and sharp with his talent that even if you're not a fan you gotta respect his work ethic and talent. So in my mind his stamp of approval or even just hearing what he'd have to say would be the biggest compliment and aspiration.
What was it like working on "Black Nativity" alongside such greats as Forest Whitaker, Angela Bassett, Jennifer Hudson, and Mary J. Blige? Were you scared / star struck? Did anyone offer you advice that stuck with you?
It was amazing, everything that I could have hoped for. Kasi did a fantastic job of creating a warm environment on set, and everyone was already so welcoming and supportive. I have loved so much of their work and remember specific moments that each of them have spoken to me through their craft and inspired me to keep pursuing my dreams as a youngster, so sharing the stage with them was something special, and initially a little nerve racking. The surreal nature of it never went away but I couldn't focus on being nervous long, Instead, I focused on the life of the character and working with my scene partners is what made that "nervousness" go away. On my first day of shooting I told Forest, it was my first (ever) scene for a film and he was so sweet and supportive and told me to have trust in my story and talent and when we actually shot the scene he kept me on my toes as Maria because he was playful with his delivery, changing little inflections here an there, which really helped me be in the moment and forget what a huge milestone that day was for me. Angela was just as encouraging and she told me to trust in my education and stay in school - words I took to heart as I embarked on this press tour and still have finals next week LOL. Luke and I also formed a special bond that helped feeds our chemistry on screen and I learned so much from his approach to singing. We all shared a lot of laughs and some fun cold nights shooting in the streets of Harlem.
Do you have any favorite TV shows, past or current? Reading any books? Hobbies?
Oh my word, you shouldn't get me started. Right now I love "House of Cards", "Boardwalk Empire", "Orange is the New Black", "Scandal". And then I have my classic go to's: "The West Wing" tops that list, "Blue Planet" (my inner science nerd), "Freaks and Geeks" and "The Cosby Show." I have to be honest and say that I haven't been able to watch much TV in the past few years, but when I got the role and we were in rehearsal I had a TV in my room so I started watching again, and I grew to have this love for TV shows because they allowed the cast and crew to create these lasting worlds and characters that have sooooo much depth and history to them. I really like reading too. Right now I'm reading on Beauty, Prince's Biography by Toure. I can be a homebody so cooking for loved ones and playing guitar are my two top hobbies though...fried fish anyone?
Anything else you'd like to say?
I just want to thank all of the people who have supported and shaped me along the way. Each person I encountered added to me and I hope to keep telling our stories through my work for a long time!
Popular in the Community