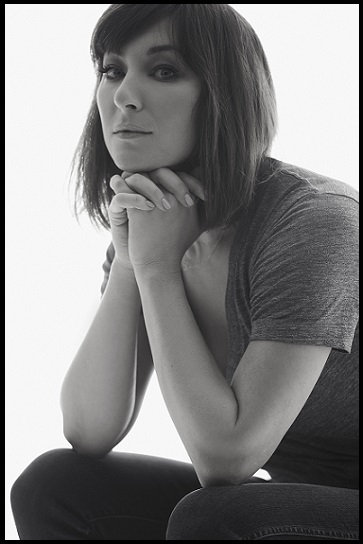 Isidora ("Izzy") Goreshter plays Svetlana on Showtime's Shameless.
Isidora's Twitter and Instagram: isidora_goreshter.
Photo by Josh Ryan.
Well, there's finally someone who's more perfect than me. I know, I know - how'd that happen?!
Isidora Goreshter began her acting career in the theater at the Stella Adler Conservatory and graduated from Long Beach State with degrees in Art History and Theatre.
There's one question I forgot to ask Isidora and that's "Who'd you get those eyes from?" So let's see if she reads this and answers on Twitter. Muahaha.
You play the Russian prostitute Svetlana on Shameless. What happened at your audition?
My audition for Shameless was one of my worst auditions! I remember calling my manager right after and apologizing in advance if she got really bad feedback from the casting directors. Initially, there were no lines. They sent over a part of the script where I come in the door after Terry has violently beaten up Ian and Mickey. I knew I was playing a prostitute but wasn't too sure how that was going to work in the audition room. Then the day before, I went in and I got sent "new sides." [piece of script]. It's a scene that we ended up filming but got cut in Season 3 with Ian coming to see me at the massage parlor. If I remember correctly, in the room was John Levy and Melanie Burgess, our casting directors. Mark Mylod one of our Executive producers and Anthony Hemingway who was set to direct that episode. I had to massage the back of a wooden chair then pretend the person I was massaging was touching my boobs, while acting with a Russian accent with the reader. It was incredibly awkward!
I remember the girls in the waiting room were all dressed up like your typical Hollywood type prostitute. Tight dresses, cleavage, heels, trench coats. I started to wonder if I made a mistake because I was in a ratty old pair of black jeans, a New Order t-shirt and a very dirty pair of converse and barely any make-up. That was just my instinct on how I saw her straight away. I guess it worked.
Do you always listen to what the Director tells you, or do you sometimes discuss your own suggestions?
It's a very collaborative process with our set. We are very lucky to have incredible directors come in and work with us. Some have very distinct visions on how they want the scene to play, and other times they let us go and play.
You began your acting career in the theater at the Stella Adler Conservatory. Why did you choose this Conservatory? What was the most important thing you learned there?
Stella taught the greats. And her wisdom about the theater and the artist relates to anyone, especially for a young actor trying to find their voice. It's an amazing program with great teachers. I left college wanting so badly to learn freely on my own terms but yearned for some sort of structure. And the Conservatory was that place for me at that time. I learned so much about theater and its history and read any play I could get my hands on. My technique as an actor has since evolved from the method but the knowledge I gained there is insurmountable.
You're the first member of your family to be born in the USA. Tell us about your family history.
My family is from the former Soviet Union. They went through the immigration process in the 80s shortly before the fall of communism and it took them about a year to make it to America. They came here with my older brother and their parents with absolutely nothing and started over. My mom and dad learned the language and got jobs and exactly nine months later I was born. It wasn't easy but my parents are the hardest working people I know and they inspire me everyday. My grandfather on my mom's side passed right before their journey to America and his name was Izzy. So they named me Isidora and called me Izzy after him.
What was it like the first time you met your fans?
I was at a friend's movie premiere in New York and someone asked me for a photo. I got really confused and thought they were mistaking me for someone else until they said they loved Shameless.
I'm quite unrecognizable outside of the show. I look really different in person. I don't wear a lot of make-up and my wardrobe is considerably more conservative. And I don't have an accent which really throws people off.
What is your favorite travel destination? Where would you like to go that you haven't been to yet?
I love Anguilla, in the Caribbean. It has an untapped beauty that no photo does justice. I'd love to see Ireland and Scotland. Visit the Highlands and go drink some good Scotch.
What do you do on the set of Shameless when you're hanging around?
I have a trailer. If there's any downtime I'm usually napping or reading. I also like watching the other scenes shoot. You learn a lot from watching the other actors work.
What's it like working with children / babies on set?
It can be very difficult at times and also really fun. We have A LOT of babies on set. Basically, for every baby there is a set of twins. And if they are newborns, I think there are two sets of twins because they can only be under the lights and in front of the camera for a very short amount of time. The older the babies get the harder it is because they are starting to get very aware that I am not their mommy. No amount of snacks can change that. But we have been lucky with our babies. The two sets of twins that play Yevgeny on the show are the best.
Share a childhood story with us that you've never told publicly.
I was on vacation in Mexico with my parents and was tumbling on the sand and got recruited to be in the circus while I was there.
Anything else you'd like to say?
Watch Shameless on Showtime Sunday's at 9pm!
Support HuffPost
The Stakes Have Never Been Higher
Popular in the Community