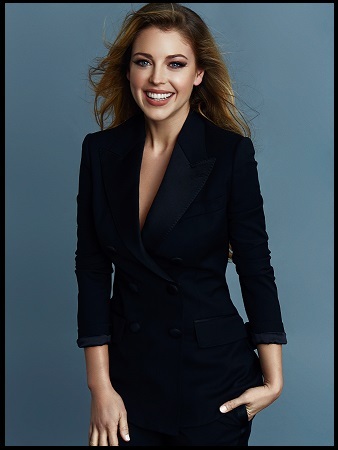 Jadyn Douglas plays Roxie Rios opposite Eva Longoria in NBC's Telenovela.
Jadyn's Twitter.
Photo: Nelson N. Castillo. Make-up: Anya Sinclair. Hair: Soleil Atiles. Dress: Escada.
Jadyn Douglas has a huge amount of enthusiasm, charisma and talent so it's no wonder she has 27k followers on Twitter!
Definitely put Jadyn on your radar for music, as well. This Nashville girl has something else delicious about her that I can't put my finger on - but it's powerful - and she's in for one heck of a ride!
How did you hear about the role of Roxie Rios on NBC's Telenovela? Please tell us about the audition process.
It's such a God thing! I signed with Maury Dimauro at Innovative Artists while living in NY. Once I moved back to TN they would send me auditions and I would do self-tapes. I literally remember the day this audition came; I told my Puerto-Rican mom, "They never pick me for Spanish parts because I don't LOOK Spanish enough". But I read it and absolutely fell in love! I knew I had to give it a shot. A few days later my agent called me and said they want to fly me to LA to test for the network. Of all the days, there was a snow storm in Nashville and my flight was cancelled. I thought for sure I'd lost the opportunity. Long story short they ended up getting me on the first flight out the following morning, I tested for the network and got a personal phone call from Eva that evening welcoming me to the family! I feel so humbled and blessed to have this opportunity!
You were BORN in Puerto Rico and grew up in Nashville, TN. What is your family's nationality and history?
My mother is Puerto-Rican and my father is Swedish/Norwegian. I was born in San Juan, PR and then we moved to the States before I was two years old. We moved around quite a bit but Nashville is definitely "home".
Tell us about the first day on the set of Telenovela.
Omg I was so excited and so nervous! I remember stressing over my first line, and it was only two words! Lol! But it was amazing.
You're also a successful singer. Please tell us a little more about your music.
Pretty much as soon as I started talking I started singing. At around 15 years of age I knew this was what I wanted to do. I've had the opportunity to work with some amazing people including NeYo, Katy Perry, Flo Rida, etc. I have yet to release a full album but definitely plan to work towards that!
What were your goals as a child? What are your goals now?
My goal growing up was always to be an artist and use that platform to be a light. My goals haven't changed much, they've actually just broadened. I want to use the entertainment platform I've been given to be a positive influence and help others.
Do you think growing up in Nashville influenced you to be a singer or you would have done that no matter where you lived?
I was born with a love for music. I literally started singing in church at the age of two years old. For me, music isn't just a hobby, it's my calling and passion. I've been burned a lot along the way and yet I continue pressing forward because it's what I love. I will say however, that Nashville is a city filled with so many incredible musicians and writers. I am grateful to have grown up with such influences.
Please share a behind the scenes anecdote from the set of Telenovela.
On set one day I was talking to Kristen in costumes about a certain girly situation and almost DIED when I realized my mic was still on! Poor audio guy had shared a really TMI moment with us :/
What are the differences between you and your character?
I'm a total planner and tend to be a bit conservative. Roxie, however is a very free spirit. Not to mention a bit risqué with her closing choices;) My character is so much fun to play!
What is the best part about working with the cast?
The best part of working with this cast is that I get to learn from and hang out with genuinely beautiful people (inside and out). It's so fun to watch the first season unfold and see how our chemistry grew with each episode. Yes they are co-workers and SO very talented! But more than that they are family. I laugh so hard when we're together!
What's next for Jadyn Douglas?
Honestly, even though this feels like such a "long time coming", it's still just the beginning for my career. I'm excited to continue growing with my character on Telenovela while also exploring various types of roles in film. And of course I'll continue to do music. I'm claiming 2016 is going to be an amazing year!
Calling all HuffPost superfans!
Sign up for membership to become a founding member and help shape HuffPost's next chapter