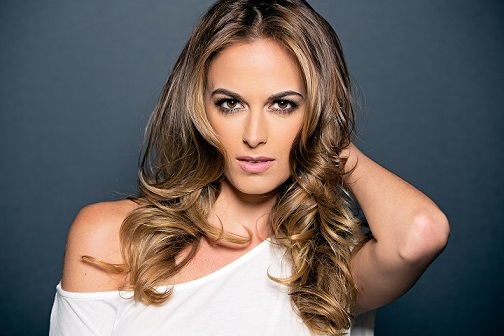 Actress Jena Sims plays character Abby in the film Last Vegas premiering November 1st. You'll recognize her from the movie "Attack of the 50 Foot Cheerleader" and TV's The Vampire Diaries. Visit Jena's website and follow her on Twitter at @jenamsims. Photo by AJ Day.
It's impossible for a beautiful woman such as Jena Sims to also have brains. Wrong! Jena is a smart, capable woman who not only makes us smile when she's in front of the camera, but runs her own non-profit organization called HBBQ's Inc. (Has Been Beauty Queens) which helps differently-abled children realize great potential.
Jena had so much great information to share, that we had to split this interview up into two parts! Please be sure to visit in a few days for Part II!
You were studying marketing / International Business at Belmont University in TN. What made you decide to run off to Hollywood to pursue a modeling and acting career?
As a kid, I always knew that my career would be in entertainment. I remember seeing soap operas with my Mom while we were getting pedicures and watching the actresses, knowing that I would be on TV one day. I wanted to give the college scene a fair shot. I shot six music videos, made a few A's, traveled to Africa for the summer, then jetted off to LA! To me, acting was a non-option. You have to positively manifest it like that, to make it happen. I am genuinely interested in business because I also run a non-profit organization called HBBQ's, Inc., where we hold events called "Pageant of Hope" for children facing challenges. I went to Belmont for two years to gain marketing skills to further develop my charity. I can always come back to it later in life, but thankfully, acting is keeping me busy.
You play character Abby in the new movie coming out November 1 called Last Vegas which also stars Morgan Freeman, Robert DeNiro, Michael Douglas, Jerry Ferrara and Kevin Kline. What was the BEST and WORST days on set for you? Were you ever late to set?
I felt so blessed to be on set for two and a half weeks with each of those Oscar winners listed above. Thankfully, I was never late to set. My best day was when I filmed a scene with Morgan Freeman. He delivered a line to Jerry Ferrara telling him that my character, Abby was beautiful and for him to go tell me that. The first time you hear you are beautiful out of Morgan Freeman's mouth is one that you don't forget! I still tear up thinking about it! The worst was the most comical to me and it definitely wasn't terrible! I had this huge "make-out" scene with Jerry [Ferrara]. I was wildly nervous because I had to basically straddle him on this couch next to other people, surrounded by about 400 extras, the cast and crew. It was one of my biggest kissing scenes to date! We were both nervous, but Jerry was very professional about it -- and not a bad kisser, either!
Describe your auditions for Attack of the 50 Foot Cheerleader and Last Vegas. What were your initial thoughts when you found out you were auditioning for a movie called Attack of the 50 Foot Cheerleader? Did you even know who Roger Corman was, at the time?
I was definitely thrown off by the title. I saw Roger Corman's name on my audition email but it didn't dawn on me the magnitude of his career until I brought my scene to acting class to prep for the audition. I was contemplating passing on the audition because my mom was in town. She convinced me to go and waited in the car while I went in to read. I was one of the last actresses to read for the lead part and they cast me that day, on the spot. I read the scenes, and did a cheer! I wish all auditions were that seamless! At the read, the Brittany character had been cast, so I read with her, the casting director Jan and the Director of the film, Kevin O'Neill.
For Last Vegas, I actually flew to Atlanta to meet with Jon Turteltaub. When large productions shoot in Atlanta, they are required to spend a certain amount of money in state. Since I am a homeowner in Atlanta, and pay GA taxes, I am considered a local hire there. I actually read for a different part, and never heard anything for weeks. Then, I got an email from the local casting director offering me the part of Abby!
What did you do to prepare for the beauty pageants Miss Georgia Junior National Teenager and Miss Georgia Teen USA? How'd you get on the list to receive information about the pageants? Who chose your clothes?
The infamous list! I am not sure how pageants get these lists, but they exist. Miss Junior National Teenager is a scholarship pageant, so they have lists of students at schools with high grade point averages and community involvement. I did those pageants to gain scholarship money for college. When I was training for Miss Teen USA, I had personal trainers and cleaned up my diet for the swimsuit competition. I have never had issues with my metabolism thankfully, but I ate healthy meals and worked out so I could look my best for the NBC live telecast. Along with personal trainers, I had an interview coach and a walking coach! The clothing was chosen by a combination of myself, my Mom, the pageant director and the dress designers. Sometimes it is a "this is what you are wearing thing" and other times you get freedom to select your own outfits. My Teen USA dress was, and still is, a one of a kind Sherri Hill.
When you were 10 years old and your grandfathers died of cancer, you decided to do charity work to raise money for cancer. Who helped you with this? How did you raise funds?
My grandmother (Nanny) initially got me involved. She took me to Relay for Life, which is American Cancer Society's largest fund raiser. I was so moved at such a young age by the event that I decided to start my own Relay for Life team at age 10, and continued until I graduated high school raising $88,000 for cancer research. We did this by various fundraisers. The basic ones: car washes, bake sales, yard sales, asking for donations, all the way up to rock concerts, kissing booths, selling feather boas, yard signs and lock-ins! Over eight years, I put in 4000 volunteer hours and recruited 42 teammates for Relay for Life. Some of them have their own teams now and are still raising money!
Did you have any haters while growing up? Did you get into fights with others at school? Were there jealous classmates? Did you avoid confrontations with people who were nasty to you or did you get "into" it with them? Were you ever given detention?
Haters gonna hate! No, I was very shy growing up and avoided confrontation at all costs, and I still do. Believe it or not, from preschool up to second grade, my teachers would have to pry me from my mom's arms! I was incredibly quiet and shy. In high school, I had a few classmates who got jealous, but for the most part I kept to myself. I was so busy with extra curricular activities, I didn't have much of a social life outside of pageants, dance, charity work, cheerleading and the clubs I was involved with. I had detention one time in high school for texting during class. I was mortified!
What are your beauty secrets? What skin and hair products do you use? Which toothpaste?
Funny enough, I use "Aquafresh" kids toothpaste because it has fluoride in it and helps prevent cavities. It's that fun red, blue and white tri-color pump tube! My skincare regime consists of Philosophy's "Purity" face wash, and Bobbi Brown anti aging moisturizers and eye creams. My secrets include getting plenty of sleep, and always washing your make-up off at night, no matter how many glasses of wine you have had!!
Please come back in a few days for Part II of the interview with actress Jena Sims.
REAL LIFE. REAL NEWS. REAL VOICES.
Help us tell more of the stories that matter from voices that too often remain unheard.