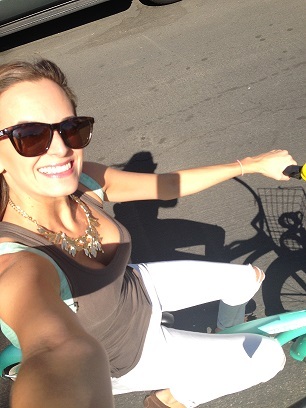 Actress Jena Sims plays character Abby in the film "Last Vegas" which also stars Morgan Freeman, Robert DeNiro, Michael Douglas, Jerry Ferrara and Kevin Kline. Jena was a teen beauty pageant winner and now runs "Pageant of Hope" and HBBQ, which is devoted to children with challenges. Visit Jena's website and follow her on Twitter at @jenamsims. Pic: Jena snaps a shot for us from her cell phone!
In Part I, we learned about Jena Sim's auditions for "Last Vegas" and "Attack of the 50 Foot Cheerleader." In Part II of the interview which is below, we learn about Jena's experience on "The Vampire Diaries" and some personal information we've all been dying to know!
Have you ever been paranoid?
I get paranoid on the daily. I live alone, so there's always that completely irrational fear of someone in your home or hiding in your bathtub. Other than that, I get paranoid when someone flicks a cigarette out of their car window when I am driving and I run over it. I always think that my car is going to explode!
Do you ever get tired of people calling you pretty?
Never! I am very sure of myself and my confidence, but I am human and a girl on top of that. It is always nice to know that "you still got it."
You are the founder and president of HBBQs (Has Been Beauty Queens), Inc., a nonprofit organization that works to celebrate children currently facing serious illnesses and challenges. How do you make these children feel beautiful? Are you involved on a daily basis or do you have others working/volunteering for you? Why do you call it Has Been Beauty Queens?
I am very passionate about my "Pageant of Hope" and my HBBQ's. We are called the Has Been Beauty Queens because we are all former pageant winners who know what it feels like to have your name called as a winner on stage. We have passed that feeling on to thousands of deserving children and teens with challenges. On Pageant day we do their hair, nails, make-up, teach them the pageant walk and wave and even have interview section. After intermission we walk each child on stage, help them wave and turn and blow kisses to their friends and family in the audience. At the end of the event they are all crowned as winners. Everyone leaves with a title such as "Best Eyes", "Best Smile", "Best Walk", "Best Personality", to name a few. We celebrate their inner beauty on stage in front of hundreds of friends. We have been to 10 states as well as Cuba, South Africa and Australia. We currently hold two per year. Right now we are working on Moore, Oklahoma for children survivor's of the hurricane, and also Jamaica. I receive emails daily, especially since ABC's the show "Everyday Health" filmed an episode spotlighting our California Pageant.
What are you going to be for Halloween?
I am going all out this year. I pride myself in originality, so I have never actually bought a costume. I am going to go as a Carl's Jr. Girl and wear a bikini and have the cheeseburger in hand. That will come in handy late night!
How does attending the "Last Vegas" movie premier in Las Vegas work? Do you have to pay for yourself for travel/hotel/food or the production pays for you? Do you have a stylist with you or production supplies the stylist? Do you wear your own clothes or are clothes provided?
They [premiers] are all different! For this one, I was given one night at the Aria, which is the hotel the film is based around. I had to provide my own travel, but it's only a four hour drive from LA. When I arrived at the hotel, I had chocolate covered strawberries from the hotel as well as a sweet note congratulating me on the film. The screening was at a theatre across the street and the carpet was after the screening before the after party at Haze nightclub. I wore a bright orange cocktail dress by MT by Michael Costello, which was set up through my publicist. I also took my make-up artist to do my hair and make-up. She was my plus one!
Do you have a significant other?
Let the sleeping dog lie.
Does it suck having a birthday so close to Christmas and the New Year? Ever feel gypped out of presents when you were a kid? What's your favorite childhood birthday memory?
It does!! No one wants to have a party for your birthday and then the very next day for New Year's Eve. Also everyone is usually out of town. I usually spend it with a significant other somewhere other than CA or GA. Gift wise, it doesn't stink because I can get bigger gifts that are combo Christmas and birthday presents! This year, my friends are coming to Atlanta and planning a two day blowout for me. I have no say in the matter, but my two best friends have been scheming for a month now! My fondest memory was when my family took me to Hawaii because I had always wanted to have a pool party!
Where do you get your height from?
Tell us about your experience on "The Vampire Diaries." Did you get a copy of the entire script or just your scenes? Which actors were in your scenes?
At the time, this was my longest shoot. I was on Cloud 9! The original audition was for a featured extra part but at the call-back, they announced that I was upgraded to a guest star role. That was when I got the entire script! I did watch the show and since it was season one, I saw the pilot and continued watching. I pay close attention to Atlanta productions, because I want to be on one long term! On set, I had the biggest crush on Ian Somerhalder. I had a strip poker scene with him and I was wearing lingerie! At the time, he and Nina hadn't gone public with their relationship so I thought I had a chance! I ended up becoming friends with Steve McQueen and hanging with him for a bit in Atlanta and LA.
Please see Part I to learn more about actress Jena Sims!
REAL LIFE. REAL NEWS. REAL VOICES.
Help us tell more of the stories that matter from voices that too often remain unheard.