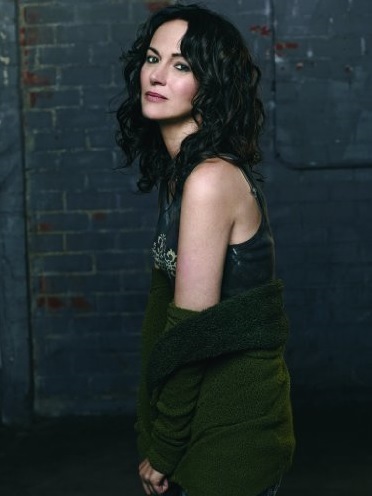 Joanna Going is in DirecTV's KINGDOM, Season 2. Catch up on Season 1 now streaming on iTunes, Amazon and AT&T Uverse!
Joanna Going's Twitter: @joannagoing1
You'll recognize Joanna Going as First Lady Tricia Walker opposite Kevin Spacey, Robin Wright and Michel Gill in Netflix's Emmy nominated series House of Cards.
Now think back to 1991. Then think vampires. Then read Part II of my interview with Joanna Going to confirm what you're thinking -- or to figure out what the blip I'm talking about AND to find out which current television series Joanna is a HUGE fan of! (Readers, was the previous line a run-on sentence?)
Joanna Going is currently on DirecTV's Kingdom so be sure to check it out because she gives stellar performances every time!
Joanna! You play the hard-edged, drug addicted, prostitute Christina Kulina on DirecTV's Kingdom. Tell us about your audition.
Yes, I did audition for the role of Christina, and it was probably one of the most relaxed auditions I had ever given. My audition was late Friday afternoon, and I was starting work on an intense film on Monday, so that's where most of my thoughts were. As often is the case, I first learned of the role when I got an email for an appointment the next day, which included the script for the first episode. There was very little of Christina in that episode, so the audition material was sides of a scene with Alvey, a scene a lot like the one in the first season when Alvey comes to dinner at Jay and Nate's house, and finds out Christina is back.
I wore jeans, a loose, slightly hippy-bohemian top, and no makeup. There were two friends of mine auditioning as well. We hadn't seen each other in a while, so we spent a lot of the long wait talking and laughing and bitching about our kids, the challenges of being a mom and an actress at the same time, and battling rush hour traffic to make it to this appointment. It was almost as if the actual audition was an interruption of our gab session.
Sitting behind a table in the audition room were writer/creator Byron Balasco, who I was meeting for the first time, casting director Kate Caldwell (her associate), Muffett Brinkman, and a video camera. There was not a lot of small talk, I simply sat in a chair and did the scene. I'm afraid I do not even recall whether it was Kate or Muffett who read the part of Alvey. It was a three page scene, one time through on tape, and that was it.
There were a couple of attempts to get me together with Frank Grillo for a "chemistry read," but him and I were both shooting films and it was difficult to schedule. In the end, they used the video from that single audition reading for my studio (Endemol), and network (DirecTV) tests.
You're from the East Coast but have been on the West Coast for quite some time. Do you still have family roots on the East Coast?
I was born in Washington, D.C., where my father was working for the Federal Trade Commission, and my mom was editor for the National Council of Catholic Women, but my parents were simply awaiting my birth before moving back to their roots in Rhode Island to raise their family. At three weeks old, I flew north with my mother, while dad drove the red VW bug, which remained the family car until the fourth of six children forced us into a larger vehicle (though not the VW bus I'd always dreamed of!) My mother, three siblings, and their families still live in our home state, one brother lives in New Jersey, and two of us make our homes on the West coast; but we all share a passion for all things Rhode Island and go back there as often as possible.
In your early acting years you were on soap operas. How did you jump from daytime to primetime?
Back in the olden days when I was on soaps, I think a lot of the difficulty for young people in "getting out of daytime" came from the money. I was on "Search for Tomorrow" for about nine months then "Another World" for two years. I was the last two-year contract on the show; after that, they started signing actors for three years, and I think that third year of making that kind of money really made it hard for young people to walk away from a lifestyle they'd gotten used to.
Soap operas were my first professional experiences, and I always knew I was eager to explore a lot more work, in a lot more arenas. I maintained a pretty modest lifestyle and stayed in my tiny, low-rent, East Village, three-story walk-up during my tenure on daytime drama. When my two year contract was up, I could afford to make the choice to move on, into the unknown. I began the new and completely different process of auditioning for pilots and landed the lead in a futuristic family drama for CBS that was shot in England which set me off into the world primetime. It was tremendously exciting, daunting, and a lot of hard work.
In Kingdom, you're the mother of Nick Jonas and Jonathan Tucker. Please share a behind the scenes story that involves you, Nick and Jonathan.
My favorite scene that we shot in Season 1 of Kingdom was the "dance party" the boys and I had after we had gone thrift shopping, and then a lovely family dinner together. We were all a bit lubricated, and feeling relaxed together, though Nate a less so and there are a few lovely moments of unguarded affection as well as insight into what could have been. When I discussed the scene in prep with our director, Dennie Gordon, she asked me to think about what kind of music we would be dancing to. We are playing records on the old player that Jay brings home from our thrift outing, and I happen to own some old vinyl. I went through my collection and came up with a Swing piece to dance to with Jay, which suited his new style (suits!) and exuberance, and presented Jay and Christina as two of a kind. Never mind that in one take, my innate klutziness took over and my high heel snagged in the carpet, and I landed unceremoniously on my ass. It hurt to sit down for a week -- an onset injury not to be compared with what our fighters have gone through! Nate is very reluctant to join in the dancing, and it occurs to Christina that no one has taught him how. So I chose to have Christina change the record to an old Country and Western waltz. To me, there is something very Country and Western in Nate's stoic reserve and reticence, and the Waltz is a basic foundation dance. Many little girls, including me, have a memory of standing on top their father's shoes and learning to dance. I loved the idea of flipping that image, and having Christina teach her grown son the waltz, a very old-fashioned and romantic dance step. What really sells the scene for me is the total mother and brothers dynamic -- Christina, counting out the one-two-three and lost in the moment of holding this young man who was her baby in her arms. Meanwhile, behind her back, you have Nate flipping off his trickster brother who is sitting over there laughing at him. It was a scene that perfectly captured the rosy glow of childhood and motherhood that these three did not have.
Joanna Going talks about Orphan Black in Part II. Find out her favorite clone!
Calling all HuffPost superfans!
Sign up for membership to become a founding member and help shape HuffPost's next chapter