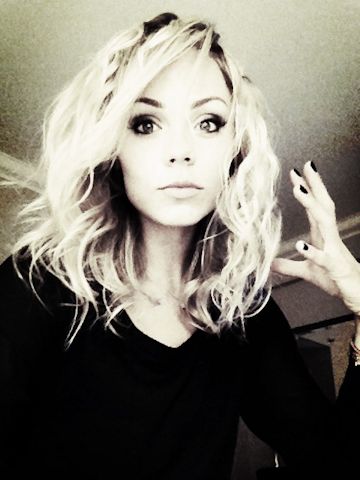 Laura Vandervoort starts recording her "Captain Canuck" character, Blue Fox, in June
Actress Laura Vandervoort is a werewolf in the upcoming 13-episode Space series "Bitten." You also know her as Supergirl from "Smallville," the alien lizard Lisa from "V" and now she's voicing the animated character, Blue Fox, master of disguise and stealth, in the soon to be released webseries "Captain Canuck."
Fadi Hakim, President of Captain Canuck Inc., describes how Laura was cast as the dangerous assassin Blue Fox:
"It was after a panel interview for 'Bitten' hosted by Space's Ajay Fry. We met shortly after in the green room along with Kris Holden-Reid and Paul Amos (both from the Showcase / SyFy hit TV series "Lost Girl.") She got excited immediately and we were in talks shortly thereafter.
I always thought Laura would be a brilliant fit for the role of Blue Fox. Her work as Supergirl in 'Smallville' and Lisa in 'V' proves that she has the range and moxie to voice the mysterious character.
On a side and personal note, she voiced Mary Jane Watson in the video game, 'Spiderman: Edge of Time,' a game I played non-stop with my nephew when he was nine years-old. These times were of course very near and dear to my heart.
Laura will be in the studio early-mid June and I can't wait to get a shot of her in a Captain Canuck Club Member t-shirt!"
And now some questions and answers with Laura Vandervoort!
Where'd your dimples come from?
Hahahah. I don't know where they came from. Usually they apparently disappear as we get older. Mine seem to have stuck around. Likely from the Vandervoort side of my family. My mom always told me that my dimples were from two little angels that came into my room at night and kissed in my cheeks. Hahaha kinda creepy now that I think about it. Hahaha.
Why did you move from Canada to California?
I made the transition once "V" and "Smallville" were completed. It is an important move as an actor. Trying a new market, getting the American market and industry to take notice. I had been going to Los Angeles since I was a teen for pilot season but officially moved two years ago.
Do you enjoy doing appearances such as conventions or is it just a hassle at this point?
I have been doing conventions for years now. It all started when i was cast as Supergirl and "Smallville" threw me into San Diego ComicCon. It was definitely overwhelming but an incredible experience. The SciFi fans are the most dedicated fans out there. I love meeting them and chatting one on one. I love meeting the young girls who look up to me as a strong female action hero. I never want to disappoint them. I know what it's like to have someone you admire. I know how much it means when you get to meet them and make that connection. Thus conventions are just as important to me as they are to the fans.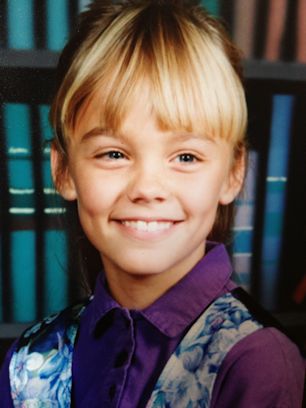 Laura started in show business as a child
Are you starstruck at all?
I do get star struck. I'm really not that slick or smooth. One of my first crushes was Mark Wahlberg. I had the pleasure of working with him in the feature "Ted." I had a few scenes with him and literally just tried to make it through and not forget my lines. He was so kind. I must say I stayed professional and never really flipped out (in front of him.) He did improvise with me at one point and it completely threw me. I went beet red but recovered. Lol.
On average, how many auditions do you go on per month?
It truly depends on the time of year. Pilot season can be insane. Anywhere from one to four auditions a day sometimes. So many actors work their butts off during pilot season. I often look over on the freeway and see them rehearsing while driving...or changing wardrobe in their car. It's a crazy speed and we all want to be 100% prepared for each. It's exhausting. Other times auditions can be far and few between. It really depends ,as well, on the "theme" of the year. i.e. Are the 20-something age range TV shows and guest stars popular that year? Or is it the "Desperate Housewives" and "Army Wives" that are popular.? It all depends on script intent, age, look etc. When actors aren't working, they're looking for work. It never stops if they're driven.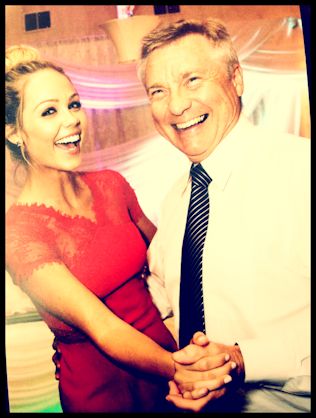 Laura and her Dad
Describe your relationship with your family.
I am very close with my family. I am extremely blessed. My sister and I talk daily as do my mom and I. I've started getting my dad into texting so that's great. I'm my father's son so he and I often workout together and hit the driving range. My Mom has always been my center of support and where I go for advice or to vent. She supports and celebrates everything I do. I really am blessed. My sister recently married and so we have welcomed a new brother-in-law into the family... Mike! It's amazing. I finally have a big brother. My sister and I didn't always get along as kids but now we are really there for one another. Family is the most important thing in the world. A home base for the heart and soul in this crazy industry where we are traveling all the time. Family is really a sort of emotional roots.
Is "Bitten" a first for you where you're playing a werewolf?
"Bitten" is a wonderful series based on Kelley Armstrong novels. A Canadian series with a strong female lead. I always look for strong female roles. This one came to me. It is my first time playing a wolf... And Elena Michaels is so complex and a real joy to play. We try to always find an animal side to every scene. Whether it be how I move in a scene, how I fight or how I do love scenes... There's always an animal touch.
I believe all dreams are symbolic and a message to us. I often have very vivid dreams. I believe our dreams are trying to tell us how we are feeling externally and internally. It is our body and mind talking to us. I do have a few dream catchers in my room above my bed. Some I want to catch. Some I want to forget.
Calling all HuffPost superfans!
Sign up for membership to become a founding member and help shape HuffPost's next chapter