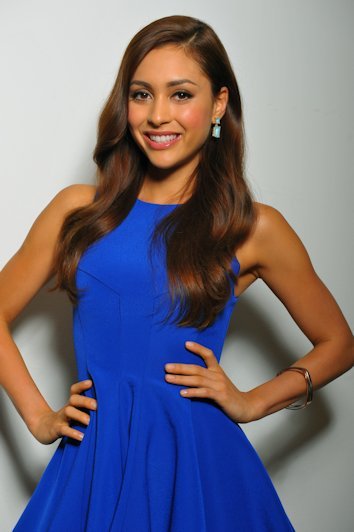 Lindsey Morgan plays Raven on the CW's The 100. She's well known for her portrayal of Kristina Corinthos Davis on ABC's General Hospital. Twitter: @LinzzMorgan . Photo by Marc Cartwright.
It's not an easy task for an actor to transition between evening prime time and daytime television, yet Lindsey Morgan pulls it off without effort. Oh! Let's add the combination of beauty, humor and determination...
This girl is a lethal weapon, people, so gear up and enjoy her performances!
You're currently on the CW's The 100 as Raven. Tell us about your audition process.
The auditioning process for Raven was kind of interesting because I was really focused on another role and been dying to hear back about it. Raven came out of nowhere and was a great distraction from the other role. However, Raven started to move really fast, it went from audition, to meeting the producers to a chemistry read with Thomas in a matter of five days! Meanwhile, the other role got wind of it and started to freak out. You know, it was the whole 'they don't want you until someone else does' kind of thing.
As far as what I wore, the audition scene was Raven's first introduction scene where she strips down from her space suit, so I literally went in with a giant hoodie and I tried to recreate the illusion without being too distracting. I'm not a prop person.
Turns out though, Jason Rothenberg, the creator, told me I was like the second or third girl in and once he saw me he was ready to call it a day. He said he even left, went to lunch and didn't even sit in any other' girls' auditions!
What's the most embarrassing thing you ever had to do for work?
Besides having to change multiple times in my car, or walking around studio lots in ridiculous character-esque outfits for auditions, or waiting in line at Starbucks in whatever role I was for the day, I'd say I had to kiss Zachary Knighton for a part on Happy Endings and I was WAY nervous. I wanted to practice just so I wouldn't look dumb, so I kept bringing it up to him, because I was so anxious, but I think he thought I was a total perv!
Did you complete college before deciding to make the move to Los Angeles to embark on your acting career? What made you so confident that you would succeed? What were your first living arrangements in CA?
I left college to pursue film in Los Angeles. I was pretty ignorantly confident but I knew I made a judgment call based upon on my chances out here. I figured youth had a giant factor in on my success, especially as a girl and thought that would be two more years I would have lost if I stayed in college. I can always go back and finish my degree but I cannot get being 21 and 22 back in this industry. Everyone wants you younger and you want to play as young as possible to try to have a long career.
I really wasn't confident I would succeed, I was just determined. I didn't have a back up plan, so I really forced it. I got really close on a series regular role for Friday Night Lights in Texas without any credits to my name, and that gave me enough confidence to try it out in Los Angeles.
What's the wardrobe, hair and make-up process for The 100?
The whole hair and make up process is extremely lax, if anything they try to make us look worse than how we look when we walk in. They try to make me look like I hadn't showered that morning!
Wardrobe fittings always happen before shooting to make sure your costume fits. We had to test run taking off the space suit a lot since it was tricky and it needed to seem effortless. But you make tweaks to your costume all the time! Especially, once I moved to the ground, they had to insulate my costume a lot because it was so thin and it was freezing outside!
What's the biggest lie you've ever told? Did you get away with it?
Now why would I do a dumb thing as to tell - especially when I got away with it ;)
You're known for your Daytime Emmy Nominated role of, Kristina Corinthos Davis, a series regular in the long running ABC soap General Hospital. What's the difference between working on a soap for ABC vs. working on a series for the CW?
There are a lot of differences between General Hospital and The 100. First off, we always shot General Hospital in studio, even for outside shots. They recreated a forest and a road, even a cliff, inside the studio. The 100, for the most part, is shot entirely outside except for any of the Ark scenes. It rains unexpectedly and can become freezing, we shoot through it all, rain or shine!
The set up and shot processes are completely different too. In the soap, we would have one take per scene and never any changing set ups, just five cameras on you at all times. For The 100 we have tons of multiple set ups and end up doing a scene about five times, for all the types of coverage.
Here's a secret: General Hospital doesn't have a craft service at all! It's just something they don't do. Where as, The 100 has an insane craft service, it's just a quick trek through the forest to get to it.
For the soap I had a dressing room; all the contract players did - it was like a college dorm. We could paint it, decorate and basically move anything we want in it. For The 100, we are in trailers that rotate so I am usually not in the same trailer ever. It's funny when any of my cast mates leave something personal behind.
What's one thing in life you want to do what will never do because of fear?
I don't want to say I'll never do it because I may find some courage along the way. But I'd say maybe get a motorcycle? I already want one desperately but I am pretty terrified of riding it, weaving through LA traffic on the freeway. But I think about it all the time.
Name two things you're just so sick of already.
1. That Bastille song. You know what I'm talking about. 2. And any kind of intolerance. Be it religious, civil rights, sexual preference, who cares! Can't we just let people live how they want to live as long as it's not harming themselves or anyone else?!
Tell us about your family.
I have a pretty crazy family - a mom, a dad, an older brother, a half sister, a step father and five step siblings. We all range in age from 10-30 but it's great, I enjoy large families! I definitely want a big one!
My mother is Hispanic, Mexican and Basque, and my father is mainly Irish, which makes me a hybrid! Which I think is super awesome! I love that I am exposed to two different cultures! I really had a great and unique upbringing. I mean, sometimes people can be confused by it, especially in my industry. Some casting directors feel "I am too ethnic, or not ethnic enough. Or not believable as Caucasian, etc." which is pretty nuts. But regardless, I love being mixed and really appreciate my heritage.
What are the qualities you like in a mate?
Humor, intelligence and ambition are the three sexiest things I find about someone!
What is your most challenging acting role to date? Why?
I played a DJ groupie/party girl in an indie film called ETXR. She was very sensual and promiscuous and irresponsible, I am pretty modest and shy, so I felt she was a stretch for me. It definitely pushed me to some uncomfortable places but I liked it because I knew I grew as an actress because of it.
What was the last movie you saw in the movie theater because YOU wanted to, not for work?
Any movie I watch can be considered for work, or at least that's how I fill out my taxes, hahaha. I learn something from everything I watch, even if I am not trying to! It just kind of happens. But I last saw Edge of Tomorrow, which I really liked! I want to do action films and still love Tom Cruise and really enjoyed Emily Blunt in this role!
Share a behind the scenes story from The 100.
We all like to have a really fun time together behind the scenes on The 100. One of my favorite times is when we all started trying on each other's wigs in the hair and makeup trailer. Let's just say I can rock a pretty mean Jaha.
Popular in the Community