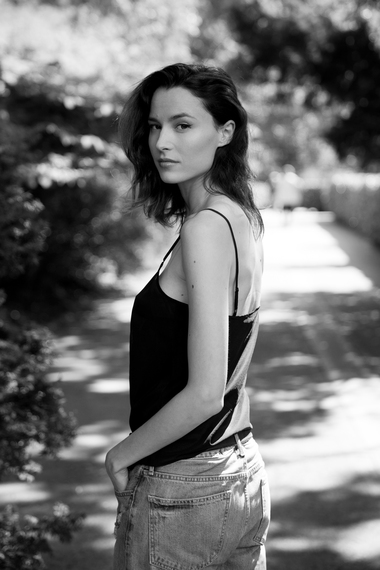 Photograph by Erica Simone
If you love the big screen and/or are a savvy art collector, you will definitely want to pay attention to rising Hollywood actress and emerging fine artist, Loan Chabanol. Her eccentric beauty and raw talent have already made quite a mark on the film industry and are now to take over the art world.
The first time I saw the French actress, Loan Chabanol, was at a downtown New York press event for Krug champagne a couple years ago. I hadn't recognized her, but I remember being totally captivated by her. Tall and slender, with short hair at the time and bright red lips to accent her perfectly defined cheekbones, there was a glowing aura about her that stood straight out of the crowd. Within only a couple months, I ran into her again and again in completely different social situations--the synchronicity was almost alarming. When my business partner, Monica Watkins, randomly proposed we help curate an art show for a certain 'Miss Loan Chabanol', I couldn't believe it.
Loan was discovered at the age of 16 by the Elite modeling contest while living in the South of France and since has graced the covers of fashion magazines like Marie Claire, Glamour and Elle, as a high-demand international model. After a successful career acting in TV commercials, in 2010, Loan moved to New York to study acting at the famous Lee Strasberg Theater & Film Institute, where she turned her passion for film into craft.
Loan quickly caught the eye of top casting agents. Her first featured role was in John Turturro's 2013 comedy, Fading Gigolo, playing alongside Woody Allen and John Turturro and soon after, was cast in Third Person, a romantic drama written and directed by Academy Award Winner, Paul Haggis. Only a few months later, she played "Buster Keaton" in a short film by her Third Person co-star, James Franco. On September 4th of this year, Loan released her first lead role in The Transporter Refueled, produced by Luc Besson.
Miss Chabanol is not only quickly climbing through Hollywood, but a very talented fine artist, passionately cultivating her art alongside her acting career. "As an artist, I have always had the desire to express myself through my drawings. It's my outlet--a way to disconnect from reality and navigate in a fantasy world that I find beautiful and fulfilling," she says, soft-spokenly.
Like her own soft and feminine energy, Loan's artwork is whimsical and classy, with an intelligent spirit. "With Born in Blue, I was inspired by the ocean and my love for all forms of life and how they relate to one another in our ecosystem. In this series, I experiment with existing life forms like whales, dolphins and swans and add a mystical flair with creatures like mermaids and seahorses--all types of life that lead some sort of struggle to survive. Although at times, my artwork can display a bit of melancholy, I like to always give a positive message. In my art, I will to be true," says Loan Chabanol introspectively.
Loan's artwork is already selling like crazy and her show is expected to sell out. If you're in New York and want to pay her a visit at the show, you may want to get there early!