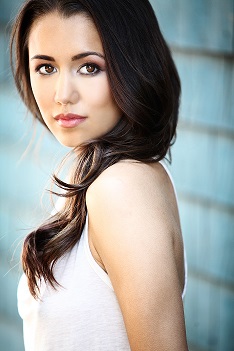 Vancouver-born actress Luisa D'Oliveira stars as young cop Poppy Wisnefski in the CBC series Cracked. Cracked follows a team of cops and psychiatric professionals who make up a Psych Crimes and Crisis unit in Toronto.
As a self-proclaimed organizational fanatic, Luisa comes to the job prepared. She's serious about her craft, yet, personality-wise, she's quirky and fun -- what's not to love?! Stints on CBS's The Good Wife and the CW's Hellcats and The Secret Circle introduced Luisa into our lives. Now we can't get enough of her.
Having just finished work on the film Red Machine, which is due out this year and stars Piper Perabo and James Marsden, Luisa jumped right into her new TV series Cracked. (Tidbit: Luisa thinks a power drill is a top notch birthday gift.)
What lead you to become an actor?
"I always loved acting as a kid and performed in everything I possibly could in school. My plan in my grad year was to act, but I had a lot of pressure from my father to go into science instead. That idea really planted itself in my mind subconsciously. I did my full first year of science at University, but it just wasn't creative enough for me and I found my way back to acting pretty quickly.
It hasn't been an easy road financially. I almost always had a part-time job serving or bartending, but that's just part of the life of an actor. In retrospect, they really helped my acting career in three ways. Not being completely dependent on acting for money took a lot of pressure off booking a job and allowed me to play around with scenes more, which actually ended up booking me more jobs. Secondly, every day is a character study when you work in a restaurant or bar. I got a lot of ideas from the great, interesting people I served beer and burgers to. Third, it forced me to connect with strangers on a daily basis. You exercise that same muscle with every new audition and job, so to be in that gear already was advantageous.
Back to my dad, once he realized I was serious about acting he's been 100% supportive. He just never wanted me to struggle for money. I can never blame him for that. Both my parents are incredibly proud and supportive. I'm very fortunate."
Did you have a religious upbringing?
"I was raised Catholic. It gave me a lot of good general beliefs and there are a lot of wonderful Catholics in the world, but I wouldn't consider myself a practicing Catholic anymore. I think the value of a religion directly relates to how much better a person is because of it. People's rights need to be respected. People should be able to believe whatever they want, but no one should force religion on others or use religion as an excuse for violence or oppression."
Did you start playing piano and guitar as a child?
"I started playing piano as a kid (thanks mom and dad) and loved it. The only thing I loved more was performing. I'd burn the first five minutes of every lesson talking about whatever performance I was working on in school. Guitar came later, I made that happen myself. I'm just good enough to sing whatever silly song I make up at the time."
What's your favorite all-time video game ever?
"The video game world has undergone such a technological revolution. So many games are like in depth feature films which in my opinion is the best thing about them! The best game I've seen so far is Mass Effect 2. It's an RPG (role playing game) where, aside from the gameplay, you develop relationships with many characters through your conversation choices. It's a fantastic character study, and a far step away from the Goosebumps 'choose-your-own-ending' books that used to terrify me. Strategy games are great also. I don't usually play myself. Often it's a joint venture with my boyfriend. The PS3 is a beast of a machine."
It's been a known fact that the acting profession can be stressful on relationships. You've been dating the same man for awhile. What do you do to balance life with him and work?
"Six? And a half [years]? [Laughs] we're not too concerned with our anniversaries. Lucky for me, he's a singer/songwriter and has worked in the film industry both in front and behind the camera so he's very in tune with the world. We both support each other fiercely in our creative endeavors and take time away from our work to relax and just be together. We have to change and cancel plans a lot, but we just go with the flow."
Luisa on the set of CRACKED with Director Don McBrearty. Photo by Stephen Scott.
What type of scenes would make you feel uncomfortable?
"I haven't done a sex scene yet. I'm guessing that will make me feel uncomfortable. I'm sure there's nothing like being half naked with a co-worker pretending you're turned on with 15 people standing around watching. If and when that happens, I'll just say 'F- it' and go balls to the wall. What else can you do? I'm gettin' paid here."
Are there any types of food you would never try and why?
"I'm not into weird organ parts and bugs. Aside from that, I'm game."
How did you go about receiving representation?
"In the beginning I wanted to get familiar with the world (and pay the bills) so I did a lot of background work. I'm glad I did it. As background you generally get ignored a lot so I was always able to observe and take in the vibe on a set. You can learn a lot if you want to. Plus there is never a shortage of interesting people doing it. I've had some of the most fascinating and bizzare conversations in my life with other background sitting around waiting to be called to set. I did my share of student films, but I didn't really start booking bigger roles until I got my agent who I still work with today. I went about that the usual route, knocked on doors and was interviewed. I hooked up with my first agent pretty quickly, and she is still representing me. I think a lot of it is right place right time. She didn't have anyone on her roster like me and I got a good vibe from her. And everything turned out happily ever after. "
Name something you did earlier in life that you're not proud of.
I'm not proud of the ignorant things I've said and done as a teenager. I don't know if all teenagers are self-centered. I cared about people a lot but I was also so focused on my own stuff. I've done stupid things and hurt people out of ignorance.
Anything else you want to add?
"To new actors starting out, teachers can give you tool sets, but only you can create your characters. We are hired for our own unique take on a human being, and no one else can give your characters but you. Have faith in yourself! And work hard. You can't expect to work a lot without working for it."
Popular in the Community