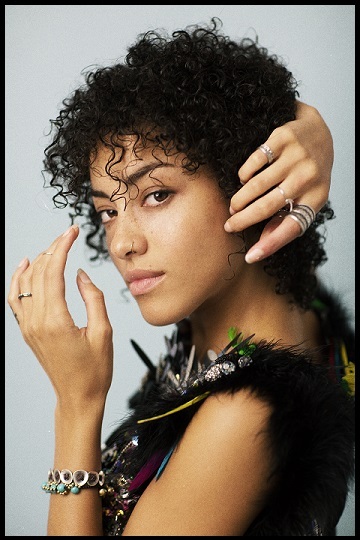 Paulina Singer stars in the upcoming Freeform series Dead of Summer premiering June 28th and can be seen in Netflix's Season 4 of Orange is the New Black.
Paulina Singer's Website & Twitter.
Photo by Emily Soto.
Take a look at that headshot up there of Paulina Singer. You already saw it, right, before you even read this. That's because this girl stands OUT!
You'll recognize her from the FOX series Gotham as Josie Mac, a new recruit of Captain Barnes (Michael Chiklis) law-abiding task force. Paulina was also in Person of Interest and a bunch of other shows and films you've probably seen.
When Paulina isn't in front of the camera, she enjoys writing and producing music through an alter ego, poetry, dancing, photography, cooking, and drawing in a meditative state. She also supports organizations that promote healthy farming, sustainable living, eco recovery and the end to animal cruelty.
You play Jessie Tyler in the new series Dead of Summer. Tell us about your audition.
I heard from my agents about it. I had one callback that doubled as a test, not a chemistry test though. The reader in the audition was really emotionally available and I had a good substitution so that probably helped with the chemistry.
Were you a fan of the horror genre before joining the series?
Yeah, I like to feel things so horror is always an adventure visually and receptively.
In addition to Dead of Summer, you play Aliyah in the newly released 4th season of Orange is the New Black! What can you tell us about your character?
Well I can't say much except that she's a really close friend of one of the characters and keeps the mood
light until the end of the episode with her energy and impetuosity.
You went to The New School University in 2012 and didn't return. What caused you to make that decision? How'd you jumpstart your career?
Well, I was never really into the general school system in America because I feel like there's an incredible amount of untapped knowledge out there. I'm apprehensive to the belief that success should be based on conforming to remember and repeat a rigorously enforced, specific area of knowledge based only on what has been written, instead of addressing all possible theories and leaving it to the individual to contemplate. I'm largely referring to how many schools address history and science, but the overall tone of behavioral instruction in schools is discomforting to me as well. The New School seemed to have a more liberal feel, and I wanted to experience college. I soon realized that paying for school felt nonsensical, and I figured I could learn as much as I needed to about my craft by just going out and doing it, for free. Or better, getting paid! I pulled my hamstring the first week of first semester sophomore year, and since I was in school mostly for dance (which, coincidentally, is the only activity that I do where I would like rigorous and structured technical training), it was a sign I should just abort the school thing then. My manager at the time and my mother both encouraged me, because they believed in me so much. That took the fear away from leaving and I went on to completely free my schedule and spend my time auditioning, writing, and creating for my future. That led me to Elise Koseff, who led me to train with Anthony Abeson, and he gave me the tools I needed to jumpstart my career.
I read in an interview that you like to write and produce music through an alter ego? Can you tell us about your process of creating music?
The alter ego was just an outlet I used to hide, in a sense, my failures, and explore a concept I was curious about without a direct connection to Paulina. I started with an alter ego to 1. Experience the feedback of a female rapper being just as womanizing as a male rapper and 2. If people didn't like it, I felt like I could say it wasn't really me. But now that I'm more confident in who I am, the alter ego has become a representation for a chapter of life that I feel had its time and has passed. I still plan on releasing that music, though, because I created a funky video for it. I am now in the process of making a Caribbean inspired funk/soul nu disco album which could possibly take years to ripen.
You were just featured in Nylon Magazine's Annual Young Hollywood Issue. How does it feel to be highlighted amongst your peers as an artist worth taking note of?
I am so thankful to Nylon for allowing me to gain access to the ears of such a wide and open minded audience, and I wouldn't change a thing about the piece. As a side note: I hope that in the future, instead of my face, I can showcase a work of art I have created. I identify less with my aesthetic and more with my creations and I hope that I can someday have the same attention drawn to my words by connecting them to my art. But Nylon was amazing in opportunity and experience. this is just something I've been thinking about in relation to interviews/articles.
Do you believe that someone can see into your soul?
I think anything is possible. This is a very subjective question as there are a lot of ways people think about souls but I would love to theorize with someone who feels they can.
The ankh has been my symbol ever since I saw the film The Hunger starring Susan Sarandon and David Bowie. When did you realize the 'calling' of the ankh and when did you get your ankh tattoo?

I didn't feel a calling, per say, unless you would classify a calling as the ankh sticking out as the representation of the love I have for my best friend. We both wanted a tattoo, and it seemed like the perfect thing to connect us. She's a key to my life and I'm a key to hers. A friend I met a long time ago did the tattoos for us in my room with a tattoo gun; it hurt like a bitch. I love all the meanings of the ankh. The same way I'm constantly discovering new things about how much I love my best friend I am also surprised to see how many new meanings I learn by each new person I meet with the same tattoo.
Anything else you'd like to say?
I'm trying to create a large company or organization where everything is created out of trash. tools, household items and clothing. I recently made some dope flowers out of trash (I have a bag of things in my room that instead of throwing out I save to make shit) because we found vases in our apartment and didn't have flowers, also I think housing a flower in a pot is quite cruel. Pangean is a company that my best friends (not the same one with the ankh tattoo) created where all of their clothing is 100% recycled and their goal is to make living sustainably feel easy and show people who are tentative about changing their ways that you don't have to be a hippy to be sustainable. Personally I like being a hippy, but anyway, I'm trying to merge with them in some way and see that type of organization become the largest creator of things on the planet, all completely sustainable.
I definitely want to change the world and be able to draw attention to mother earth, and a less or at least equal amount of attention to who we think created it. It's okay if it doesn't happen in this life, I'll keep working at it and spreading the love.
Calling all HuffPost superfans!
Sign up for membership to become a founding member and help shape HuffPost's next chapter