The first thing you might notice about Rhyon Brown's new album is that you recognize her from TV. As a long-time actress, Rhyon has starred in shows like "That's So Raven" and "Lincoln Heights". She currently has a role on BET's Irv Gotti series "Tales". Rhyon has also starred in feature films, playing Michel'le in "Surviving Compton" and in 50 Cent's "Get Rich or Die Tryin".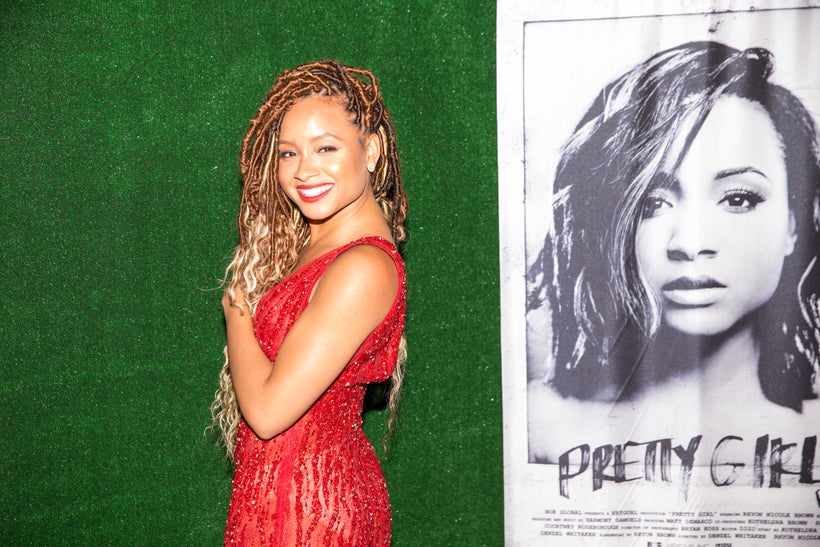 The second thing you'll notice is that Rhyon is not like many of the other young women in the music industry. Her capacity for mastering her craft is clear and so is her commitment to defying the norm. Rhyon's years of training as a dancer and time working as an actress, helped prepare her to make an album that oozes emotional expression in the best of ways.
"The music industry and acting industry have tried to separate the two," Rhyon tells us "I want to set myself apart as a true entertainer."
This truth carries over into her album's movie which is a well-told narrative. Brown tells us, "The movie is an opportunity to set myself apart as an artist. When I fell in love with the movie industry it was when I was watching movies with my grandmother." She credits her adoration of the multi-talented performers from those movies, like Dorothy Dandridge and Frank Sinatra, with inspiring the approach she took with her album's movie.
Even without the visual component, Rhyon's voice lends a soundtrack to the individually varied but common struggles of women in modern society. In "Drive", a track that she wrote after her producer, Harmony, sent her a piano-laden instrumental track, Rhyon gives listeners permission to dig deep into their feelings and release life's negativity. Just as she did when she was writing it.
After Rhyon paid her way through USC to get her film degree, she says reality struck leaving her feeling overwhelmed. "Life shattered after I graduated. Child actor to adult having to get a regular job. Making way under $1000 a month."
At the time, Rhyon wasn't sure if she'd even have enough gas money to get to and from auditions, but she says she was too prideful to be straightforward with her parents.
"[When I wrote 'Drive'] there were these piano chords. I went to my friends house and started writing." She said to herself, "I will be completely honest about how I am feeling right now." From that tough transition, Rhyon's favorite song on the album was born.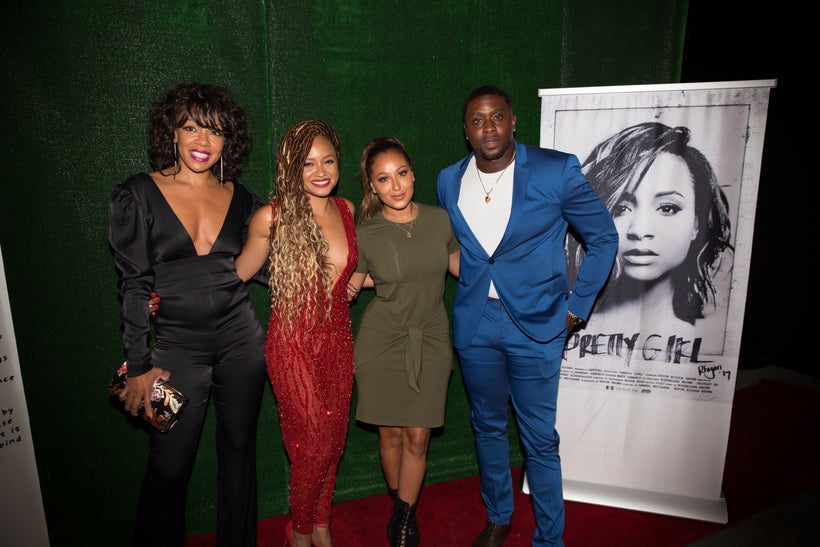 A good album has a balance of sounds and Rhyon's album does just that. Peppered with samples from top hits from 90's R&B charts each song is perfectly paired with a contemporary sound that honors her place as a new artist. She credits Harmony with the decision to sample songs from the part, "[We are] trying to take it back to when the music was serving a purpose."
A chance to rekindle your love with Mary J. Blige & Blackstreet isn't all you'll find when you listen to "Pretty Girl", which was released on Oct. 6, 2017. Rhyon hopes fans will not only enjoy the music on her debut album but also use it as a catalyst to make a change for the better.
"Pretty Girl", the title track on the album, is a direct plea to women who are in doubt of their self-worth. The lyrics summon thoughts of both inner and outer beauty and a woman's right to claim them each as her own. Pretty girl is a reminder that confidence and comfortability in your own skin are vital parts of the way others view you. Rhyon believes that kindness and confidence can be seen by those around you.
Rhyon also takes pride in refusing to be over-sexualized and, as an independent artist, she maintains control over the music and videos she produces. With this foundation, she aims to provide women and girls with another option.
"I've chosen to present myself in another way. I can be sexy and still have clothes on." Rhyon proclaims.
Rhyon takes what could be a proactive stance on the surge of publicized police shootings against people of color. Her parents instilled in her the value of first looking inward when seeking solutions. With this in mind, The single "This Ain't Love" calls for love and unity among black people and a commitment to ending violence within our own communities.
A chilling scene in which Rhyon has a front row view to a shooting at party is something that actually happened in her past, and gives clarity to her belief that peace among civilians is a critical issue. She tells us, "We complain about how others see us but we're causing harm to each other. It's not to say all black people treat each other poorly because that's not the case. There are plenty of us fighting to stand together. But, why should another race see our beauty if we can't?"
When asked if she expected any negative reactions from activists who focus on police brutality, Rhyon makes it known that she is coming from a place of love and truth.
"When you choose to stand for something you are always going to run into negativity...People are afraid to stand for what they believe in, then you find yourself not standing for anything but falling for a lot."
Notably, "This Ain't Love" concludes with an excerpt and video of former President Barack Obama's first inauguration.
"The Obama piece was so important because we do live in a day and age when the leader of our country is trying to erase all that our former president tried to change. Obama is a constant reminded that the sky is the limit. There are so many people that look like me that think there is a cap on the success they can garner. It's possible for us to reach that because we've gotten there before."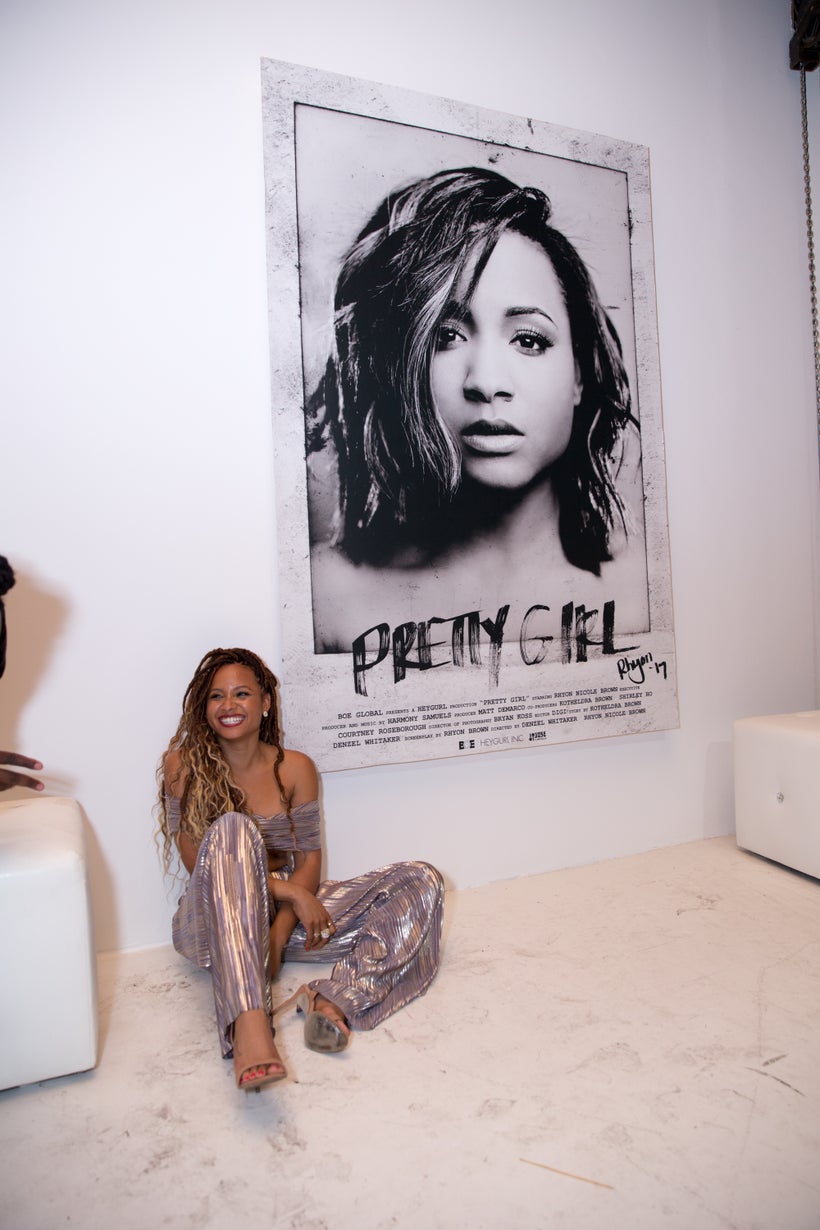 REAL LIFE. REAL NEWS. REAL VOICES.
Help us tell more of the stories that matter from voices that too often remain unheard.
This post was published on the now-closed HuffPost Contributor platform. Contributors control their own work and posted freely to our site. If you need to flag this entry as abusive,
send us an email
.