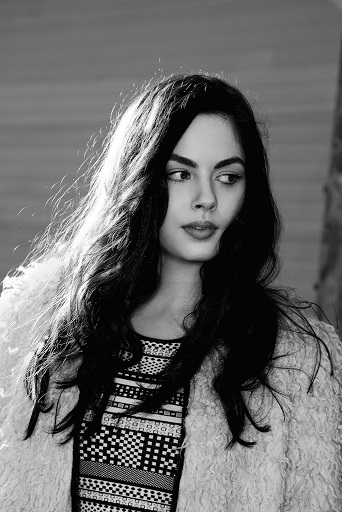 Coming off her recent work on The CW's Supernatural, Arrow and USA Network's Rush, Sarah can be seen in the recently released films Sorority Murder and SugarBabies. Twitter: @Sarah_Dugdale , Instagram: sarahdugdale , Photo by Kyla Hemmelgarn.
Sarah Dugdale is not just another pretty face. This talented young actress is also studying to get her private pilot's license. In between flying and living life, two of Sarah's movies were just released!
You sure have a lot going on all at once! What's your secret? What are you doing for the summer?
I would say my secret is balance, finding time to relax and hang out with friends. I've been spending a lot of time outdoors this summer, swimming in lakes, going on hikes, and listening to live music.
SugarBabies and Sorority Murder just came out in July. These are two very different types of projects. Tell us a behind the scenes story from each one.
Sugarbabies is about college girls who have arrangements with older men in exchange for money and Sorority Murder follows the members of the seemingly perfect Beta Sigma Eta sorority. A new member joins and shortly after, the president of the sorority is found dead.
What was your audition like for The CW's Arrow? Have you seen the show prior to your audition?
I hadn't really watched Arrow before auditioning but I always research shows before I go into the audition room. I got sides the day before the audition and then went in and did my thing in front of the casting directors. I was a little intimidated going to work on a set like Arrow but the cast was really welcoming!
What's your favorite ice cream brand and flavor?
I'm a sucker for Dairy Queen. Peanut buster parfaits are my weakness.
You just turned 20 years old. What did you do for your birthday?

I turned 20 on June 21st, the summer solstice. My birthday fell on Father's Day so we had a combined celebration. Family, good food, chocolate cake and presents, what more could a girl ask for?!
Are you a fan of Orange is the New Black? Which season of Orange is the New Black is the best? Who's your favorite character and why?
Yes I am a big fan of OITNB! The second season was the best and Pennsatucky is my favorite character. She has so much depth and Taryn Manning does a killer job portraying her pain and her craziness.
Which do you enjoy more, dancing or acting? Why?
I've always loved dancing but my true passion is acting. I love getting inside a character's head and figuring out why they do the things they do and what brought them to this point in their life.
How did you meet and sign with your agent?
I met my wonderful agent Deb Dillistone when I was 15 years old through my acting coach Deb Podowski. I had been working with Deb Podowski for a year before she got me in contact with Deb Dillistone. I was shy and had no resume at that point but I'm so glad she took a chance on me. I feel truly fortunate to have such an awesome team behind me.
No. [AUTHOR'S NOTE: SARAH - Ever break a wishbone? :) ]
You change your hair a lot of different roles, have you ever considered how that will affect your hair? Does this concern you?
I have a great hairstylist who I trust and she really cares about the health of my hair. I love getting to change my hair for roles. I was blonde for 19 years so it's fun to switch things up.
Spiders. They are creepy, crawly and unpredictable. On my first gig ever on The Haunting Hour during one of the scenes spiders were supposed to crawl under the door. They were going to CGI most of the spiders but they put a few real ones on the floor as well. There was no acting involved on my end, I was genuinely freaked out!
What advice do you have for young dancers / performers?
Figure out what you love and don't stop working until you get it. There are a lot of no's in this business but each no will only make you work harder.
Anything else you'd like to say?
I feel lucky to be working in a field that I love. I can't wait to see what's next!
REAL LIFE. REAL NEWS. REAL VOICES.
Help us tell more of the stories that matter from voices that too often remain unheard.