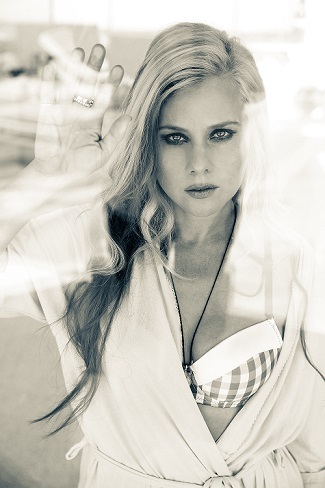 Meital had her breakout role in Showtime's Weeds. She's currently on the pop music charts.
Meital's Twitter & Website
Photo by Henry Diltz.
What I have here is a combination of talent.
Meital is an actress and singer who took Israel by storm. She has toured the world and collaborated with some of the biggest names in music including Sean Kingston, Reflex (Kanye West, Kendrick Lamar, Rihanna), R3hab (Lady Gaga, LMFAO, Calvin Harris) and Che Pope (Kanye West, Jay-Z, Eminem) and her three music videos have clocked in over 12 million YouTube views.
Henry Diltz is the man who photographed Meital. And Joni Mitchell. And Michael Jackson. And the Rolling Stones. And... let's just say, if you can name them, Henry has shot them.
At what age did you decide you wanted to be in the entertainment business?
Being an entertainer is like being a politician / athlete. It's one of these peculiar professions when you constantly ask yourself do I really want to be doing this? Then we enter into a bigger conversation about life and destiny and this bigger force than us called god and what is our purpose in this universe. This all comes to my mind when people ask me when did I choose to be in the entertainment industry because in my mind I haven't decided yet.
When did you move to America and why?
I moved to America a little bit before I got cast and shot for Weeds. At that time I already received two Israeli Oscar nominations, Israeli Tony Award and worked in theatre films and television. I was cast in an off off Broadway show and I couldn't resist the play as it was Blood Wedding by Federico García Lorca and the text was pure poetry. I was cast in the lead role as the bride and I thought to myself I'm just going to go to New York for two months to get some fresh air and return to my home country. However New York took me by storm; I fell in love with the city and soon one thing led to another and I found myself on Showtime's Weeds wielding a huge black dildo trying to f... Justin Kirk.
Tell us about your family and your name.
The name Meital means water dew. I'm from a very tight knit and loving family in Israel, and I was raised in a small village. I have two brothers that I'm very close to and growing up we were all given a lot of support and encouragement and still are. Growing up in Israel is very different from growing up in America. Everyone knows each other and life moves a little bit slower. I think also growing up in Israel gave me a deeper connection to nature and the natural world, which is something that I still seek out very often here.
What's the most important part of your day?
Morning is really important to me because I practice transcendental meditation, and it's the first time I meditate in my day. It's a chance for me to reflect and visualize what I want to give and take from the world that day - and allows me to come into my day with a sharper focus and purpose.
Do you sing in the shower?
I tried to sing in the shower a few times but it was hard as my mouth was filled with water. Therefore I transitioned to hot bath tubs. Soaking in hot bath tubs became just another recharging place, so instead of singing I usually spend my time in the bath thinking about the challenges and hardships of the world and how I can humbly try and fix them. Usually by the time I finish purifying myself I realize that there is so much to do in the world and that's what motivates me to get out of the bath and rush to work.
Tell us about an important relationship from your teenage years.
My grandma and I were very close when I was a teenager and she taught me about generosity, spirituality and the meaning of authenticity. She was a very real person and taught me what it means to always be honest with yourself, to not care what other people thought of me. When I was a teenager I was shy and self-conscious so she helped me to come out of my shell and really embrace the girl I was. She has since passed, but she's definitely one of the most important relationships of my formative years.
Nothing that keeps me up at night but I've definitely regretted moments in my life. I think moving through life it's inevitable and inhuman not to feel regret as life goes by so fast and you encounter so many people and have to make constant decisions. Obviously nature is not perfect and neither are we so as much as I'd to think of myself as a super human inspired by David Bowie I recall that I am human when I sit on the toilet seat or when my stomach rumbles out of hunger. So yes regrets are part of life, I wish they weren't but they are.
Where were you the first time you found out you made the music charts and who was the first person you told?
Luc Vergier, who is one of my team members, has been believing in me and was working with me in Europe, phoned to tell me my second song ever, On Ya featuring Sean Kingston was number five in the UK pop club chart.
Needless to say for someone who'd just released their second song ever I was so enthused and happy and I immediately called Elliot Mintz whose been working with me and nurturing my career and told him the good news. I would have jumped up and down but I was sitting in my car and didn't want to hit my head. I also called Cuda Love who was responsible for the introduction and collaboration with Sean Kingston.
You've been photographed a countless number of times in your career, most recently by Henry Diltz. What are the differences and similarities of the way a photographer shoots you that you've noticed over the years?
That's a great question. I think a lot of photographers have shot me in a very sexy way and have captured the kind of flirty, provocative nature I possess. The differences between photographers is developing some kind of emotional intimacy with them before so that they can see you - really see you - beyond just being the subject of their photograph. I think the photographers that understand my mind and where I'm coming from as an artist, can make better art out of me. Henry Diltz is a legendary photographer and it's my absolute pleasure and honor to be photographed by him alongside all those 20th century icons. Working with Henry was definitely inspiring and gave me that feeling once again that I miss the era I should of been part of - which was the 60s and 70s when people were more free minded, free spirited and chose to connect with one another rather than connect with their cell phones.
Anything else you'd like to say?
If you're interested in interviewing my pet tiger Charlie he's now taking select interviews with the press.
More seriously I've been working with Bob Roth and the David Lynch Foundation for Meditation for a few years trying to set a program introducing Israeli veterans who served in the IDF to receive complimentary Transcendental Meditation education. Recently we've made some progress and I will be very delighted to hopefully soon announce the launch of the program.
HENRY DILTZ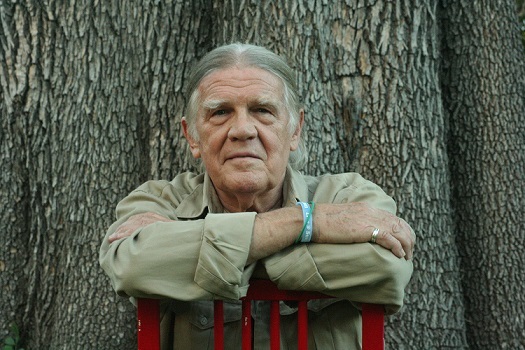 Henry Diltz, the Iconic Photographer.
Henry's Website.
Photo by Paul Zollo.
From stunning stage shots of Chuck Berry, Crosby, Stills and Nash and the Rolling Stones, to warm, candid images of Paul McCartney, James Taylor, Michael Jackson and Joni Mitchell, Diltz is a legend and has captured some of music's most familiar faces in some extraordinarily intimate moments.
How were you chosen to photograph Meital?
I met Meital at a photography opening at The Morrison Hotel Gallery in LA. We had a chat and she mentioned that she needed some new photos and wondered if I would take them. It sounded like a great idea to me.
We did all the photos at her house in Laurel Canyon at the top of a hill with great light coming in many big windows. It was the perfect location to do candid photos in my fly on the wall style. Nothing went wrong, everything went right! When you have a beautiful lady in your viewfinder, it's hard for anything to go wrong.
You're known for photography legend, having shot some of music's most iconic and familiar faces of all time. What's the difference between photographing stage appearances vs. magazine / album cover photos?
My style of photography is a simple documenting in natural / existing light of whatever I see. In the case of live stage appearances, the lighting already exists and so that's a done deal. Otherwise, I like to shoot in the daytime with God's own light and it's as simple as that. What I see is what I capture. In either case, I am looking for the moments that look natural and joyful to me and hope that it will be the case for others who later view the pictures.
Popular in the Community