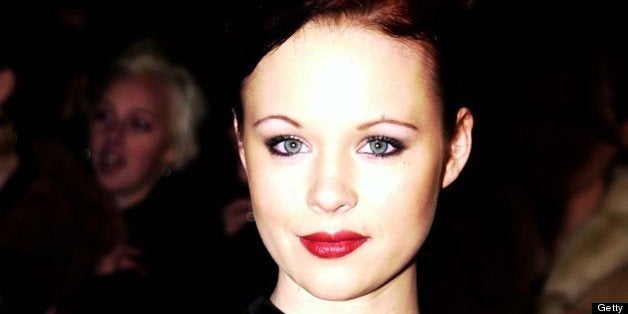 To many, the words "American Beauty" bring to mind the award winning film released in 1999. The film is memorable for its multilayered themes examining topics such as materialism, appearances, gratitude, and beauty; and for its flawless casting.
Among the cast of characters was "Jane Burnham" played by actress Thora Birch who portrayed the quintessential America teenager, described by her onscreen father "Lester Burnham," played by Kevin Spacey, as, "a pretty typical teenager -- angry, insecure, confused," of which he also lamented, "I wish I could tell her that's all going to pass, but I don't want to lie to her."
Indeed anyone who was ever a teenager was able to deeply to relate to Thora's portrayal of "Jane" in the film. As longtime fan of Thora Birch, I was thrilled to find out that anyone who cares about saving animals from cruel cosmetics tests can relate to her in real life.
"It is a shame that in the United States animals can still be subjected to agonizing tests for cosmetics despite the availability of modern non-animal tests. Testing cosmetics on animals is an outdated and unnecessary practice. It's also cruel. Our nation's largest trading partner, the European Union, has banned the sale of animal tested cosmetics and proven it is possible to produce safe cosmetics without harming animals.

For over a decade California has required that modern non-animal tests be used to ensure product safety before resorting to cruel outdated animal tests. Now the California legislature has passed the Cruelty Free Cosmetics Resolution calling for an end to cruel cosmetics tests nationwide. I'm proud to join Cruelty Free International and the state of California in calling for a US ban on animal testing for cosmetics."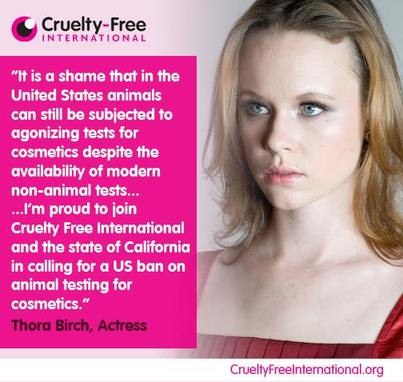 In early 2013, India became the first country in Asia to announce a ban animal testing for cosmetics. Next, the state of Sao Paulo, Brazil banned animal testing for cosmetics and, just a few weeks ago, the Brazilian Chamber of Deputies passed a bill that would end most cosmetics testing on animals by prohibiting the use of animals where alternatives have been established with a complete phase out in 5 years. The bill now heads to the Brazil Senate.
In May, Vietnam announced it will ban the Draize Test and training in use of other alternatives is underway funded by Cruelty Free International. And, in June, China officially lifted the animal testing requirement for domestically produced non-special use cosmetics.
Ultimately, it is in the best interest of the American beauty industry for the United States to catch up on this issue. Harmonizing global cosmetics testing regulations would enable each product to have one safety dossier that would be universally accepted. Moreover, modern non-animal alternatives that are often cheaper, faster and more predictive for humans.
Moving away from animal tests will allow the American beauty industry to remain competitive in a changing global market that increasingly requires non-animal safety tests.
Compassionate consumers can join celebrity supported including Thora Birch, Alicia Silverstone, Mayim Bialik, Vanessa Marano, Peter Dinklage, and Norman Reedus in calling on the U.S. to end cosmetics testing on animal by signing a global petition and by writing their legislative representative in support of the Humane Cosmetics Act
Together we can show that world that American Beauty is more than skin deep.
Popular in the Community