Tiffany Haddish remembers growing up and watching women like Jada Pinkett Smith, Queen Latifah and Regina Hall on TV, feeling hopeful that one day her path would cross with theirs.
"I remember watching them as a young teen and wanting them to be my friends," Haddish chuckled as she spoke to HuffPost last week.
However, a friendship wasn't the only thing Haddish went on to establish with these women. As the breakout star in the forthcoming film "Girls Trip," Haddish ― who previously had a reoccurring role on the recently canceled "The Carmichael Show" ― worked alongside Hall, Pinkett Smith and Latifah to deliver one of the summer's best flicks and built an unbreakable sisterhood with the cast during the process.
"It was a dream come true," she said. "They are regular chicks, real women and we had so much fun working together. I learned so much from all of them."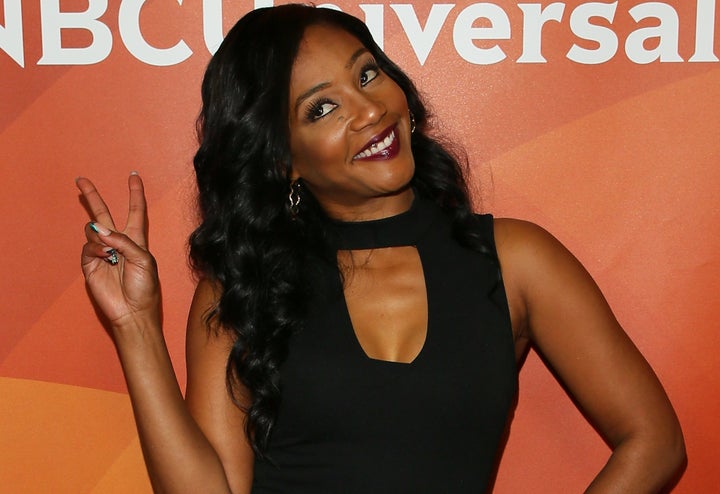 Haddish described her experience with "Girls Trip" as the "best job I've ever had," saying she felt at ease and unapologetically carefree working on a film about women expressing these same qualities.
"Girls Trip" follows a group of four friends who affectionately call themselves the "Flossy Posse" as they take a break from their busy schedules for a wild weekend in New Orleans. The women cut loose to roam the city's streets and enjoy a fun few days at the Essence Festival, a multicultural event designed for and by black women. The trip doesn't come without its challenges as the women face hardships that test their friendship. However, they eventually overcome them in ways that only strengthen their sisterhood and further reveal the love they have for each other and themselves.
"For me, it was great being able to work with these women to display real friendship and real sisterhood. It's important for women to see that," Haddish said. "We get so caught up in what we look like, or this image thing. Forget that, just be you!"
Haddish is hilarious and unfiltered as Dina, the silly and upbeat friend who is always down to turn up, cut up and have a good time. And as a real-life comedian who has her own standup comedy special heading to Showtime soon, Haddish easily delivers some of the film's most hilarious and memorable moments. 
"I was unapologetically Tiffany Haddish times 10," Haddish said of her role, before digging deeper into the importance of having carefree and multidimensional black women portrayed on screen.
"We're always stereotyped as the ratchet chick or the ghetto girl or the angry black woman or the snob," she said. "[The film] didn't just show us in one light, it shows us how we are, how we participate on the planet. It's showing us getting along ― I think that's a great message for women."
The movie is packed with meaningful lessons on love, friendship and self-care ― but, at its core, it sends a resounding message about the power of sisterhood and the beauty that comes from the support and love that is shared within it.
"We need each other ― men try to pit us against each other, and we start turning against each other and start stifling each other," Haddish said. "We all are beautiful."
Haddish said every strong sisterhood should embrace qualities like loyalty, love, compassion and honesty. However, she also made sure to mention that taking time to simply be among each other and have fun is just as necessary.
"Being able to provide a good time for each other to unwind and release is important," she said, before crediting her own castmates for the lessons and laughs they shared during filming.
"After watching 'Girls Trip,' I want [viewers] to know that if you're with the people that you love the most, your real friends, you will have fun and you will have created some fantastic memories," she added. "That's what we're here on Earth to do, it's to make the Earth a little bit better for each other and to have really awesome experiences."
Calling all HuffPost superfans!
Sign up for membership to become a founding member and help shape HuffPost's next chapter
BEFORE YOU GO
PHOTO GALLERY
Beautiful Black Women Of Hollywood