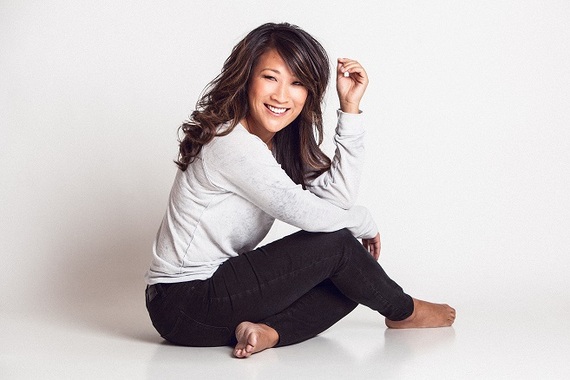 Tina Huang plays Susie Chang, the senior criminalist in TNT's hit crime-drama Rizzoli & Isles.
Most of us learn on the job and being an actor is no different.
Tina Huang, who plays Susie Chang, the senior criminalist in TNT's hit crime-drama Rizzoli & Isles, learned fandom. Plus a whole lot more!
You play Susie Chang, the senior criminalist in TNT's hit crime-drama Rizzoli & Isles. Dish, girl.

I have a confession, I actually never auditioned for the role of Susie. I had gone in to audition for other roles for Rizzoli & Isles but hadn't gotten those parts. At the time, my mother was really sick and in the hospital in Texas, and I was flying back and forth from L.A. to be with her. It was a tough time. Then one day, while I was there visiting her, I got a call from my manager telling me that I had been offered the role of Susie because the casting director had remembered my previous auditions. It's embarrassing to admit now, but I cried. It was only a one day guest star role but it didn't matter. It was the bit of light that I needed during that dark time. I was so happy to go to work on R&I and Susie somehow continued to grow and grow and now I'm in season six. It really has marked a special time in my life.
Were you aware of the following Rizzoli & Isles had when you auditioned?
I had no idea about the following for Rizzoli & Isles. I only became aware when I joined Twitter. The fans are very very supportive; they are truly amazing. It fascinates me that some fans on the other side of the world, stay up 'til 4 or 5 a.m. to watch the show. I remember one day on set, the executive producer, Bill Haber, came in and announced to the cast and crew that the show was the number one rated cable show on TV. This announcement happened a few times throughout the seasons. I have no idea how ratings work but through the announcements and the loyalty of the fans, I've come to see how hugely popular the show really is. I've read pretty great fan fictions, and I've had fans draw sketches of me and make GIFs from my scenes. I've learned the terms 'Ship' and 'Rizzles.' It really is hard to grasp the idea that I am on a hit show. I'm so deeply flattered and grateful for the fans that support me.
What was it like working on General Hospital as the character Dr. Linda Chu?
I had watched General Hospital growing up, so working on GH was a blast. One of my first roles in Hollywood was actually on GH, except I played the minor role of Sally, the nanny for Ric and Alexis. It wasn't until years later that they recast me as Dr. Linda Chu. In between, I also worked on a Nickelodeon soap called Hollywood Heights. The production of daily soaps is very different from one hour dramas like Rizzoli & Isles. For example, on soaps, scenes are called items and when your item is called over the PA system, you go to the stage to shoot. On General Hospital, there were about 60 items on the daily schedule, whereas Rizzoli & Isles shoots about four or five scenes a day. On soaps there are about four cameras shooting simultaneously and you have about two takes as they edit between the cameras. It all moves pretty fast. It's a very impressive, well-oiled machine. At Rizzoli & Isles, we shoot with two cameras and do as many takes as we need and then do it all over again with different camera angles, waiting 10-15 minutes in between these set-ups. In that way, it's more like making a film. So they are very different, but I enjoy both.
Heard you will be performing at the Edinburgh Fringe Festival in Scotland. Tell us about Fairy Tale Theatre: 18 & Over.
I've been performing in Fairy Tale Theatre: 18 & Over, written and created by my college friend J. Michael Feldman, for a few years now. It's hilarious and has some raunchy fairy tales with lessons for adults like the Tale of the Bi-Polar Bear and the Co-Dependent Eskimo or the Tale of the Older Penis and the Younger Penis. I play multiple characters using costumes and puppets...PUPPETS!  It really is the best time. A producer that has worked with the Edinburgh Fringe saw one of our monthly shows here in LA and she thought it would be great to bring it to Scotland. The Edinburgh Fringe is the largest arts festival in the world and this year there are over 3,000 events. It will be exciting to meet artists from around the world, see shows and art that we might never get exposed to, and have the opportunity to share our show with an international audience. We have a huge library of tales at this point so we put together two different shows that we will rotate while at the Fringe this August. It's directed by another NYU alum, Annie McVey, and my fellow puppeteers are Matt Cook and Jess McKay. Other guest stars we are bringing with us are Greg Worswick and Courtney Pauroso. I'm so excited that I can barely contain myself.
What's your favorite part about working in theater?
The immediacy. I love having that out of body experience while on stage and feeling the crowd being right there with you; through everything you are feeling and experiencing. There is nothing like sharing that special moment in time with a community of people. It can never be recreated. I love the collaboration that theatre requires; with your scene partners, your director, your designers, your writers, and your audience. Also, being on stage is a rush. It becomes an addiction.
What is it about comedy that you love so much? What about comedy do you hate?
I love so many things about comedy. It can communicate beyond language and cultural barriers. As satire, it can be used as a strong teaching tool to create awareness, effect social change, or just make people feel better. It can disarm people but it also can empower people. It feels good to laugh and more importantly, it feels really good to make others laugh. I don't hate much about comedy but I do hate hurtful, mean, thoughtless comedy; that to me feels cheap.
How did you end up moving from Dallas to New York?
My parents immigrated to NYC and had my two older brothers there. They then moved to Dallas, Texas, where I was born. I lived there until I was about five years old with my mom, brothers and grandfather. My father was living back in New York because he couldn't find work in Dallas at the time. When I turned five, I think my parents just wanted to live together again, so we moved back to NY. You know, it was a tough situation. Dad couldn't get work, the restaurant folded, and then I was in a strange new world. In Dallas, I had been outdoorsy and a tomboy. I played in the mud and in the creek where my brothers and I caught frogs and ducklings, climbed down storm drains and climbed up trees, and then NY was scary, loud, dirty, dark and cold. There was a big adjustment period. But as I grew up I realized how exciting NY actually was. I felt like I was really intellectually challenged. How lucky was I that I got to go to the Guggenheim or the Metropolitan Museum of Art whenever I wanted? Now I consider myself an urbanite and love living in Los Angeles. I still take weekend trips to go camping and like to get outdoors in nature as often as possible.
Please be sure to check out Part II of my interview with Tina Huang!
Calling all HuffPost superfans!
Sign up for membership to become a founding member and help shape HuffPost's next chapter