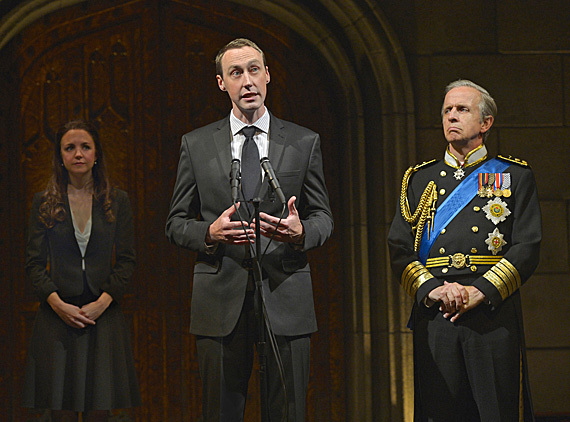 Prince William (Christopher McLinden) speaks to reporters, watched by wife Kate (Allison Jean White) and King Charles III (Robert Joy)
The play's the thing, a certain well-regarded dramatist wrote some 400 years ago. If ever that assertion received proof, it certainly does with Mike Bartlett's King Charles III." The brilliant drama-comedy, which collected awards and raves in London and New York, opened American Conservatory Theater's 50th season in San Francisco's Geary Theater on Wednesday.
But a play needs more than an outstanding script to be successful, as anyone who has slumped through a mangling of King Lear knows well. The words offer a starting point; the direction, performances and technical support make it connect.
That's a wordy way of getting to my feeling that Bartlett's text -- a vision of Great Britain's royal family and the British nation after the death of Queen Elizabeth -- is marvelous: inventive, thoughtful and literate. But ACT's staging, directed by David Muse, dispatches it with only intermittent flashes of human or intellectual engagement.
Modeled essentially on the form of Shakespeare's history plays and written for the most part in blank verse, Bartlett's Charles is rich with personalities and motivations that suggest Shakespearean antecedents. It speculates not only on conflicts within the royal family after the longest reign in British history but also on the institution of the monarchy and its relation to the people that it nominally rules. Most poignantly and powerfully, though, it examines issues of morality, power, self-interest and public interest among figures who control the destiny of a nation.
Even if the specifics involve structures that are uniquely British, the principles apply to every democracy.
Bartlett's characters come straight from contemporary history, and especially from the lurid pages of British tabloids.
At center, there's Charles, who becomes king at the moment of his mother's death though coronation remains months away. Although he admits to having longed for the crown for many years, the reality of his ascent is jolting, and rare minutes of solitude allow him to reflect on the future and to muse, "I am better the thoughtful prince than king."
ACT's Charles is Canadian actor Robert Joy, whose credits run from comedy to musicals to Shakespearean drama on stage, screen and TV. In his current role, he displays a nervous, conflicted and sometimes humble man, appropriate traits all, but his total lack of gravitas undercuts the weight of the decision he must make.
In carefully chosen dramatic irony, Bartlett sets the king on a collision course with parliament over a bill that would restrict the freedom of Britain's notoriously salacious press. Considering his own experiences involving adultery during his marriage to the widely adored Princess Diana, it would come as no surprise if Charles supported limits on journalistic intrusions into private lives. But he doesn't.
His devotion to the principle of free speech and a free press trumps any personal impulse, precipitating a constitutional crisis (though Britain has no written constitution), riots and threats to dissolve the monarchy.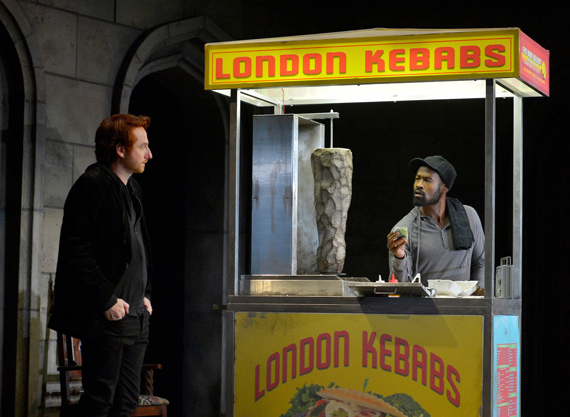 Prince Harry (Harry Smith) discusses the state of the nation with a kebab vendor (Rafael Jordan)
Around Joy are performers who probably come as close to real-life replicas of the royals as any ACT could find: a tall, thin, blond Prince William (Christopher McLinden), who loves and respects his father until events change their relationship; his slender, long-haired, stylish wife, Kate (Allison Jean White), as genteel as she is ambitious; a red-haired, scruffy Prince Harry (Harry Smith), who prefers boozing and wenching over royal discretion, and a robust Camilla (Jeanne Paulsen), who offers wifely advice and support to Charles.
Their performances are lucid if rarely affecting, except for White's attempt to suggest a 21st century Lady Macbeth. A pivotal role, it simply falls flat.
Outside the royal circle, principals in the large cast include Ian Merrill Peakes as the Labourite prime minister, Bradford Farwell as the Conservative leader, Dan Hiatt as the manager of the king's appointments and Michelle Beck as a young woman whom Prince Harry comes to love. From this corner, Beck's relatively small role is the play's most persuasive in human terms, though the final scenes do give Joy's Charles the stature of a tragic figure, defeated by the vanities and ambitions of stronger forces.
It's impossible to predict how performances will evolve -- if at all -- over a play's run, but I have to hope they'll grow stronger. Regardless, Bartlett's tale of an imagined future is a well-honed spur to discussion, especially in this election season.
King Charles III runs through Oct. 9 in American Conservatory Theater's Geary Theater, 415 Geary St., San Francisco. Tickets are $20-$105, from 415-749-2228 or act-sf.org.
Calling all HuffPost superfans!
Sign up for membership to become a founding member and help shape HuffPost's next chapter