Sometimes timing drives home a message better than words possibly can. The tragic shooting yet again at Fort Hood and news of more random violence at schools, underline the very real urgency of the message Lulani Arquette, President/CEO of the Native Arts and Cultures Foundation had for the young audience she addressed in Honolulu recently.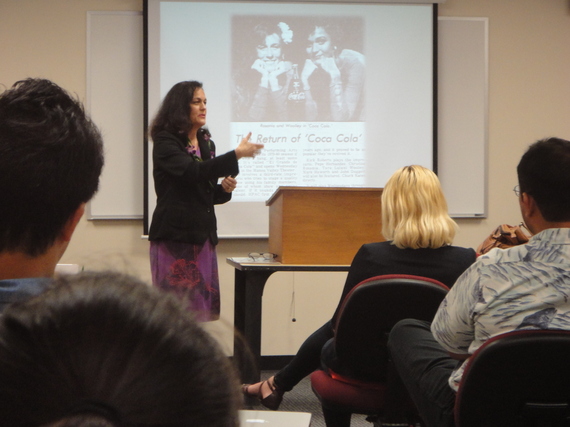 Lulani Arquette, President /CEO of the Native Arts and Culture Foundation (NACF), a national organization dedicated to promoting Native arts and cultures through philanthropy, shares the story of her entrepreneurial journey with the Hogan Entrepreneurs at Chaminade University. Phots by Valery Baranets.
In meeting with the Hogan Entrepreneurs at Chaminade University, Arquette spoke about the vital importance of the arts in helping to comfort and to heal. The word in Hawaiian, we learned, is called ho'ola. Art also helps us to tell the stories of who we are and educates us about our place in the universe. That, we learned, was ho'ona'auao. She talked about the capacity for the arts to provoke and inspire us to take action to address the injustices around us. That we learned was ho'olalelale.
Hogan Entrepreneurs Share Their Experiences with Arts and Culture
The Hogan entrepreneurs had stories of their own to tell of how the arts were inspiring them to do new things and to see the world through a different lens. Gabrielle Maser spoke of feeling very lucky that she had grown up with a Native American friend in the Bay Area who had welcomed her into the family circle of cultural practices. She spoke of learning great reverence for the earth by watching the place of arts and ritual in the life of her friend's family. Cassin Muramoto talked about once being "afraid of the arts" but learning under Chaminade Art professor Yukio Ozaki how to put a story behind every piece of ceramic art he created.
Stories of who we are, where we come from and how we can use art and cultural practices to create spaces for healing, reconciliation and healthy growth dominate the vision of the Native Arts and Cultures Foundation. Arquette covered the work of 2014 Native Hawaiian artist fellows Micah Kamohoali'i and Patrick Makuakāne (dance), Keola Beamer (music) and Kaili Chun (visual arts).
Artist-led Projects to Address Social Issues Eligible for Grants
The Foundation is initiating support for artist led community projects that use art to address social problems about land, water, energy, the environment, education and more. Arquette explained that the idea of community is broad and can be defined by geography, ethnicity, shared interests, common profession, gender or more. Artists and "community" who come together to engage in a sustained artistic endeavor over a number of years on a social issue of concern would be eligible for a foundation grant.
At a time when cuts are proposed to funding for the National Endowment for the Arts and Public Broadcasting because it "cannot be justified" even as the same budget builds in nearly $500 billion for military spending, NACF's call for "acts of art" instead of "acts of war" should resonate. Taken seriously, art could help our hurting communities explore and confront what ails them. And possibly, help slow the tide of tragedies in society. NACF argues that we owe it to ourselves and to each other to try to bring arts and culture into its rightful place in society once again as the foundation and root of our communities and civilization. The arts in general get less than four percent of the share of public philanthropy. Of that, less than one percent goes to native arts. We can do better than that. The signs of our times tell us we need to do better than that.
REAL LIFE. REAL NEWS. REAL VOICES.
Help us tell more of the stories that matter from voices that too often remain unheard.