When Secretary of Education Betsy DeVos addressed the Conservative Political Action Conference on Thursday, she began her remarks with a brief introduction.
"I'm Betsy DeVos. You may have heard some of the 'wonderful' things the mainstream media has called me lately," she said. "I, however, pride myself on being called a mother, a grandmother, a life partner, and perhaps the first person to tell Bernie Sanders to his face that there's no such thing as a free lunch."
While DeVos' "free lunch" statement was a joke meant to make her right-wing audience chuckle and to highlight the price tag on government programs, her choice of words was very troubling to many parents, educators and child welfare advocates.
Because the fact of the matter is, for millions of children in the United States ― all of whom she's pledged to serve as education secretary ― there is such a thing as a free lunch. And the important role it plays in their education and well-being is no laughing matter.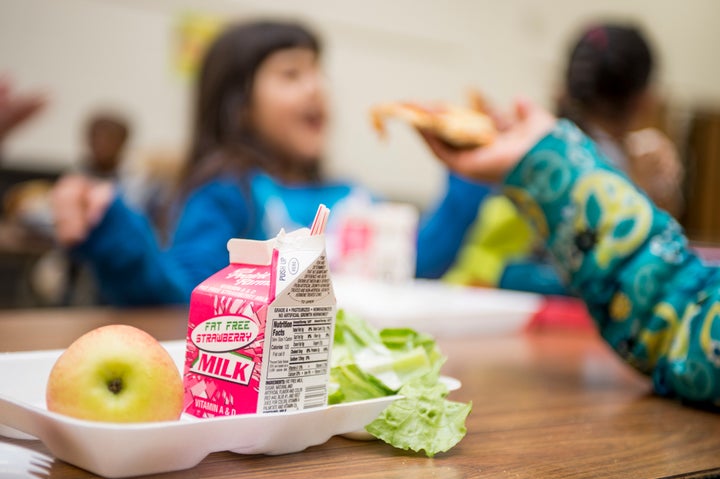 In 1946, President Truman signed the National School Lunch Act, which established the National School Lunch Program. The meal program provides free and reduced-price lunches to children from low-income backgrounds. In 2012, more than 31 million children received meals through the program on a daily basis.
Knowing the importance of free lunch programs, many Twitter users criticized DeVos' choice of phrase as "ignorant" and chastised her for using a reality faced by so many children in poverty as a punchline for a joke.
Many pointed to DeVos' affluent background as a billionaire heiress from one of Michigan's most powerful families.
Some have defended the education secretary's comment by suggesting she was not literally talking about free lunch programs, but rather using the old adage to speak more broadly about government spending and role of taxpayer dollars.
However, legislative efforts over the past year show that lunch programs may end up on the chopping block. In April, the House of Representatives introduced a bill that would scale back the number of free meals offered at schools in the U.S.
In light of DeVos' remarks, educators, parents and former students are speaking out in defense of the National School Lunch Program and stressing the adverse effects of having hungry children in classrooms.
Writer Charles Clymer pushed back by launching a Twitter campaign with the hashtag #FeedTheKids.
Many have also pointed to her past comments that suggest she wants to use the U.S. education system to advance a Christian agenda and build "God's kingdom."
After all, as Jesus famously said, "There's no such thing as a free lunch."
Related