Dear New York Times Travel Section:
I hope things are going well there, what with deadlines and the usual grind. I just wanted to pass along my thanks for selecting Providence, Rhode Island as #33 of your eagerly-anticipated, often-discussed "52 Places to Go in 2016."
Having grown up in Manhattan, and gotten lost in many a monumental edition of the Sunday Times, I understand and sympathize with the fact that, well, it's not always easy to see smaller cities for the humble but pleasant places that they (sometimes) are.
Still, after scratching my head over the text of No. 33, I'd be remiss not to point out that Rachel Levin, the writer you assigned, has most likely not been north of New Haven in some time.
You see, I've actually visited Providence. Well, that's not quite fair.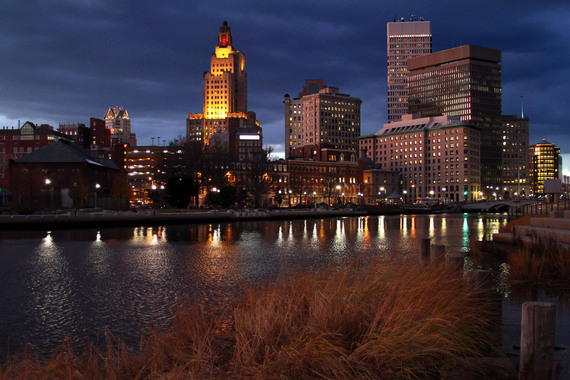 Let's just skip over the fact that the photo you used with the online version of #33 isn't a shot of Providence at all. It's a picture of Watch Hill, Rhode Island, down near the Connecticut border.
We won't discuss that, even though -- as far as Providence is concerned -- Watch Hill might as well be on the moon.
Instead let's take a tiny peek at the article and see if there's some stuff we residents might recognize.
Is Providence "The East Coast's answer to Portland, Oregon?" as the subhead suggests? If Portland were a question, perhaps we might be. But, in all seriousness, Oregon? Portland, Maine, and Providence share similarities, so maybe this was a simple typo.
"This cobblestone-lined capital," continues the little piece, "has the sort of bearded liberalness and ever-rising food scene..."
I'm going to have to pause us here.
We are the state capital, without a doubt. Providence is chock full of liberals, quite proudly so, and the city's food scene is, indeed on the perpetual up-and-up.

One small problem. We don't have "cobblestones." They do not line our streets. They do not line our boulevards and avenues. They do not line our driveways. We do not have them at all.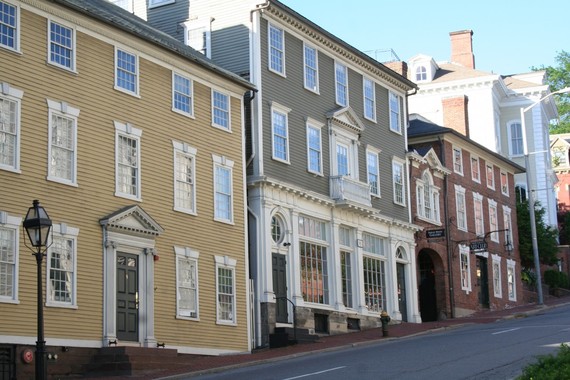 Moving on, I much enjoyed the reference to my adopted city's "sculpture-studded Creative Mile." It sounds extremely pleasant. I would like to walk there on a sunny day.
I am afraid, though, I would need directions.
No one I have talked to here in Providence has ever heard of the thing.
Sure, we've got a riverfront of an unmeasured distance, and there may be some art school students roaming around down there at this very moment.
As for "sculpture-studded," I am worried about this phrase. Locals know the Irish famine memorial, the Holocaust memorial, and our riverfront war memorials, as well. Is this what the Times is referring to?
I am worried, I say. Extremely concerned.
Particularly when #33 trumpets our upcoming "8-acre riverfront park" and "footbridge." We wish. They would be wonderful to have. All of us here are keeping fingers crossed on these things, but I am sorry to report that, as of this writing, both are completely up in the air.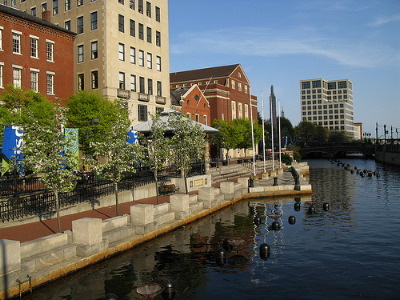 No. 33 concludes with a bang by whizzing far, far out of the town of Providence and all the way down to Watch Hill, which is part of Westerly. If a Providence person decides to visit that town we tend to take out a hotel room for the night.
But, not, as the article suggests, at the "oceanside Ocean House [inn] with its 'competitive-style' cooking classes."
Frankly, we can't afford it. The Ocean House is a place for people from Connecticut.
It's a place for visitors from Darien, from Simsbury, from Greenwich. It is a place for New Yorkers.
It's a perfect beachside hotel, as a matter of fact, for The New York Times.
Not that there's anything wrong with this.
The Ocean House may be worth a look -- if you can't make it all the way to Providence.
If you see any cobblestones there, could you let me know?
REAL LIFE. REAL NEWS. REAL VOICES.
Help us tell more of the stories that matter from voices that too often remain unheard.