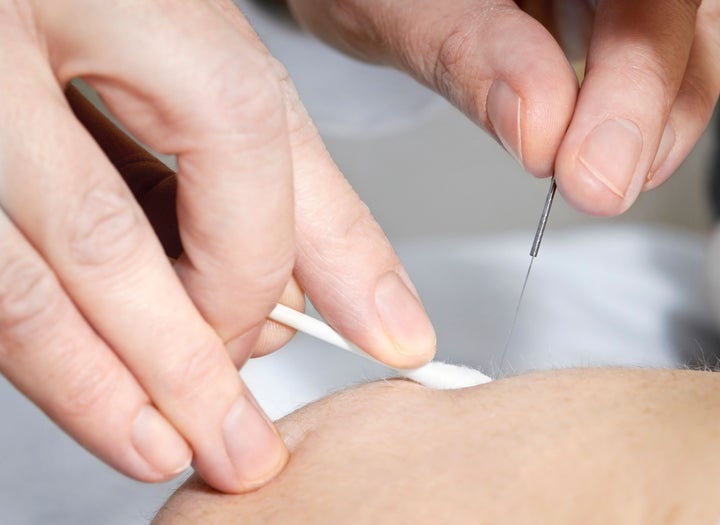 It can take finesse to prime kids for acupuncture. Parents tend to be okay with the process, but many children need to be coached through it, said Dr. Stefan Friedrichsdorf, director of the pain and palliative and integrative medicine program at the Children's Hospitals and Clinics of Minnesota.
"Children hate needles -- period," Friedrichsdorf chuckled. "It takes some convincing."
But while some kids may find acupuncture unsettling, the practice -- which involves inserting thin needles into the body at strategic points to treat a variety of conditions and diseases -- is generally safe for them, according to a new review that is among the first to tackle the issue.
In an article published Monday in the journal Pediatrics, a team from the University of Alberta analyzed 37 peer-reviewed studies, which included children from birth to 17 years old. When zeroing in on the outcomes from randomized controlled trials and cohort studies alone, researchers estimated the incidence of adverse events was approximately 11 percent. And most were mild.
"Based on [the] available data, we are comfortable saying that in trained hands, pediatric acupuncture is safe," said Dr. Sunita Vohra, director of the CARE Program for Integrative Health and Healing at the university, and one of the review's authors.
"There have been large prospective studies of adults receiving acupuncture that have similar conclusions," she continued. (A 2009 study of more than 220,000 adult patients found 8.6 percent experienced at least one adverse event.)
In the new Pediatrics review, authors logged 25 serious events related to pediatric acupuncture, including instances of thumb deformity, nerve impairment and infection. In one case, acupuncture was linked with HIV infection in a 17-year-old boy in France.
But far more of the recorded negative events or reactions were mild, including issues like bruising, nausea and numbness at the needle site. Crying was also reported.
"When you're treating a child, you're really building a relationship. It's kind of a longer courting process, and the needling is very different," said Nancy Park, a New York-based licensed acupuncturist who takes her 2-year-old son for acupuncture treatments.
Park said that much of what is required is simply engaging the child, talking to him or her throughout the process so that curiosity eventually wins out over nerves. She added that children tend to require much less aggressive needling -- just in and out.
"Acupuncture is an approach that really brings a sense of ownership and responsibility for your own health," Park said, explaining that most of the children she sees -- from three months to early adulthood -- have parents who have tried acupuncture themselves. "Starting children really early is an interesting practice. It's great to engage them."
According to a National Health Statistics report from 2007, some 150,000 children in the U.S. used acupuncture, which is often used to treat headaches and migraines, abdominal pain, musculoskeletal problems, and even anxiety.
Friedrichsdorf said its sister treatment, acupressure, which does not involve needles, is often used to help combat nausea in children undergoing cancer treatment. Legal requirements for the practice of acupuncture vary from state to state.
The new study did not look at the effectiveness of acupuncture in children.
"This systematic review was focused on safety, not effectiveness," Vohra said. "When it comes to children, health care providers and parents are generally conservative in their approach: They may tolerate uncertainty about whether or not a treatment is effective, but they would very much like to know that a treatment is safe."