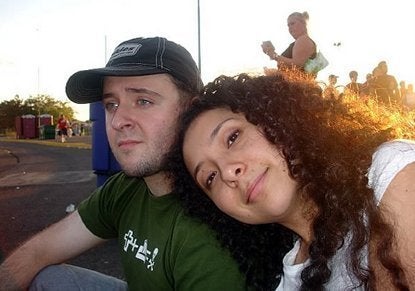 Call it desperate, call it flat-out romantic, call it a shameless marketing ploy. But Fred Ehrhart, an ad exec at New York City's Deep Focus, is proposing to his girlfriend Dalila through inexpensive video banner ads (hat tip to AdFreak).
We're a bit dubious as to whether or not this effusive use of cheap ad banners is on-the-level. Erhart's agency has even released a statement about the campaign.
Ehrhart has 10 reasons why Dalila should accept his proposal up at SheKnows.com, which includes video of his proposal banner ad and this sticky-sweet sentiment:

"1. Love -- It's totally contrived and predictable for me to say it, but it's hard to argue with the truth. I love Dalila with everything I got. I'm certain she feels the same. Regardless of the last nine reasons, this is the only one that really counts, but I hope the other nine helped prove that I really do love her to those of you who are reading this."

According to Erhart, Dalila needs a little convincing, using, as it happens, the oh-so romantic world of social media. More from Erhart:

"But I need your help, because Dalila is not just going to listen to a few people telling her it's the right thing to do. Please post to your Twitter, Facebook, blogs, and anything else you can with the Hash tag #SayYesD and tell your friends to do the same. Link back to this page and show people my list so they can understand how much I love Dalila. We are going to aggregate all your messages and show Dalila how many people think she should say yes."
What do you think? Is Erhart's proposal just an attempt to drum up publicity for his firm? VOTE in our poll below.