A pro-Trump super PAC called the Committee to Defend the President has placed a digital ad in New York's Times Square that condemns "fake news," calling out several media outlets in what looks like a thinly veiled effort to tout the committee's Federal Election Commission complaint against Hillary Clinton.
The ad, which debuted on Monday, lists CNN, MSNBC, The New York Times, NBC News and Time above the words "The Fake News ..."
The next screen of the ad reads, "Spent more ink on President Trump's second scoop of ice cream than the ongoing FEC investigation of Hillary's $84M Campaign Finance money laundering scheme."
The "second scoop" refers to a Time feature story last May about Donald Trump's life at the White House, which noted that he received two scoops of ice cream at a dinner where his guests got one.
The "ongoing FEC investigation" refers to the committee's own FEC complaint, which accuses Clinton's 2016 presidential campaign of a "money laundering scheme." The complaint by this group ― which was previously known as Stop Hillary PAC ― asks the FEC to determine whether Clinton was involved in an "unprecedented, massive, nationwide multimillion-dollar conspiracy" that allowed donors to spread more money around.
But that so-called conspiracy may simply have taken advantage of "new loopholes in campaign finance law," according to The Washington Post. In a 2014 Supreme Court case named for Republican donor Shaun McCutcheon, the rules that made it harder for candidates to "blow past their own donation limits by routing more money through state parties" were lifted.
As the Post explained, the presidential campaigns of both Clinton and Trump set up joint fundraising committees that pulled in money for their own campaign and the coffers of multiple state parties. During the election, "neither move courted much controversy," the paper wrote.
The FEC acknowledged receipt of the complaint in December, according to the Committee to Defend the President's website. The Washington Post wrote that it's "unclear how long it might take the FEC" to assess this particular case.
The ad at 1515 Broadway "will be in rotation for a week," according to the New York Post.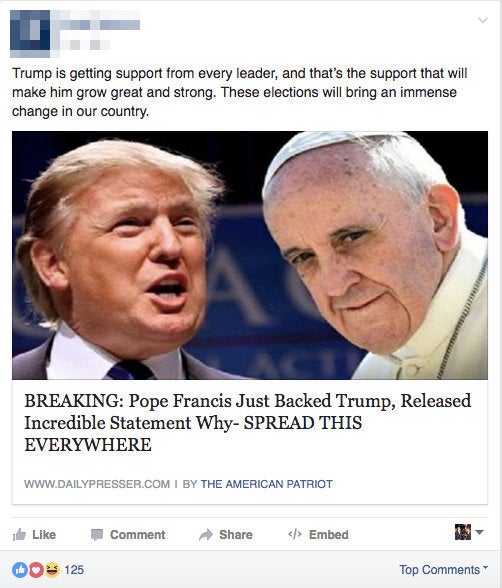 Fake News Spread By Social Media During The 2016 Election