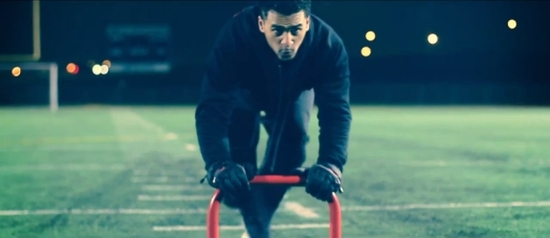 You may have heard of fitness expert and motivational speaker, Adam Ali, someone I've been online friends with and a fan of for quite some time. You may know him from his YouTube video "Dear Hard Work," which reached close to 2 million views. You may have also seen him on Latoya Forever or Latoya's Life, his soon to be wife's hit YouTube reality show. Or maybe you know him because of their beautiful daughter, Samia, who is quickly becoming a star. One could easily crown them a "social media power couple." Well, if you haven't heard of him, you will soon enough.

These past couple of years, I've seen friends (some online and in-person) build a solid career using social media as a platform to share their passion for fitness - Lazarus Ross, Lonell Dixon (a.k.a. Lonie Fresh), as well as Adam, to name a few. It's been pretty interesting to watch their growth, and it made me wonder Are people paying attention? Not just to them but to the fact that you can transform your life, document it on social media, and create a brand out of sheer will?

I decided to reach out to Adam and see what tips he could share about what sustains this amazing new wave that any woman and man can become a part of.
Saba Tekle: Adam, why did you choose fitness as a vehicle to motivate? Where did your passion for fitness and motivation come from?
Adam Ali: I chose fitness because you really need to have the will to enhance your body. However, the will to do anything doesn't just happen; something must trigger it. This is what I like to call "YOUR WHY." Your why needs to move you. It makes you feel like there's something on the line to lose. My passion for fitness came from a desire to brand myself as a fitness professional, and I knew that I wanted to tell compelling stories through motivational videos in order to win over support.
ST: Your social media following is growing daily. You have nearly 100k Instagram followers, 50k Facebook fans, and 23k Twitter followers. Where are they coming from? What is your social media success story?

AA: Relatable content.
Consistency in putting out content.
Content that makes people react or engage.
Quality content.
Did I say consistency? You just got to stick with it.
I like running campaigns and tweaking as I go. There is no blueprint to social media, really. You just tweak as you go. You do some split-testing to see what makes people react, and then you thank them for coming to you.
ST: I am seeing a lot of people transform their bodies and create a strong social media following and brand.... What is the difference between you and them?
AA: I think I have brought them in more personally to understand behind-the-scenes and just what I am about. So, when they see me in real life, they feel like they know me, and they just rock with me. A lot of the content I have seems like I am welcoming them into a very personal world, and they understand me. I think when people understand your story, they will champion/vouch for you more.
Calling all HuffPost superfans!
Sign up for membership to become a founding member and help shape HuffPost's next chapter