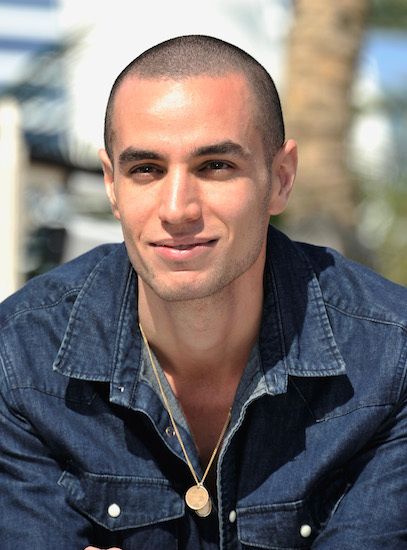 "Let us be grateful to people who make us happy, they are the charming gardeners who make our souls blossom." -- Marcel Proust
Some people you just meet and with them immediately feel a sense of kinship. You want them to succeed, as much for your own selfish needs as for their talent.
With actor Adam Bakri, ever since that day in Cannes when I got to conduct a short interview with him, it's been friendship at first sight for me. Bakri was there promoting his feature debut in Hany Abu-Assad's Oscar-nominated film Omar, and did it with class, kindness, and by giving the kind of soulful, profound answers that I've now become accustomed to from him.
So, again for very selfish needs, I want to see Bakri's performance in his next film, I crave for his international success because I believe it will make the world a better place. Since these days the only two labels the media seems to allow us to choose from are obsessed violent fundamentalist or overly sentimental idealist, I gladly choose the latter, thank you. If I follow Bakri's career, I should be OK since his upcoming performances include A Hundred Streets, a London drama about four different conflicted souls seeking love, co-starring Idris Elba, Gemma Arterton and Tom Cullen, and the cinematic adaptation of Kurban Said's Ali And Nino, which Bakri himself describes as a "love story set in the 1st World War between a Muslim boy and a Christian princess," taking place against the atmospheric backdrop of Baku, in Azerbaijan.
Adam Bakri is a born star. He also comes from a Palestinian family of cinematic royalty which includes his father, filmmaker and actor Mohammad Bakri and his brother Saleh Bakri. With them, Adam shares a versatility to play characters of all backgrounds, across the divides, going back once more to my I'll-never-get-tired-of-repeating-it point about cinema being able to bridge cultures and unite us.
Starting January 22nd, Omar, starring Bakri in his breakout and heartbreaking performance, will be screening in Lebanon, for a limited run at the Metropolis Cinema in Beirut. It's a momentous time for a Palestinian film to be seen in Lebanon, and it was a difficult road for those responsible in bringing it to the big screen. Unfortunately, distribution of Arab cinema is never easy, but that's a whole other discussion in itself. Nevertheless, the film is there now and the lucky Lebanese audiences will be able to discover a new, true Arab superstar within the film's leading man.
I find it hardest to interview someone I've come to know, as Bakri. Perhaps it is that feeling that I'm somehow breaking our mutual trust, that I'm divulging personal information about the man behind the actor, or maybe the notion that I'm asking for a special favor as a token of our friendship. It goes against everything I stand for, this idea of unfairly benefiting from my connection. So a 'Chinese Portrait', a sort of civilized 'twenty questions' seemed perfectly suited to learn more while also respecting the space between us.
I asked Bakri to disclose a few things about himself, in the first person. Hidden within his answers is the key to his present and future success.
My favorite virtue: Honesty
The quality I prefer in a man: Composure
The quality I prefer in a woman: Sensitivity
What I appreciate in my dearest friends: Loyalty
My favorite motto: "Do it with passion or not at all"
My main fault: Can't even count them
My favorite activity: Coffee and a book in the morning
What I would like to be: Of use to the world
Where I would live, if I could choose any place in the world: Where there is green and blue
My favorite authors: Jalal Al Din Mohammad Rumi, Kahlil Gibran, Paulo Coelho, Rudolf Steiner
My favorite films: Drive, Leon, Black Swan, Avatar, Life of Pi, Godfather (I & II), Aladdin
The character I would most like to play: Dracula
My favorite quality in a leader: Charisma
Songs playing now on my iPod: Fairuz, Sufi, classical Egyptian, The Beatles, and some others
What is my favorite possession: Books, paintings
Fictional favorite hero: Santiago from The Alchemist
Real life heroes: Daniel Day-Lewis
Real life heroines: Meryl Streep
The person in history that I believe made the biggest mistake: They are so many!
The greatest invention: Film
The biggest gift for a man: Faith
My favorite thing to do: Read, work out, watch movies
How I feel right now: Reborn
What I think about when things don't go so well: Everything happens for a reason
What I remember when I succeed: The one and only
Image courtesy of the Dubai International Film Festival and Getty Images, used with permission.
Calling all HuffPost superfans!
Sign up for membership to become a founding member and help shape HuffPost's next chapter