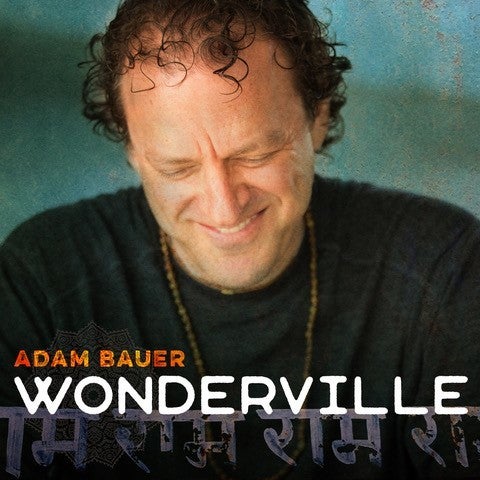 Adam Bauer's new CD "Wonderville" is luscious, ethereal and breathtaking.
For many years, Adam Bauer played bass with kirtan's most renowned artist, Krishna Das. Now Bauer is traveling the world sharing his own heartfelt music. From India to Europe and through the Americas, Adam has been inspiring listeners around the world with his deep, soulful presence.
"Wonderville" is Bauer's sophomore album following his 2014 solo debut CD entitled "Shyam Lila." To help craft this album of all new chants captured both at home in the USA and in India, Bauer recruited award-winning producer Ben Leinbach.
The word "mantra" means "that which protects the heart/mind" and hearing Bauer chant does drop the listener into a profoundly peaceful stillness, a place that heals and rejuvenates the heart and soul. Like Krishna Das, Adam's rich voice conveys an intimate expression of devotion through this richly layered, ancient yogic devotional practice.
"Wonderville" showcases Bauer's vocals and harmonium within potent global sonic collaborations including both traditional Indian instrumentation (tabla, pakhawaj, bansuri, sarod), rustic Americana (mandolin, pedal steel, guitars) and the classical sounds of cello and piano. I was already a fan of "Shyam Lila," but with the release of "Wonderville" Bauer has outdone himself as he continues to ripen and develop as an artist, singer and producer. His musical explorations carry listeners through a joyous, tender and enlivening universe of sound and emotion. Even for listeners new to kirtan this CD is accessible.
I asked Adam what drives and inspires him to create and sing, and how he sees the role of music in today's modern world. He replied, "Basically I consider music and singing to be among the most intimate ways we can share and express ourselves and connect with others. For eons all cultures have recognized the mystical power inherent in shared group musical ritual, or 'the inspiring effect of the invisible sound that moves all hearts, and draws them together,' as the I Ching puts it. So when we modern tech-happy folk take a moment to drop the digital devices and tune inwards and get lost and found in sacred sound, we remember how easy it is to access the infinite amongst our tribe, and we embody the reality of sacred communion with each other." He added, "Music and singing aren't just for entertainment or selling shoes and booze, these are holy endeavors, right up there with caring for the sick and feeding the poor. As a singer, it's my job to nourish and cultivate my essential, loving nature, so that I can be like a hollow bone that allows the presence, joy and ecstasy of the universe to channel through me in a clear and open way."
I had the chance to ask Adam a few questions about about "Wonderville" and here is what he had to share:
Calling all HuffPost superfans!
Sign up for membership to become a founding member and help shape HuffPost's next chapter
This post was published on the now-closed HuffPost Contributor platform. Contributors control their own work and posted freely to our site. If you need to flag this entry as abusive,
send us an email
.