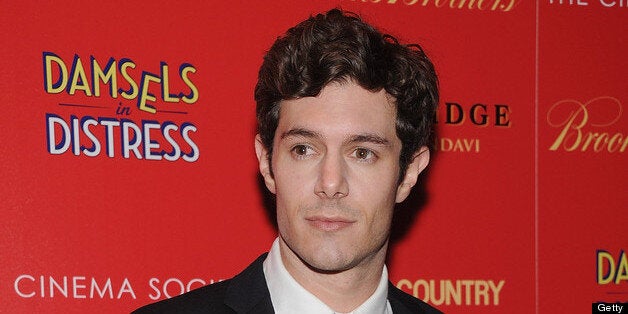 The last time Adam Brody saw an episode of "The O.C.," now five years in syndication, he was in Italy for the Venice Film Festival.
"I was in Rome for 'Damsels in Distress' last September. They had it in Italian. It was a funeral. I couldn't remember who died. It was the kid -- Ryan, is his real name. He had longer hair."
That would be Ryan Donowho, who played Johnny Harper, Marissa Cooper's season three surfer bestie. He tragically died after falling off a cliff.
Brody might be best known as Seth Cohen from the now-seminal teen series, but since putting the Death Cab for Cutie records on pause, he's made strong inroads toward a feature film career. That continues this week with the release of the aforementioned "Damsels in Distress," an indie romance from director Whit Stillman.
"I just love Whit Stillman, so it was a no brainer for me," Brody told The Huffington Post about taking the role. "I would have murdered people."
Fortuantely, homicide wasn't necessary for Brody to secure the role of Fred Packenstacker, a "playboy operator" who slowly wins over Violet (Greta Gerwig) and her friends at a prestigious East Coast college. "Damsels" is Stillman's first film since "The Last Days of Disco" in 1998, meaning the man affectionately called the "WASP Woody Allen" has been away from the big screen for 14 years. Brody didn't notice any rust.
"The truth is, it was such low budget movie and we were so under the gun the whole time, that you were kind of left to your own devices a little bit," he said when asked about Stillman's style on set. "At that point, I was so flattered that he trusted me. What I liked most was his approval. I just trust his judgment so much that if I did something and he liked it, I was profoundly happy with myself. The wisdom I gleaned from him was actually from the script."
As an actor, Brody takes pride in picking good scripts, but knows that it can be difficult to reconcile his taste with the need to make a living.
"I don't turn down that much," Brody revealed. "Here's what I'd say: Personally, I'm incredibly picky. I'm incredibly opinionated and I don't like much. But, as a professional actor, I'm very pragmatic. I'm definitely willing to do things that I don't personally like or certainly love. But I understand the benefits, business-wise. And I like to go to work and I don't always have to be in love with what I'm doing. Those are two different theories, and so I would say as an actor I'm not all that picky. As a consumer, I certainly am."
Does that mean he's making movies he wouldn't want to see?
"[I]t's funny," he said. "I have been practical, but when I do look at my resume it does reflect my taste. Some I like more than others, but it does, by and large, reflect my taste, more than I think it would. [Especially] given how many things I've been willing to do that I don't personally care for."
Still, the 32-year-old star knows that it's difficult for any actor to find a project they truly love.
"They don't make a lot of good movies," he said. "I don't even think because of any bad formulaic problem or some studio system necessarily. That's part of it, but it's very hard to write something good. It truly is. So they're few and far between, and everyone is smart and wants to do those things. So it's competitive. You just get lucky and something smart comes along that you're right for."
Brody has appeared in many films since striking fame on "The O.C." including "Jennifer's Body," "Scream 4" and "Mr. & Mrs. Smith." His finest work, he joked, may have been behind the scenes on the latter.
"In terms [Brad and Angelina], I hooked them up," he deadpanned. "I was like, 'Brad, you don't want to do this, man. This Jen thing, I don't see it.' And he heeded my advice, and I'm happy for him."
"Damsels in Distress" arrives in limited release on Friday.
PHOTOS: "Damsels in Distress" premiere
Calling all HuffPost superfans!
Sign up for membership to become a founding member and help shape HuffPost's next chapter
BEFORE YOU GO