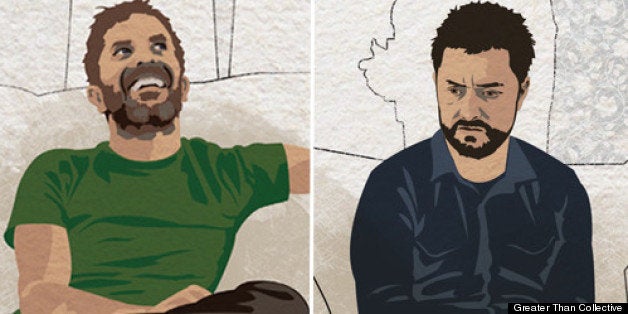 The Grawlix guys are very busy. In between what seems like near-constant comedy shows, Adam Cayton-Holland and Andrew Orvedahl, two-thirds of Denver's comedy trio The Grawlix which also includes Ben Roy, finished shooting a new comedy pilot for Amazon Studios (which you can stream here, for free, now), and are simultaneously releasing their first live comedy albums tomorrow, May 14.
Cayton-Holland's "I Don't Know If I Happy" and Orvedahl's "Hit The Dick Lights" were recorded during two nights of live shows at The Bug Theater back in December. Both comics took their favorite material from those performances and put together these two records. Cayton-Holland and Orvedahl recently chatted with The Huffington Post about their albums, the Denver comedy scene and their "Those Who Can't" comedy pilot.
How long have you been living and performing in Denver?
Andrew Orvedahl: I was born and raised in Denver, but I've also lived in New York City, Cocoa Beach, Florida, and Los Angeles. This May 14th is my tenth anniversary of performing comedy, which is an honest coincidence with my album release party.
Adam Cayton-Holland: I grew up in Denver. Left for college. Moved back when I was 24. I started going comedy right when I moved back to Denver, in 2004.

What is the Denver stand-up comedy scene like?
AO: I think the Denver comedy scene is the best between LA and NYC. There are other cities with great scenes, but the Denver scene is amazing. When my comic friends from LA come to visit they can't believe what we all have here. In addition to several A-clubs like the legendary downtown Comedy Works, we have so many other rooms going on and scenes within scenes.
ACH: Fertile. I honestly think this is one of the best comedy scenes in the country. New York and LA will always rule, but I think Denver is close behind those scenes. There are so many great comics here and there seems to just be wave after wave coming. There's also an abundance of great shows going on. Comics come from out of town and marvel at the scene we have here. It's like a comedy fantasy-land for them.
Andrew Orvedahl's album cover artwork (interview continues below):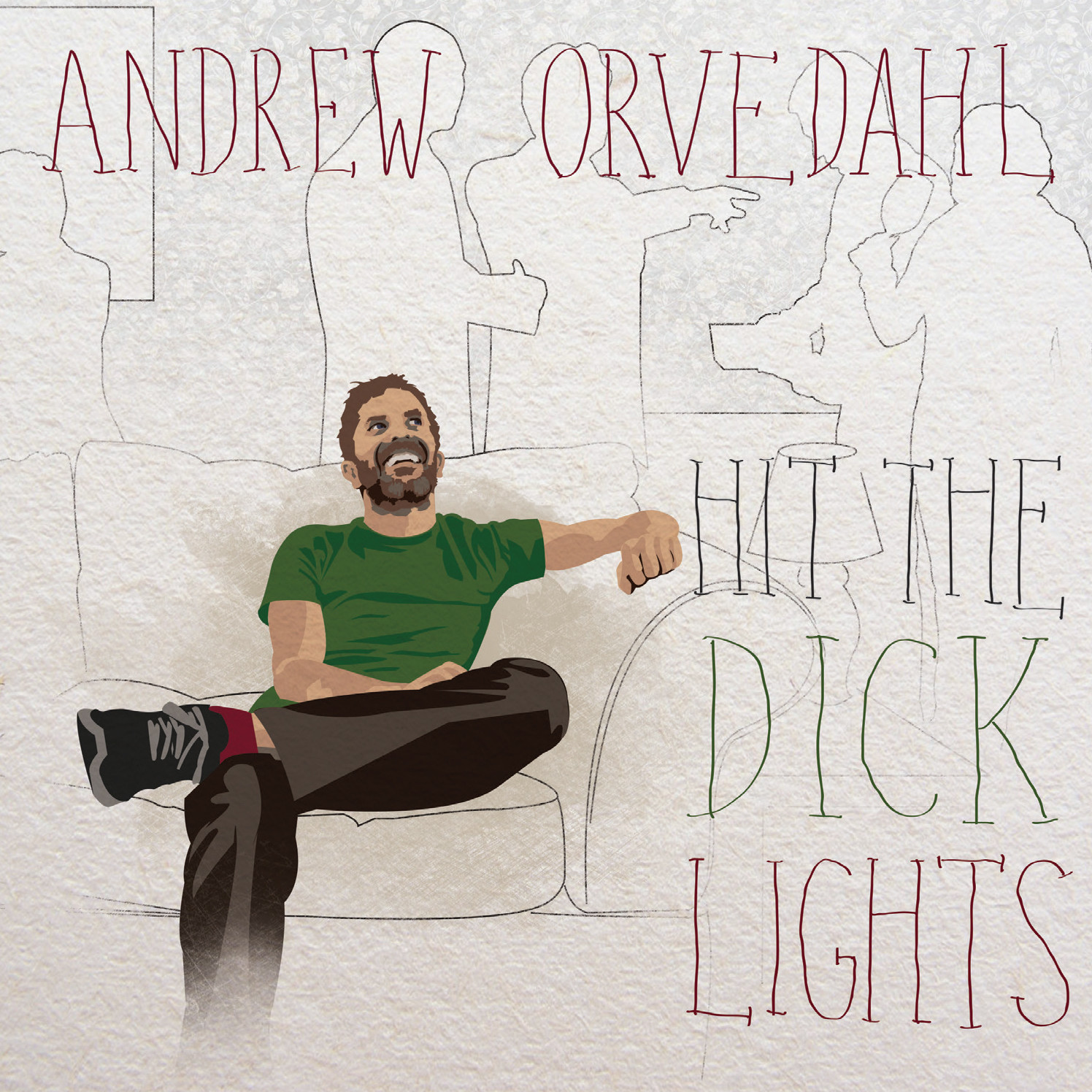 What inspired you guys to release your comedy albums simultaneously?
AO: The release date was a choice our record label made. We decided to record them simultaneously because that was more economical, co-headlining two shows instead of paying the audio engineer for four shows. The album covers closely resemble one another because we both wanted to use Denver treasure Michael King and that art style, so I figured, 'Hey, let's have them make a larger picture.'
ACH: We've been working with the Greater Than Collective for a little while -- they sponsor our monthly comedy show, The Grawlix. They put out Ben Roy's CD on their label a little while back and then they asked me and Andrew if we wanted to put out CDs as well, after they started sponsoring us. Ben was so pleased with his experience we both jumped at the opportunity. We put them out simultaneously because it just made sense to record them in one-fell swoop financially so we just decided to release them at the same time too.

What can fans expect from the albums?
AO: So much cussing. I didn't realize how much I said 'fuck,' until I lost count like ten minutes in. Which is weird, because I'm generally not that dirty of a comedian. Like I have a bit about dogs and cats and say 'fuck' 17 times in there. Something is wrong with me.
ACH: A freaky journey down a dick-joke laden path that will make your cry with laughter, then with sadness, then with laughter again!

What drew you to stand-up comedy as a career?
AO: I began stand-up as a response to peer pressure, but it became a career choice after a few years in, when I felt like I was good enough to keep at it. And let me tell you, credit card companies have never been happier with my decision.
ACH: When I started doing stand-up I was writing for a newspaper at the same time. So I was working days writing, then doing stand-up at night. In 2009 I got laid off from that paper. By that time my stand-up career was starting to take off a little bit, to the point where I was actually making some money doing it, so I decided rather than find some new job that I knew I would hate, I would try to do stand-up full-time. So far so good.

How does generating material for your shows work?
AO: Unlike some comedians, I never sit down and just make myself write. I wait for jokes to come to me, either in a conversation, in the shower, sitting in my car, etc. I bet I think up 60 percent of my jokes in the shower, which is kind of weird. But it does explain my 45 minutes of toiletries material. I've found saying 'yes' to things that don't sound fun often results in great material.
ACH: Frantically. We have a rule that you have to have new material at our monthly Grawlix show. We have a lot of repeat customers who come to every show and it wouldn't be fair to them to repeat material. So each member of the Grawlix is responsible for bringing a new ten-minute set every month. You'd be amazed at what a great motivator a deadline can be. Of course some months you have nothing and just coast on crowd-work. They call that one the ACH.

What's one of the worst times you've bombed on stage?
AO: It wasn't 'bombing' per se, but when I taped 'Mom's Night Out' for NickMom, I was in the throes of my divorce, and in a terrible headspace. My set didn't go over very well, but my closing joke, which up to that point had enjoyed a robust 100 percent success rate, just flopped. That was the worst, to have a lackluster set on TV and then have my closer fizzle. Thankfully I was already too depressed to give a shit. I watched it once and could remember exactly how I felt while I was standing there and I've never watched it again.
ACH: I performed at a community college in Tacoma in the cafeteria at 11:30 a.m. I bombed for 45 minutes straight. It was more out of circumstance -- they didn't want comedy to happen, they didn't know comedy was going to happen, and then there I was desperately trying to make them laugh during their lunch-hour because the school figured that would be a relief for them, a reprieve during finals week. Because you know what a bunch of people trying to get their degree in-between other jobs and raising a family? Some bearded hipster fuck talking about his take on life during their lunch hour. Bomb.

How did the Grawlix come about?
AO: The Grawlix evolved out of Los Comicos Super Hilariosos, which was a long-running alternative comedy show that definitely put Denver on the alt-comedy map. Personally I don't think any of us are alt-comics. Former member Jim Hickox was the only comic I would probably call 'alt.'
ACH: We did a show at an art gallery called Los Comicos Super Hilariosos. When that gallery got turned over to new owners -- it's now the Matchbox -- we decided to end that show. It had been really successful and we decided to let it die a natural death rather than try to move it somewhere else or stretch into the new venue. After a few months we decided to do another show because once you start running a show you always want to do it again after awhile. It's your baby. You can do whatever you want with it. So we decided to name the new one The Grawlix. It started at the Avenue Theater. Then we moved it to the Bug where it really started to shine.
Adam Cayton-Holland's album cover artwork (interview continues below):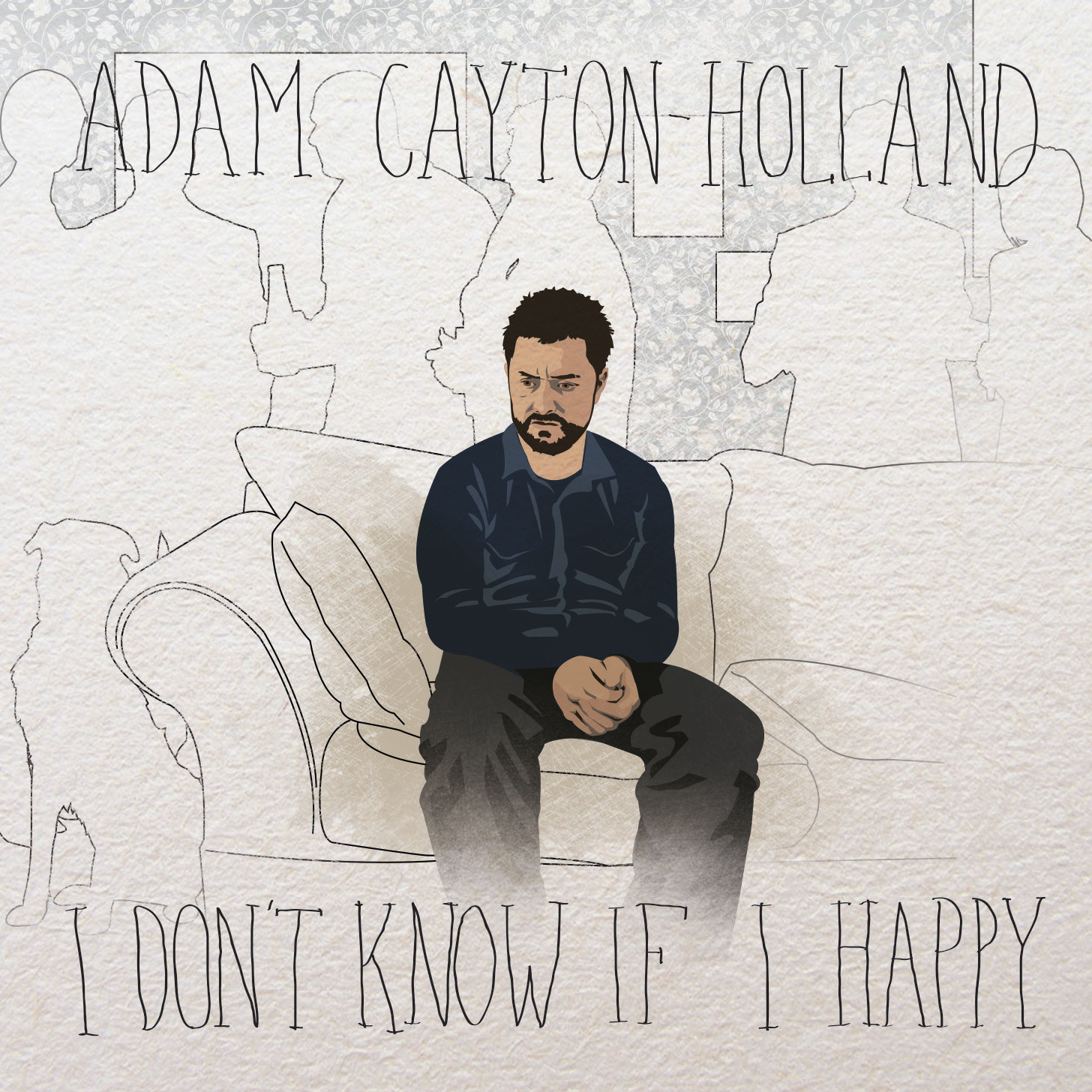 What inspired you guys to write/produce "Those Who Can't?"
AO: We wrote a pilot based on our web series, 'The Grawlix', (which is a fictional behind-the-scenes of our live show) and pitched that around Hollywood, and the feedback was like, 'You guys are funny, and you write funny stuff, but this idea is stupid.' So we spent two weeks and turned out the "Those Who Can't" script. It's cliche to say it wrote itself, but it almost did. We already had the characters down pat, they just needed a new job.
ACH: We started making a web-series with the Nix Brothers called "The Grawlix" and as soon as we put those on-line people started really responding to it. Before long we were getting calls from various slimy Hollywood types saying we should try to make a show. I guess we listened.

Describe the writing process? Do all three of you write things out pretty formally or do you have a general idea and improv ideas on set? How does it work for the three of you?
AO: With the web series we take turns writing, and each person has free reign with the story, but then when we film a ton is improvised. Like entire storylines. A lot of the funniest stuff is improvised. With "Those Who Can't" we all sat in a room and took turns with the laptop and just hammered it out. Generally we wrote our own scenes, but everyone was free to throw in any ideas they had. I would say each of us truly contributed 33.333 percent. And I contributed the extra 0.001 percent. If the series is picked up, I think we would improvise a lot on that show.
ACH: With "Those Who Can't" we all sat there for every part of it. We story-boarded the idea together, then once we had it in place. We sat down and wrote it together, literally each taking a turn at the keyboard in shifts. It actually went really fast. The whole thing took about two weeks.

How did the shooting process unfold?
AO: We were fortunate enough to make it here in Denver with our friends the Nix Brothers, (Evan and Adam Nix) who also shoot and edit our web series. We had help from Evan's company Image Brew, and production help from our friend Andy Juett. So since we already knew so many people involved, and had working relationships with them, it went super smoothly. The Nix Bros. are silly amazing. We shot the entire pilot in a week, and there were no serious issues. I think the biggest ego flare-up was when I entered a room with the lights off, and turned them on, and this woman asked me to turn them off, so I went and sat on the stairs and ate my lunch. HOLLYWOOD ORVEDAHL.
ACH: Amazingly smooth. We filmed at Manual and East High School, often during school hours, and miraculously nothing went wrong. Denver Public Schools was really awesome and helpful. They let us do a lot.

What has the reaction been to "Those Who Can't"?
AO: It has been better than I could have ever hoped! We were certainly the underdog going in; we came in through the submission process, and no one involved had any pilot experience whatsoever. When Amazon announced the first crop of pilots, and I saw the names and credits of people attached to the others I just sort of deflated a bit. It was like, "Oh, I guess we're just for show or something." But now we're holding our own, and getting the sort of 'love it or hate it' reviews that I always wanted. I don't care if you love it or hate it, but if it makes you feel strongly in either direction, I think that's a good thing. If you just think 'it's okay', then it's probably not.
ACH: It has been really great. There's been some people who don't care for it and they make their opinion known on the interwebs, but it's all subjective and overwhelmingly people like it. We have one of the highest ratings of all the shows Amazon put out. We're pleased. The comedy community has been awesome. Comics from all over the country are reaching out to tell us how much they liked it, helping us promote it, etc. That's been really gratifying. The respect of your peers is the best praise possible. Besides the show getting picked up, of course.

How does the Amazon process work, if fans want to see your pilot picked up by Amazon, do they need to watch and vote for it? When will we know if you guys are picked up?
AO: As far as we know the pilots will be free to watch for a month, and Amazon will take into account the views and ratings those pilots get, and let us know sometime in May. The viewers definitely have a say in these shows (which is totally unlike the networks' model), so yes watch it and review it! Watch all the pilots and review them! Instead of just taking whatever shows TV tosses at you, this is your chance to pick and choose what you want to see. I think it represents the future of 'television' as we know it, because of course people want a say in what entertainment they're offered. But if you really want to know if our show has been picked up, just look at my face. If I have a mustache, we're still a possible yes. If I'm clean-shaven, then we got a no.
ACH: Your guess is as good as ours. For now, yes, people rating it and reviewing it helps immensely.

Any tips for comics just starting out?
AO: I would say don't listen to anyone! I've dispensed so much advice to comics and seen them not follow it and make the right choice. So don't listen to my advice, would be my advice.
ACH: Don't take advice from anyone.
Related
Popular in the Community