The New York Times called the life of Adam Crapser a bizarre Kafkaesque odyssey. The internationally adopted man, now 40 and living in Vancouver, Washington, has become the face of everything wrong with adoption. He was adopted, abused, abandoned to foster care, rehomed, abused worse than before, and abandoned again all by the time he was 16 years old... and now he faces deportation.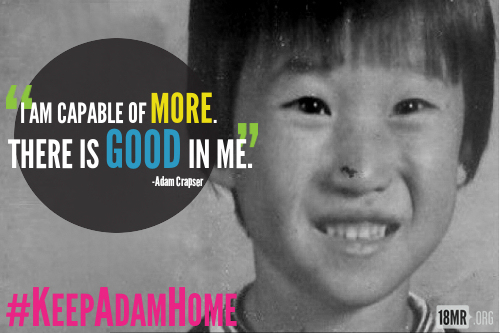 Crapser's odyssey began in South Korea where was born Shin Song Hyuk. In 1979, he and his older sister were adopted and came to America to their "forever family," as adoptive families like to call themselves. The NY Times reports: "Crapser remembers being whipped and forced to sit in a dark basement. After six years, the couple decided they no longer wanted the children."
Crapser was 10 when the foster care system separated him from his sister. He then bounced between foster homes and a boys' home. Finally, he was adopted again by Dolly and Thomas Crapser of Oregon who beat him more severely than his former adoptive parents. The Times says:
"Dolly, Crapser says, slammed the children's heads against door frames and once hit him in the back of the head with a two-by-four after he woke her up from a nap. Thomas duct-taped the children's mouths shut, Crapser says. He also burned Crapser's hands and once broke his nose when Crapser couldn't find Thomas's car keys."
Adam says he was also humiliated with ethnic slurs. The Crapsers were charged with multiple of counts of child abuse including rape, sexual abuse, and criminal mistreatment. In 1992, the couple was convicted of several counts of criminal mistreatment and assault and Thomas Crapser was convicted on one count of sexual abuse for which he served just 90 days in prison.
At 16, Adam Crapser wound up kicked out and in a homeless shelter, sometimes sleeping in a car while working several fast food jobs and finishing his high school equivalency diploma at night. He went to prison for burglary, for breaking into his parents' home to retrieve a Korean Bible and rubber shoes that came with him from the orphanage. On his own before he was old enough to hold any job, he was subsequently found guilty of illegal firearm possess and assault. In 2013, a former girlfriend with whom he had a child had him arrested for violating a restraining order because he called his son.
When he married and tried to turn his life around, Crapser discovered that none of his adopters or the adoption agency had ever filed for his citizenship. Without immigration papers, he managed to open a barber shop and an upholstery business to help support his family.
After trying for years, in 2012 he finally got his adoption paperwork from Thomas Crapser and applied for a green card. That triggered a Homeland Security background check which turned up his a criminal record.
Now the father of three with another on the way, Crapser is facing deportation to a country where he knows no one. He cannot speak, understand, or read Korean any better than any U.S. born citizen who has never visited the country or was taught the language.
"Since the 1950s, American couples have adopted nearly half a million children from other countries; about 100,000 of those children came from South Korea. For years, it was the parents' responsibility to seek citizenship, but many did not."
Adoptees whose parents failed to apply for citizenship are lawful permanent residents but they lack the documents to prove it. Advocates say thousands of adoptees don't know they aren't citizens until they apply for passports, drivers' licenses, or register to vote. (Even American-born adoptees have experienced difficulties at these junctures in life because their birth certificates are dated back to their assumed date of birth but have a filing date, which in the case of step-parent adoption can be many years later. This disparity in dates raises post 9-11 red flags.)
International adoptees have reportedly been deported to India, Russia, South Korea, Thailand, and Brazil. The Times reports that "at least three dozen other international adoptees have also faced deportation charges or have been deported." South Korea reports "at least 10 to 12 deported adoptees in the country, including one who served in the U.S. military."
"In 2000, a 22-year-old Brazil-born, Ohio-raised adoptee named Joao Herbert was deported from the United States after he was caught selling 7.5 ounces of marijuana. Four years later, he was shot dead in the slums of Campinas, a city just north of São Paulo. According to a newspaper report at the time, the killers were drug-dealing teenagers who Herbert had sought to help smuggle guns in order to raise the money he needed to sneak back into the United States."
Congress attempted to remedy the problem by passing the Child Citizenship Act in 2000. The law granted automatic citizenship to children adopted by U.S. citizens but only applied to adoptees under the age of 18 leaving adult adoptees vulnerable to an immigration law passed by Congress a few years earlier which allowed the government to deport noncitizen immigrants who were found guilty of any of a wide range of "aggravated felonies" including battery, forged checks, and selling drugs. Two U.S. senators have proposed a stand-alone, automatic citizenship bill for adoptees like Crapser.
The advocacy group 18MillionRising started a #KeepAdamHome petition on Crapser's behalf, which has garnered more than 15,000 signatures.
Our laws must be amended to protect such individuals regardless of their age. If this nation is to continue adopting internationally, the State Department, which issues entry visas for all adoptees entering the country, needs to follow-up and ensure they are properly registered as citizens. Additionally, adoption agencies which fail to follow up and ensure that their clients do what needs to be done should lose their license.
Crapser's case, and the hardship faced by international adoptees because of youthful offenses, is bringing worldwide attention once again to the U.S. international adoption program. Following in the wake of revelations about the horrors of rehoming - which primarily impacts internationally adopted children - it gives us a black eye and gives every nation pause to send any child here. Crapser's case, like so many others, makes it crystal clear that adoption does not guarantee a better life. Rather, it's a toss of the coin. Any adoptee's life could be better or a nightmare of abuse and worse.
Crapser's next court date is June 18, 2015 . If his supporters and attorneys do not prevail, his "odyssey" may turn into a major travesty of injustice for him and the family he has created. He served his time for his offenses and rehabilitated his life. He is a threat to no one and a contributing citizen as well as a father with a family who depends on him. Deportation would be cruel and inhumane to him, his wife, and his children.
Popular in the Community