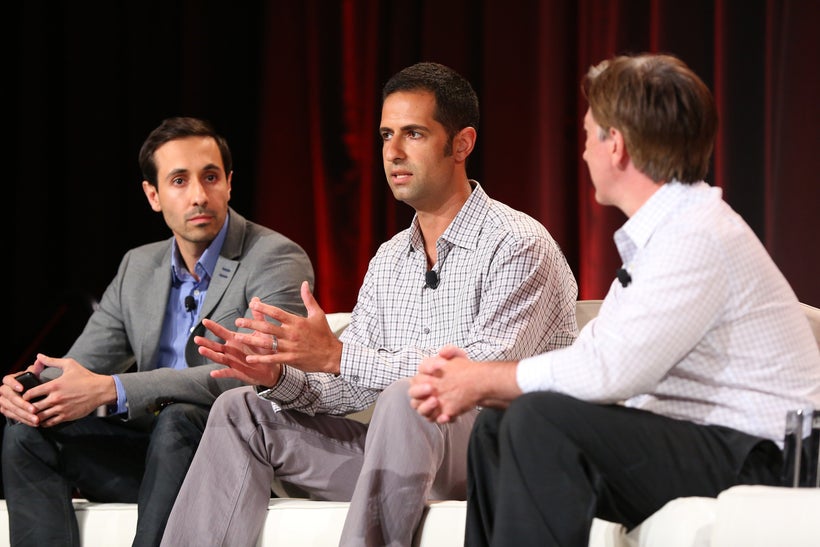 With the goal of harnessing the untapped potential of Iranian-Americans, and to build the capacity of the Iranian diaspora in effecting positive change in the U.S. and around the world, the Iranian Americans' Contributions Project (IACP) has launched a series of interviews that explore the personal and professional backgrounds of prominent Iranian-Americans who have made seminal contributions to their fields of endeavor. We examine lives and journeys that have led to significant achievements in the worlds of science, technology, finance, medicine, law, the arts and numerous other endeavors. Our latest interviewee is Adam Foroughi.
Adam Foroughi is CEO and co-founder of AppLovin, a comprehensive platform that gives app developers of all sizes the ability to finance, market, and grow their businesses. As CEO, Adam leads the company's vision and strategy, market, and works to expand their businesses. Under his leadership, the company has grown to over 150 employees and in 2016 it announced that it entered into an agreement with Orient Hontai Capital, ("Orient Hontai" or "东方弘泰" in Chinese), a premier private equity investment firm in China, which resulted in a $1.4 billion valuation. Adam's unique blend of product focus and creative thinking keeps the AppLovin team in motion. He began his career as a derivatives trader, where he was inspired by scalable, high frequency trading models. Over the next decade, he applied this knowledge to ad tech at three companies he founded: Lifestreet Media, Social Hour, and AppLovin. Today, Adam continues to demonstrate the theory that business success comes from the ability to be flexible and perform constant testing.
Tell our readers where you grew up and walk us through your background. How did your family and surroundings influence you in your formative years?
I'm a bit of an anomaly in that I don't remember a lot of my early childhood. Like many other families fleeing the Iranian Revolution and the Iran-Iraq War, my parents left everything behind in search of safety and stability (shout out to my mom for helping me recall this information). I was born in Tehran in 1980, just a year into the establishment of the Islamic Republic of Iran and four months before the war between Iran and Iraq. My parents stayed in Iran after the Revolution because my dad, an engineer who co-owned a large construction company, was responsible for building military runways. Although my mom tried to leave during the onset of the Iran-Iraq War, I was only four months old and it proved too dangerous. Instead, our family stayed together in Iran until my dad's project was complete. It was then my parents decided to leave in June 1984 with my younger sister in tow.
Because my mom spoke French, we settled temporarily in the south of France while my parents tried to secure visas to the U.S. Eight months later we were granted visas and moved to Irvine, California where we were hosted by my dad's business partner. Shortly thereafter, we found a home nearby and tried to assimilate to life as Americans. Although I didn't speak English, I was enrolled at a Montessori preschool where my parents hoped that I would pick up on American culture and language. That, combined with rapid consumption of American cartoons, did the trick.
Like many immigrant families, my parents continued to teach us about our Persian heritage at home while both of my parents worked hard to rebuild the lives we left in Iran. My parents have always been one of the strongest influences in my life, emphasizing resilience, hard work, and the importance of education.
From a young age, my dad stressed learning mathematics, finance/investing, and business. One of the most memorable lessons he taught me was when I was 12 and he allowed me to borrow money to invest in the stock market. I quickly lost it all and he made me work to pay him back…with interest.
It was these lessons that allowed me to thrive at UC Berkeley where I obtained a business degree in 2001. Berkeley is a very competitive school with a "sink or swim" approach, and I owe my success at Berkeley to my parents who, despite their circumstances, taught me to never give up, and to march on with optimism.
What has been your personal key to success? Who and what were the biggest inspirations for your career?
Passion, determination, and honesty have traditionally been keys to my success. Now, my wife and children play a huge role in our success, as they enable me to be an entrepreneur. They support and inspire me every step of the way. My wife and I have perfected the art of comparative advantages; her concentration on the children, home, finances, and fun allows me to have a laser focus on work. While this "division of labor" often gets a negative connotation, rest assured that my wife is a feminist and is raising our four girls with the same fight for equality. So, while we appear to hold traditional roles, we try hard to blur those lines for our girls; my wife holds a full-time job, flies planes, runs ultra-marathons, and climbs mountains, while I assemble crafts, change diapers, support my wife's endeavors, and do the girls' hair every morning. These new approaches to parenting, in my opinion, help me be a better, more well-rounded manager at work because I take time to know each area of our business and the leaders that run them.
Another inspiration again is my parents who motivated me to learn and set high standards for myself. If it weren't for the sacrifices they made when they left behind a very successful business in Iran to move my sister and me to the U.S. to give us a better life, none of my success would have been possible.
What ignited the spark in you to start a business and how did the idea for your business come about?
I started as a derivatives trader in 2002, and it was there that I found a fascination in scalable high frequency trading models. During the last 15 years, I've been able to apply that knowledge to companies I've founded.
In May 2008, my dad was diagnosed with an aggressive cancer. At the time, I was working at a marketing company where I was the first employee. My dad was given six months to live, and I realized that my time with him would be very limited, so I wanted to accomplish as much as I could while he was still alive. As a result, I followed his footsteps and started my own businesses. In August 2008, I left my prior company and co-founded another marketing company, one of the early Facebook marketing platforms. Later that year, my wife and I found out that we were having our first baby: cue the stress! When my dad passed away in December 2011 (three years longer than expected under the care of my mom), I had co-founded a successful startup, had an idea for what would later become AppLovin, and had two baby girls. There's no doubt my dad would have been proud.
The idea for AppLovin came in December 2011 from an observation that mobile traffic was growing rapidly, but it was hard for developers to get their apps in front of consumers. We started out building mobile apps but had our own difficulty growing them. The first version of AppLovin was a mobile app discovery app that didn't have good enough retention metrics to become its own business. However, it was this app that showed us recommending relevant apps to consumers could really influence their download behavior. As a result, we launched our distribution mobile marketing platform in March 2012.
What problem is AppLovin designed to solve? How different is AppLovin's approach compared to other similar companies?
We are the platform for app developers. Most platforms prioritize brands and large companies but we provide advantages to all app developers and strive to create a level playing field. That means, we are an inherent growth engine for indie app developers, which helps to equalize the market, support fresh ideas, and drive healthy competition that makes the industry better.
We are different in how we build and grow our business. When we started the company, we focused on our product and built relationships with customers first. Later, we scaled to bring on sales and marketing (largely by word of mouth), but even now we have a "product first" approach. By keeping our product first and foremost, we ensure that we are in tune with ever-evolving technology in our vertical, and thus we are constantly delivering new and more effective ways to meet our customers' goals.
What advice do you have for a company seeking a mobile marketing platform?
The mobile marketing technology space is incredibly crowded so it can be easy to feel overwhelmed with options. But it's important to do your research, ask trusted sources who they recommend, and make sure the platform you sign with is truly dedicated to helping you reach your customers and goals. If you're looking to grow your business, one great part of the ecosystem is that app marketing is very measurable. So make sure the platform you work with provides transparency, delivers results, and achieves a positive ROI.
As the CEO of AppLovin, who leads the company in vision and strategy, what do you have planned for the future of your company?
As the CEO, it is my responsibility to continue to push the company's strategy forward. Over the years, our mission hasn't changed: today, we still help app developers grow their businesses, but we do it at a very large scale. As a technology company, we can scale this offering and opportunity globally, and plan to focus on that over the coming years.
What was the biggest hurdle to overcome? What have been some of your failures, and what have you learned from them?
Starting a business from the ground up is always a struggle, particularly the financing part. I was pitching the idea of AppLovin to investors back in 2012, but they simply weren't responding. We decided instead to bootstrap the company until we were profitable and could raise a round from angel investors. It wasn't easy, but my team and I did it by focusing on the product and building relationships with our customers.
Prior to founding AppLovin, we were experimenting with some app ideas: a fashion app, a dating app, and an app discovery app—none of which were even close to working out. We pivoted quickly, failed fast, and found the thing that worked instead. It's because of those previous lessons we've made embracing failure one of our core values at AppLovin.
Can you share your thoughts on your Iranian-American identity? What does it mean to be an Iranian-American to you?
Although my parents continued Persian traditions at home in the U.S., including speaking Farsi and honoring cultural celebrations, they also worked hard to assimilate to American culture. In some ways, I feel conflicted because the majority of my memories are from American traditions. Other aspects of my identity are characteristic of my upbringing: a tight-knit family, camaraderie with other Iranian-Americans, and an emphasis on education, to name a few.
My wife is American, and while she does her best to teach our children about their heritage, I have a renewed sense of responsibility in sharing with our girls their Iranian-American identity. I tend to be rather private, so it has only recently occurred to me that I have a presence in the greater Persian community. I am hoping that I can act as a source of information for other Iranian-Americans as they pursue their own American Dreams.
Calling all HuffPost superfans!
Sign up for membership to become a founding member and help shape HuffPost's next chapter
This post was published on the now-closed HuffPost Contributor platform. Contributors control their own work and posted freely to our site. If you need to flag this entry as abusive,
send us an email
.