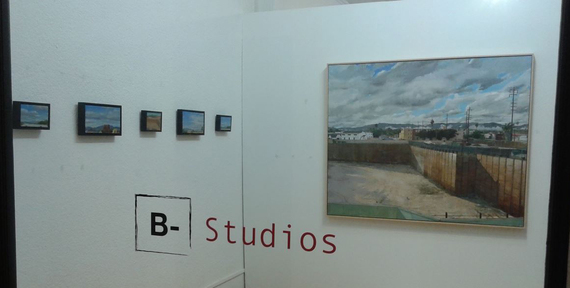 "NEXT TO NOTHING' is a show up at B Minus Studios of eleven paintings- one large one by Adam Harrison and ten small ones by myself. The paintings show a large hole in the ground and the surrounding area intended for a Student Welcome Center at Santa Monica College where we both teach. I've been painting this hole for years, doing lots of fairly quick studies on the site from the time when it was being dug out by heavy equipment and was happy to have good painterly company in Adam when I saw him working for a long time on a large painting of the same spot. We saw our different approaches as a sort of packing and unpacking of the same site and were delighted to have Peter Frank weigh in on our endeavor. -Marc Trujillo
PETER FRANK: Imagine if John Constable and J.M.W. Turner had brought their simmering feud into broad daylight (as it were) and staged a paint-off. It might at least have started like this dual show of Adam Harrison and Marc Trujillo. Except that Harrison and Trujillo are fast friends and mutually respecting talents, each spurred on rather than put off by the other's aspirations and achievements. Their decision to paint precisely the same view from their own stylistic vantages (although the same physical one) determined not a point of contention, but a point of commonality, a collegiality much more traditional to plein-air companions - but no less revealing in the contrast it provides, even insists on, between the two painters' styles.
In that contrast the Constable-Turner parallel makes sense. Like Constable, Harrison involves himself in what light does, while, like Turner, Trujillo is concerned with where light goes.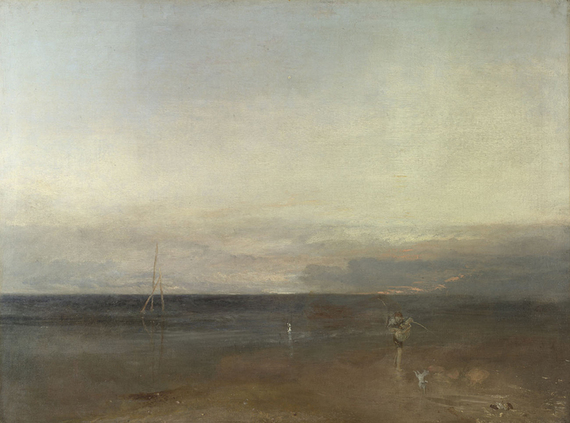 J.W.M. Turner 'The Evening Star'
Harrison burrows into the atmospheric and topologic qualities provided by chiaroscuro. His presentation of the site he and Trujillo have focused on is faithful not so much to what one sees as to what one feels as a result of seeing.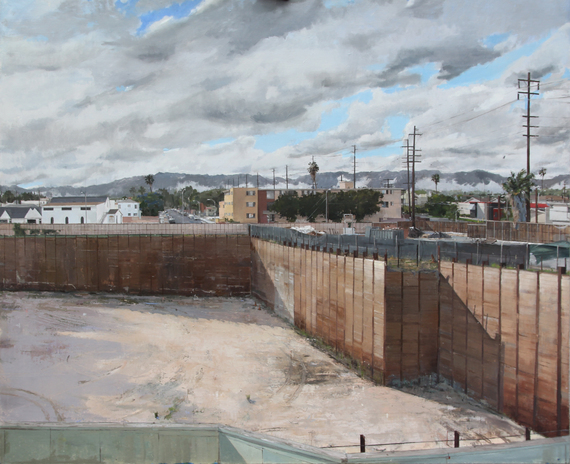 Adam Harrison, 1900 Pico (12/14-7/15), 2015, oil on canvas mounted to panel, 48 x 58 inches
The limpid quality of Harrison's air, the sharp but elusive patterns of light and shadow, the press of various buildings' geometries against one another and the press of the clouds on everything below, these factors give weight (if not quite mass) to the diverse things that comprise the picture and credibility to the distances between them.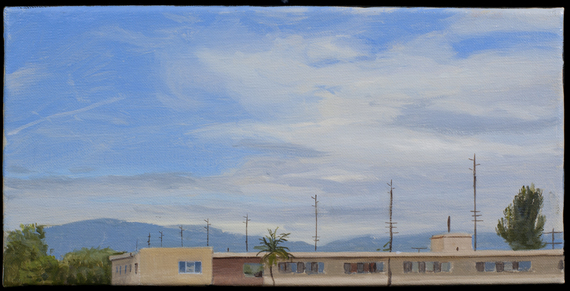 Marc Trujillo '1902 Pico Boulevard', oil on linen 6 x 12 inches
Trujillo's method, certainly as represented here, is much more spontaneous, even shorthand: his works here are studies toward a finished work and retain plein air's manual immediacy.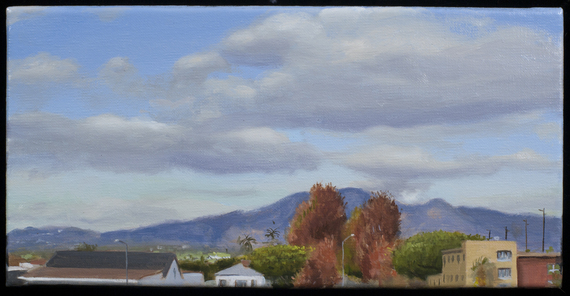 Marc Trujillo '1903 Pico Boulevard' oil on linen 6 x 12 inches
But we know from his formalized paintings that Trujillo values different qualities in a scene or a place - actually, a scene of a place - than does Harrison. Whereas Harrison seems to culminate with the placement of things in an articulated atmosphere, Trujillo begins with that placement and allows planar arrangement and the luminosity of color - not just light - to describe space and place, a Turneresque approach.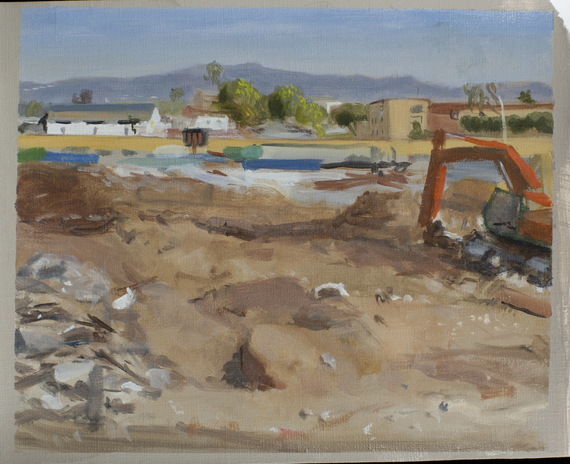 Marc Trujillo '1904 Pico Boulevard' oil on linen 2009
In fact, while Harrison conflates sense of space with identity of site, Trujillo separates them, making them work as readily divisible components of a picture, an evocation of sight rather than of skin.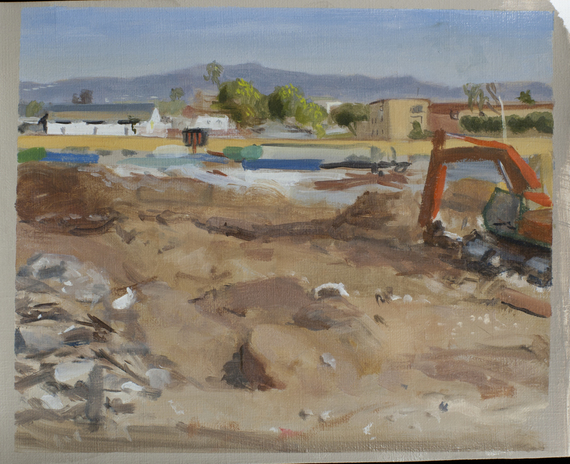 Marc Trujillo '1905 Pico Boulevard' oil on linen
Trujillo's formal paintings convey such a schema almost conceptually, serving our apprehension of a site by identifying what comprise it as discrete but related components.



Marc Trujillo '1906 and 1907 Pico Boulevard' oil on prepared paper 2010
The magic comes as he fills out the rendition, making things work with and against one another. Trujillo records and abstracts, mentally, determining a choreography of factors, while Harrison ponders and models, viscerally, determining a symphony of circumstances.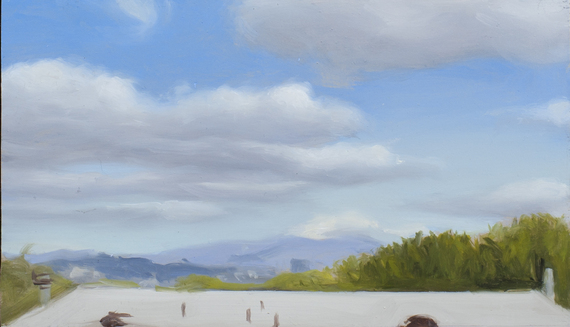 Marc Trujillo '1908 Pico Boulevard' oil on Dibond panel 4 x 6 inches
By presenting different levels of approach - one a single finished painting, the other a group of raw sketches - to the same subject matter, Harrison and Trujillo deliberately deflect comparison of their native styles, turning this show more into an object lesson in praxis: this is how you generate a quick study, this is how you complete a finished painting, and this is what happens in each kind of approach.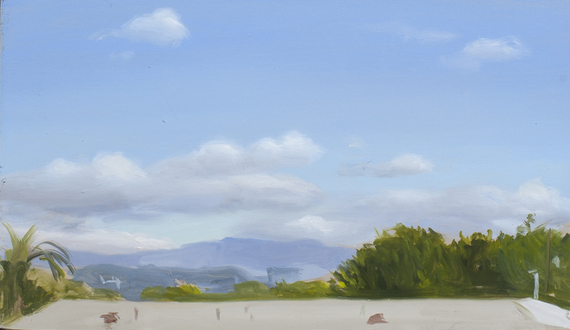 Marc Trujillo '1909 Pico Boulevard oil on Dibond panel 4 x 6 inches
Note that, ironically, Trujillo's plein-air studies are pictorially more fixed than Harrison's oil on canvas; the painting captures a very specific moment, while the works on paper rely more on generalized notation and observation. Trujillo has painted the climate of Santa Monica, while Harrison has painted the weather. At any rate, the show does not give us the opportunity to compare the two painters in a balanced manner, and that's deliberate.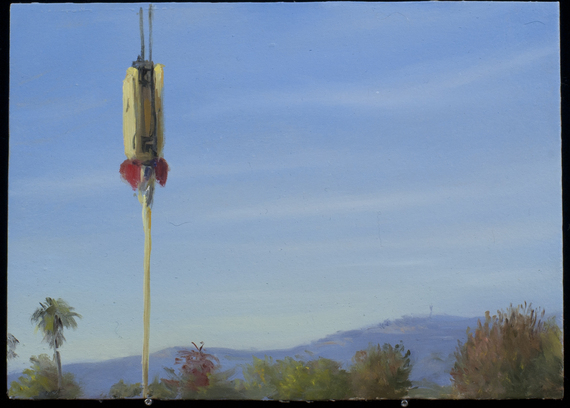 Marc Trujillo '1910 Pico Boulevard' oil on Dibond panel 5 x 7 inches
This is not a Constable v. Turner match, no matter how much either LA-based contemporary artist might conjure the style and spirit of each great English landscapist. This is a paint-off among friends, colleagues who have shared a challenge rather than posed one to one another. The object lesson is not in competition, but in the variety of practice, traditional landscape practice, still available to the artists of today.'
Los Angeles March 2016
Next To Nothing opens Friday March 11th at B Minus Studios, 207 N Broadway, Unit B, Santa Ana, California 92701 (949) 295-4205
bminusstudios@gmail.com
Calling all HuffPost superfans!
Sign up for membership to become a founding member and help shape HuffPost's next chapter