"EDITORS NOTE: PLEASE USE THIS IMAGE AS THE SOCIAL MEDIA THUMBNAIL http://images.huffingtonpost.com/2016-11-11-1478901003-5110338-AdamHunterHuffingtonPost-thumb.jpg"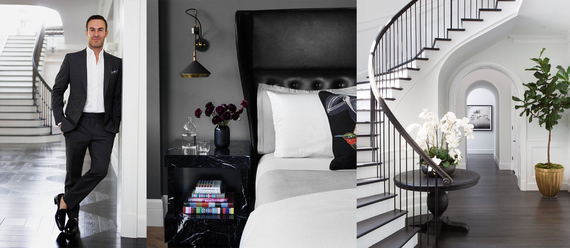 "Interior design IS fashion for the home. For me, everything starts and ends with fashion." -Adam Hunter
JC: As a designer, I look everywhere for inspiration. You just never know what could inspire a new collection. Over the last couple of years I've followed an interior designer that I'm just crazy about. My personal style is to design accessories that will complement the canvas and surrounding accessories. I feel that Adam Hunter pulls this off to the umpteenth degree. His rooms flow with ease, yet your eyes are drawn to key elements that are integrated to make a bold statement. His style is clean, sophisticated... yet still so current. So, I just had to reach out and get the 411 on what makes him tick and how he's come to be such a powerhouse in the industry!

Give us the skinny on your background. Where did you grow up? When did you move to Los Angeles? Spill!
I grew up in Winnetka, IL which is in the North Shore suburbs of Chicago. I graduated from the Musical Theatre Conservatory at the University of Michigan and then moved to NYC. I was on Broadway in Les Mis, Ragtime + Lion King before moving to Los Angeles in 2005. I think there is a theatricality inherent in my designs from working on the stage with some of these amazing visionaries like Baz Luhrmann and Julie Taymor.

When did you first realize that you wanted to become an interior designer?
I was born that way. I could sing and I could design. It was sort of like breathing. But, was there a specific age or defining moment that made it clear that this was 'the thing' for you? The moment came when I was 12 years old, and my parents were on one of their long trips (Russia, this time). With the employment of some local paint shop guys, to whom I promised pizza and beer served by my cute sister, we did a complete remodel. Including stripping and bleaching the dark oak floor to white, painting the walls a deep teal with crown moldings that were charcoal grey.
I lived in a beautiful 1939 English Cottage style home on the North Shore - so this was quite a gamble. I knew that if I hit it out of the park, my Mom would love it and make it part of the house tour. If it was a miss, I probably wasn't going out through high school.
She loved it. An interior designer friend of hers saw it shortly after and offered me a job after high school. I actually still think about what would have happened if I took that job.
Have you ever worked for anyone else? Any funny stories there?
Yes. I worked for a designer for a few months. I wasn't so great at working for someone. However, he helped influence my love of stone and marble. I likened it to a download from The Matrix - it was like there was a plug into the back of my head that schooled me on stone in like a week. I have a particular obsession with stone and marble - working with that material is majestic.

Why interior design? Why not fashion?
Ooo. Good Question. Interior design IS fashion for the home. For me, everything starts and ends with fashion. While forecasting trends is important, my Instagram feed is all Missoni, Oscar De La Renta, Matthew Williamson, Tom Ford. And, I don't mean only in textiles. Most of my rooms are inspired by a fabulous photo of a high heel, gown or bag. The ladies who work for me have sparked some amazing rooms by what they wore to the office that day.
This is especially evident in my textile collection that I'm developing. It's very personal to me and has taken two years back and forth from Paris to get it to shine perfectly like couture fashion for the home, And, I think it's magical.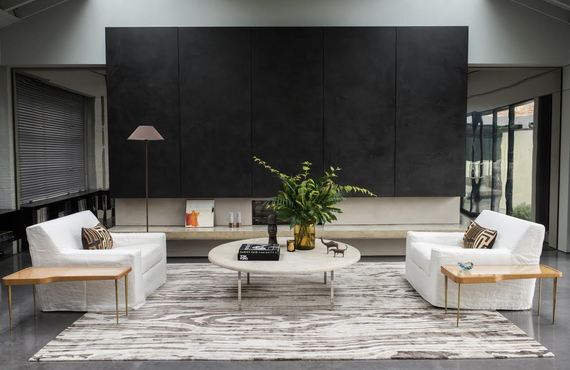 Photo credit: Adam Hunter Inc.
So, how did you start this process? Can you give your younger counterparts a rundown of how they might start their own design firm someday?
Take risks. Convince someone to let you design their space and then pour yourself in it.
Can you elaborate a little more on this? What were your first steps to open your own firm?
I think having a physical space to go to makes a big difference. Finding the right spot and setting up shop physically manifests your idea. "If you build it, they will come."
I'm a "go big or go home guy," so I took out a loan from dear friends and put quite a chunk of money on my studio in 2010. Then, I renovated, hired smart people, paid the loan off in less than a year and we were off.
Do you have any other business ventures or product lines?
I have a rug line at The Rug Co. which I'm very proud. Being listed on the website next to Alexander McQueen was definitely a career milestone. I have 2 new rugs coming out soon which I'm really excited about.
First, can you elaborate on STND for the people who don't know about it yet?
STND is the first product of many in a new category that excites me: luxury tech. Since our devices have become such an important part of our lives, they deserve to be displayed as such in our homes. I was building these beautiful kitchens with marble countertops and then cluttering them up with cords and phones. So, that's how the idea for STND came about. I believe that the Apple aesthetic had a significant influence on me growing up, so luxury tech merges my design side and tech nerd. I got an Apple IIC for my bar mitzvah and I've been inspired by every interaction and product of the company and especially their marketing and presentations. (Except, I'm not on board with the watch yet)
STND 2.0 comes out soon and is going to be a game changer. Marble color choices, Apple certified, multiple sizes and ports, as well as a great price point. The box alone looks like a collectible object.

Who are some of the fabulous people you have had the pleasure of meeting along this journey?
What a great question. Jennifer Coolidge who I always loved. Neil Patrick Harris and I had a lot of fun. Travis Barker is surprisingly chic. My dear friend Sutton Foster from my Broadway days - that was a trip. Worlds Colliding!
Can you remember who your first celebrity client was and how they came about to use your services?
Kate Somerville was my first and will always remain very special to me for that. Kate Somerville is the skin health clinician to the stars. I was unaware of her celebrity when we started working together - I just thought she was really cool - sort of an earthy Mary Poppins. That was a big job and my first job. It was sort of a make or break moment. I'd never seen so more celebrities come in and out of the clinic when we opened the "The White Room at Kate Somerville". The icing on the cake was that it was featured in VOGUE and made the Time Magazine's Luxury Index for 2008. People loved it and luckily they called! I remember at one point I was testing for Desperate Housewives and I was reading a scene with one of the leads who had called me that afternoon for a design consultation! I realized then this new career path was happening to me!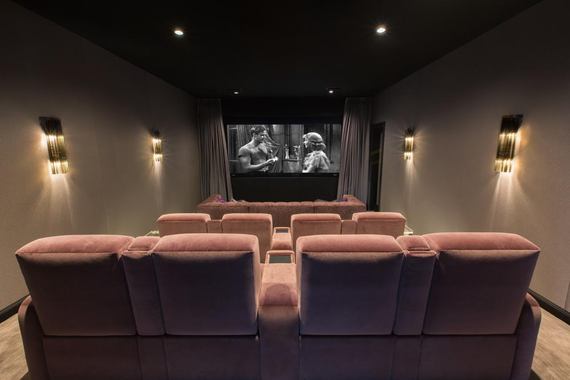 Photo credit: Adam Hunter Inc.

I feel like interior design is a very competitive market. What sets Adam Hunter apart from the rest?
Me. My personality. Works really great for some and maybe not for others. You have to like this person that you are letting in your home - your bedroom. It's like dating. For me, I try to be self aware, have a sense of humor and be able trust the process. Going about it that way, I find I make a deep special connection with my clients that ultimately makes the project and very personal and very special.
What's your signature style? Do you leave a special 'Adam Hunter' touch or signature in all of your homes?
My homes are fresh, livable, glamorous and HAPPY. You have to create spaces that enhance your senses but sooth your soul.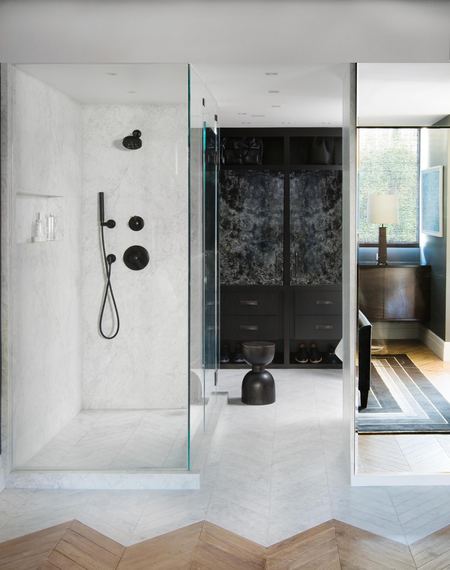 Photo credit: Adam Hunter Inc.

You've built quite a name for yourself in this industry. Can you share any secrets or offer advice to other entrepreneurs?
Still trying to figure that out. Work hard. Take naps. Don't turn any job down in the beginning and then be very careful selecting your clientele after you can.

Adam, finally... How does the empire continue to grow? What next?
There's a lot more coming. Be prepared for an onslaught.
Related